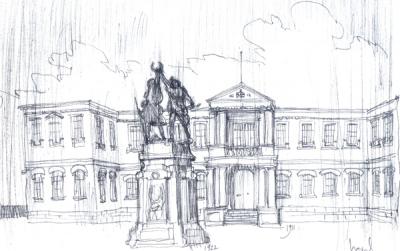 War Memorial (1922-2012)
A number of Mauritians who participated in World War I as combatants, lost their lives. Among them were many students from the Royal College of Mauritius, who participated in the War on the French front and never got to return to their motherland. Thus, to mark the gratitude of the Mauritian people to those honourable martyrs, in 1916, even before the Remembrance Day was recognized, Governor Hesketh Bell announced that he had met an eminent artist, J.A. Stevenson, in London, who agreed to design a bronze monument similar to that of Bernard Partidge representing two allied soldiers: the Frenchman Poilu and the Englishman Tommy. The inauguration of this commemorative monument took place before the Royal College of Curepipe on Saturday the 15th of April 1922, which was decreed a public holiday. Since then, on each 11 November or as the case may be, it is at the foot of the War Memorial that Mauritians continue to celebrate Remembrance Day with all solemnity and respect due to the event.    
Objective
In the event of the 90 years of the War Memorial of  Curepipe and the centenary of the laying of the First Stone for the Construction of the Royal College of Curepipe.
It will be a premiere in Mauritius. These commemorations will mark the 90th time of laying of flowers for the remembrance and reconciliation for those who lost their lives during the 1st and 2nd world war. A deep respect for our fils et fille du sol who honoured our country by their action.
Our aim is to make the new generation informed and to remember the sacrifice made by our elderly during these two wars and in some cases they never returned to their motherland.
The Commemoration starts today and will end on Sunday 15 April.