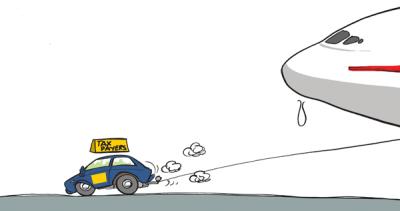 The first quarter April-June 2012 financial statement released by Air Mauritius is indicative in that it reflects the performance of their much acclaimed seven-step business model which is meant to veer the national airline out the financial turbulence. Or lamentably, the euro-10.4m-loss against 11.9m for the same period last year has shown no virtual respite. The 1.5m difference is no big achievement, if achievement it is. It is common knowledge in risk management that statistics and facts could be manipulated to support any wishful position.
As the tax payers are getting tired of bailing out the airline, MK is turning to cheap money. They are selling the non-core profit-generating assets : the MEDCOR (Air Mauritius Building), the helicopter, the Cotton Bay Hotel amongst others at a time when other companies like Singapore Airline are investing in non-core assets like hotels and tour operations.
Far from being a 'model', the plan which has attained one third of its nine-month-life-span, they are looking for cheap money. To that end they are proposing to monetise the 'non-core' assets. It's like the sugar industry dumping its by-products : the electricity-generating bagasses, the 'scum' which is used as fertilizers and the molasses which is used in the production of alcohol and perfumes. Just for the record, one sugar estate is putting up a posh hotel right at the airport.
If anything, MK seems to be good at taking disastrous decisions. On the one hand they are blaming rising fuel costs and euro zone crisis (the same old song) and on the other they have been offering, on top of financial support to the controversial shopping fiesta, 23 kg extra luggage over and above entitlement as per ticket. Last year they even offered free trips to South African children. Did they 'entice more travellers' ? The biggest jolt which has dented our national pride is when MK lost all the Hajj tickets. To cap it off they are pondering foreign partnership.
Diversification has worked out wonders. If Mauritius is cited as a success story in the region it is because the country diversified its economy from monoculture, the sugarcane.
Today, the private sector is diversifying their activities beyond our shores : in Maldives, in India, in Africa and now in Bangladesh.
Instead of expanding, Air Mauritius is doing just the opposite. To prevent the looming insolvency, it is time some old hands passed the baton to the new generation. To be effective, the current management auditing should be done objectively, not by the same guys who are responsible for the quagmire.