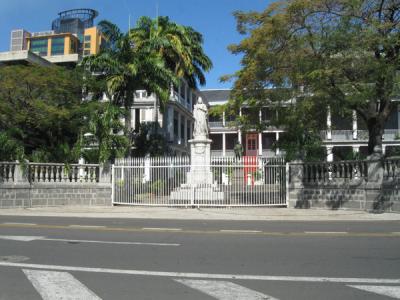 Political alliances, revocations, resignations and political upheavals have formed an integral part of the Mauritian political landscape ever since independence. After all, the modern political history of Mauritius has been marked by several important periods of political turmoil such as in 1969, 1973, 1982-1983, 1990, 1993 and 1997.
   During the mid-1960s, the Independence Party was created through the alliance between the Labour Party (LP), the Muslim Action Committee (MAC) led by Sir Abdul Razack Mohamed and the Independent Forward Bloc (IFB) led by Sookdeo Bissoondoyal. The Independence Party was led by Sir Seewoosagur Ramgoolam. This political alliance won the general elections of August 1967 which was also a "referendum" on the issue of whether or not Mauritius should become independent. However, it was a short-lived political alliance with the departure in early 1969 of Sookdeo Bissoondoyal, ex-minister and IFB leader, and several IFB MPs  who were opposed to an alliance with the Parti Mauricien Social Démocrate. At the same time, Sir Abdul Razack Mohamed and MAC remained in government with SSR.
    It was around this time that Sir Seewoosagur Ramgoolam was able to negotiate a political alliance with Sir Gaetan Duval and the PMSD. Between 1969 and 1973, it was the Labour Party, the PMSD and MAC which formed the political bloc that governed the country. In 1969, Paul Bérenger and a group of young men and students founded the left-wing Mouvement Militant Mauricien or MMM which drew support from labour unions, discontented youths, and the unemployed. A series of strikes crippled the island in 1971 and this led to the declaration of a state of emergency and arrests and imprisonment of some MMM leaders like Bérenger.