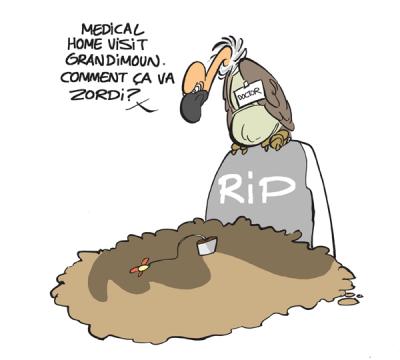 It is no secret that politics is in the red. The audit report only confirms that the alarm is not only limited to the behaviour of people in charge but extends to the management of their departments. Almost all departments are guilty of mismanagement at its best.
The inefficiency of some departments simply defy logic like the payment of old age pensions after the death of beneficiaries and even the possible double payment of allocations to elderly sick people. In other departments, like the health department, the steps taken give reason to be scared, with ordinary vehicles being converted into ambulances. To question the security of these vehicles and the services offered, albeit for free, becomes fundamental as it is the lives of people that are being put at potentially deadly risk. The wastage in certain departments arouses anger pure and simple, like the matter of the printing presses used in the education department.
To only condemn the government, though it is largely responsible for such dramatic wastage, would be foolishness. To begin with, it is the responsibility of citizens to be open and honest with the government when it comes to receiving or forfeiting allocations. Local government departments should also rouse from their petty politics, clear their heads, and come clean. Lastly, it should not even be asked, but since we are faced with a bunch of ostriches, we need to shout that we demand, fist on table, for transparency and accountability from each and every department that constitutes this sorry government.
We, the people, are witnessing not only a government, but a whole country in free-fall. The pleas are coming from all corners : a fundamental questioning of the type of citizen we want to be is in order, now more than ever. Silent or not, a revolution might be something the spendthrift government is waging for.