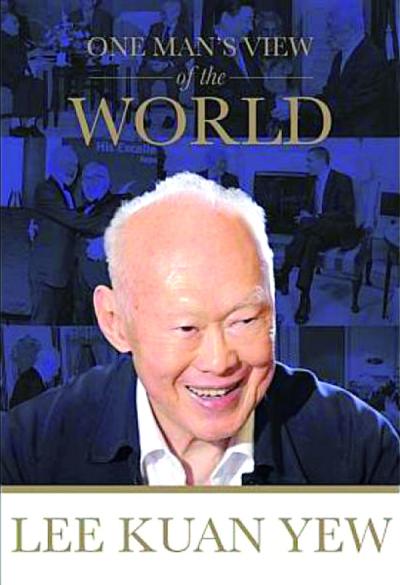 The latest book of Lee Kuan Yew on his 90th birthday entitled "One Man's View of the World", dedicated to his late wife Choo, shed light on the man distilling his thinking with detachment , discernment and wisdom. He surveyed the world politics from his wealth of experience and his acute insight to lay bare his views on today's world and his vision and propels us into 20 years of what the world would be.
Born in 1923 Lee Kuan Yew of Hakka origin had witnessed the turmoil of the Great Depression of the 1930's caught between the two World Wars, the Japanese occupation and the most traumatic and heart rending withdrawal of Singapore from Malaya.Today he has reached 90 and he considered it as a milestone in his life. "I am lucky to reach 90" he exclaimed with pride. At the apex of his fame and glory he surveyed the world with  broad lenses. He considered China's rise as non-stoppable but USA will have to share its pre-eminence. He diagnosed India plagued with casteism: "The great strength that they have is also their weakness. They are so diverse and different. Every earthquake that they have the stones somehow move with each other and do not fall apart…..India will play a very powerful role in the Indian Ocean". On Europe: the decline and discord he prophesied about the Euro that was destined to flounder with its demise written in its DNA "I think the Europeans have become very sophisticated as people as a result of two world wars. They have seen through futile feuds, enmities, hopes of grand ideas, grand plans that have brought nothing but tragedy.Napoleon tried – Hitler tried – to unify Europe". He wrote on  "Middle East : A Spring without a summer": when the flurry of excitement over the so-called Arab Spring is finally over the world will come to the stark realization that nothing much has transformed the governance in that region. On a broader level on Climate Change and Global Warming, it is a cry from his heart "We occupy the same planet and our fate is bound together.It matters very little therefore who wins the debates.If the world is destroyed we will all be in serious trouble".
Lee Kuan Yew is a man filled with a sense of achievement and self-satisfaction.  He has rubbed shoulders with a pleiad of leaders from Mao Tse Toung to Xi Jin Ping and hobnobbed with American Presidents from Lyndon Johnson to Barack Obama.
When asked which is the greatest leader of his time, he unhesitatingly chose Deng Xiao Ping.  'A statesman is one who has not only sought power and done these things but is able to hand over to a good successor…Had Deng not taken over, China would have collapsed, and it would have brought disaster on the whole of the Far East.'  'He is five foot tall, but a giant of a leader'he wrote with a tinge of humour
Lee Kuan Yew did not hesitate to take unpopular measures when needed.  "I resisted the Chinese Chauvinists who wanted to make the Chinese language the dominant language'.  He chose English language, a neutral language to unite people together.  'There would have been endless conflicts, no progress'.His linguistic policy revealed his vision.He is a rare statesman in post-colonial era to acknowledge the contribution of British legacy to the advancement of his country.Never did he with his sense of wisdom dismantle the vestiges of the British colonial relics.
The death of his life-long companion was a severe blow to his life.She died on 2 October 2011 after a long illness.When she was bedridden Lee would never miss each morning to recite her most favourite poems to her and read extracts from the dailies.They shared 63 years together amid joys and sorrows. Both of them read law at Cambridge University and ranked top in their days, Lee Kuan Yew  bagged a double starred First in Law.When asked after the demise of his wife "Are you afflicted by loneliness sometimes?", he answered  "You have to distinguish between loneliness and solitude". He added poignantly "I wish I can meet my wife in the hereafter but I don't think I will.  I just cease to exist just as she has ceased to exist – otherwise the other world would be overpopulated.  Is heaven such a large and limitless space that you can keep all the people of the world over the thousands of years past?" At the twilight of his brilliant life he regarded death as a natural process.He had stepped down as Prime Minister in 1990 and stayed on in cabinet as Senior Minister and Minister Mentor until 2011.
Lee confessed "In the end my greatest satisfaction in life comes from the fact that I have spent years gathering support, mustering the will to make this place meritocratic, corruption – free and equal for all races – and that it will endure beyond me, as it has.  People are promoted on the basis of merit, not of race, language or religion". Prime Minister Lee Hsien Loong reckons his father's achievement : "Nation building is never complete.Singapore would not be here today but for Lee Kuan Yew". Singapore born out of marshland and trading post has journeyed through the wand of Lee from Third World to First World.This is a marvelous feat for such a tiny country like Singapore with no natural resources. "Singapore has to take the world as it is;it is too small to change it .But we can try to maximize the space we have to maneuvre among the big "trees'' in the region", he remarked succinctly  
Lee Kuan Yew ended his book with much concern about the low birth-rate and the ageing population of Singapore He hoped that the next generation of leaders will eventually find a way out.Had he been in power, he wrote, he would have opted  with the introduction of a baby bonus equal to two years' worth of the average Singaporean's salary.Say whatever we like against his authoritarianism, one thing for sure his vision and sense of discipline have steered Singapore into a respected and much coveted country with a bright economy.
"One Man's view of the World" is a thought- provoking, insightful, visionary and penetrating book, worthy to be read and re-read and we stand marveled by the achievements of the man behind the sparkling success of Singapore. Adulate him or vilify him, Lee Kuan Yew is hard to ignore as he has chiseled a place of honour and dignity in the pantheon of great leaders who have left indelible imprints in history.Written in spare and unflinching prose he unveils with his broad lenses the psyche of people through his 70 years of statesmanship. Dr Henry Kissinger US Secretary of States 1973-1977 wrote :
" Lee Kuan Yew's unique talents  built a nation and helped secure an era of peace and prosperity in Asia.For decades it has been my good fortune to know him as a strategic thinker,a partner in international security and a friend." Lee is widely acclaimed on the international scene and his views are well-respected by one and all.