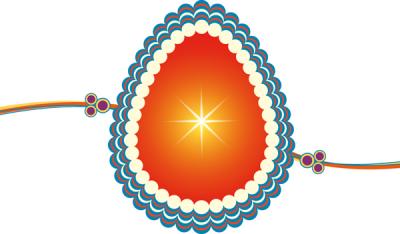 Respected Divine Brothers and Sisters,
Please accept greetings of peace.
In the context of the Raksha Bandhan celebration, I humbly invite you to reflect on the universal spiritual dimension of the festival on behalf of the Brahma Kumaris World Spiritual University (BKWSU).
Raksha Bandhan is a festival where sisters tie a holy thread (rakhi) on the wrist of their brothers, and brothers give a promise to protect their sisters. The relationship between brother and sister is perceived as a pure one and the rakhi symbolises the vow to remain pure.
While we instinctively turn towards our kin for protection, the latter is generally temporary ; it may be broken at any point in time due to various reasons and uncertainties, resulting in deception, sorrow and depression. So, can we really rely on whomsoever for constant protection and support ? If not, then who is truly the source of our constant protection, support, internal peace and happiness that we all crave for ?
In today's materialistic world, Charles Darwin's famous phrase "survival of the fittest" depicts well the current trend of life where one's success and recognition in society are measured against one's financial situation, professional status and power. In order to achieve that success and recognition, most people are striving, not only to fulfill their needs, but to quench their thirst for all kinds of material desires by even overlooking basic human values like love and respect that are necessary to forge unity and harmony in the family and in society.
In the eyes of God, the Supreme soul, we all, embodied souls, are equally valuable and worthy of His love and inheritance of peace and happiness irrespective of our social achievements, activity and behaviour.
In our age of total decline in human values and decadence, God, the Benevolent Purifier, the Almighty Authority and the Merciful Being comes to uplift the human soul and offers us His protection against negativity provided that our thoughts and deeds are pure. Our own impure thoughts and deeds act as barriers to God's protection. It is said that purity is the mother of peace and happiness.
To the extent that we maintain our promise of purity to God, we are guaranteed of God's protection, peace and happiness. The universal spiritual dimension of Raksha Bandhan is only a reminder of our promise of purity to God to accordingly claim His constant, unwavering protection during our journey through life in a spirit of brotherhood.
Let us take a pledge and choose to purify our thoughts and deeds with the power of God's pure, unconditional love so as to transform our life into a daily celebration of Raksha Bandhan and thus make our every moment valuable and dignified. Then, we shall also fulfill our utmost responsibility, towards our precious planet earth and our global family, of making the world a better place to live in under the guidance, the nurturing, loving gaze and the unflinching support of God, the Supreme Being.
Should you wish to learn more about the ultimate way to experience constant peace and happiness amidst this world loaded with peacelessness, suffering and uncertainties, a warm welcome awaits you at any of our BKWSU centres across the island.
With Good Wishes and Pure Feelings
In Remembrance of the Almighty Authority.