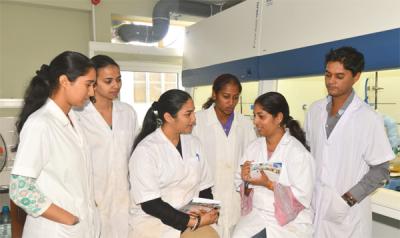 Mauritius has moved from a mono crop economy to a more diversified and industrialized economy in the 1980s'. However, industrialization was limited to low/medium tech industries such as textile and light engineering. At the beginning of this new century, the government of Mauritius invested in the ICT industry as a new pillar of its economy.  With the development of ICT maturing and now looking towards higher end BPO, Mauritius envisions moving further into the K-economy. For a firm anchorage into this innovation phase, Mauritius has to rely heavily on research and knowledge diffusion and production.  This was the rationale behind the setting up of the Centre for Biomedical and Biomaterials Research (CBBR). CBBR envisions to achieve a higher level of research development  and to enable a group of established researchers to pool under one roof to more efficiently engage in multi-disciplinary research which is difficult to put in place at the University on account of its organization into rigid structures. After sustained efforts explaining the bien fondé of such a centre, CBBR was finally established in May 2011. The Centre is a first of its kind in Mauritius and certainly the first time a Centre is created by academics and researchers (the traditional way in our developing countries is more of a top-down approach where Govt. decides on the creation of a Research Centre). Seed-money to kick-start the activities of the Centre was provided by the Ministry of Tertiary Education, Science, Research and Technology. The same year in Oct 2011 in Addis Abeba, CBBR was proclaimed ANDI Centre of Excellence after a thorough peer-review exercise, one of the 32 designated CoEs and the only one in the Indian Ocean.
CBBR is housed on the premises of the Mauritius Sugar-cane Industry Research Institute (MSIRI) at Réduit, Mauritius. MSIRI, the first research centre to be established in Mauritius, has shown excellence in sugar-cane research for the past 60 years supporting what has been the main economic pillar of the country. It is thus a stimulating environment for CBBR's researchers. To support its research activities, CBBR has invested in state-of-the-art analytical facilities and well-equipped chemistry and biology labs.
CBBR presently has 4 staff of whom 2 are National Research Chairs, a new position instituted by the Ministry of TESRT in 2011 and the remaining faculty members of the University of Mauritius attached to CBBR for research. 12 PhDs and 2 Research Assistants together with final year undergraduate students work at CBBR on projects focusing on research at the frontiers of materials science, biological sciences and medicine and pharmacy using enabling technologies such as biotechnology and nanotechnology. CBBR also offers internships to overseas postgraduate students and welcomes Postdocs from abroad. CBBR's research thrusts include (i) advanced polymer materials, biomaterials and nano-drug delivery as well as on the development of value-added products from indigenous land and marine resources (ii) biopharmaceuticals based on medicinal/endemic plants, and their biological activity and molecular mechanisms of action for the prevention of diabetes, cardiovascular diseases and cancer.
In biomaterials research, CBBR's nanofibrous mats based on biodegradable poly(ester-ether)s can be used as scaffolds for tissue engineering applications as confirmed by enhanced human dermal fibroblast (HDF) cell growth. In the area of drug delivery systems, the engineering of various self-assembled nanomicelles based on synthetic and natural polymers is an important achievement. These nanomicelles are promising candidates for delivery of anti-inflammatory, anti-TB and anti-cancer drugs as confirmed by cell testing. A patent relating to a method of preparation of amphiphilic graft copolymers from sucrose has recently been granted by South Africa to CBBR researchers. One of the claims of the patent is the self-assembly of the copolymers into core-shell micelles and their use as nanocarriers. The use of biopolymers for various applications and the need for high-tech medical and pharmaceutical products in Africa are interesting opportunities for innovation and businesses to thrive.
As stated earlier, one of the objectives of CBBR is precisely to help Mauritius in embarking on an innovation-phase of its economy through the creation of knowledge-based industries. In that respect, the Centre recently organized a Workshop entitled 'Setting-up of a bio-based industry in Mauritius' with the help of CE Polymer Materials and Technologies (PoliMat) from Slovenia, the Global Biopolymer Network (GBN), COMESA and the EU delegation in Mauritius. The main objective was to look at potential emergence of new industries around biopolymers and nanotechnology in various key sectors such health, environment, energy, education and employment in line with the concept of 'Mauritius: a Sustainable Island' as championed by the Mauritian Government. As Mauritius also strives to develop the blue economy through exploitation of ocean resources, CBBR has a major role to play through expertise in marine biotechnology. The deep ocean water project championed by Mauritian Company Sotravic Ltée offers a lot of potential for R&D and for commercialization of high value-added products through a sound combination of basic and applied sciences.
The biomedical industry – biomedical research: clinical and pre-clinical – biomedical devices – biomedical textiles pharmaceuticals/nanopharmaceuticals/neutraceuticals – could also be a next pillar of the Mauritian economy.
To achieve its vision and mission, CBBR works closely with research institutions and organizations at regional and international level. At the regional front, CBBR is engaged with Cyclotron Reunion Océan Indien (CYROI) and in the development of high-tech seaweeds applications and bio-medical research. On the African Continent, CBBR works closely with COMESA Secretariat to foster innovation and training and also with South African Universities, particularly the University of Witwatersrand in the field of pharmaceutical sciences. CBBR also works with the University of Western Australia in the area of sustained drug delivery via nanocarriers.
At the international level, CBBR has developed excellent ties with a number of universities and research organizations such as University of Tennessee, Mayo-Clinic and Tufts University for joint research projects, exchange of staff and postgraduate students. In line with its research thrusts, CBBR has joined WIPO-Re Search platform which provides access to intellectual property for pharmaceutical compounds, technologies, and – most importantly – know-how and data available for research and development for neglected tropical diseases, tuberculosis, and malaria.
CBBR has also developed links with private companies locally and regionally dealing with high-value added products from land and marine resources.
CBBR derives its funding to a third from the University of Mauritius and the rest through grants to the National Research Chairs from the Mauritius Research Council as well as private sector sponsorship and regional/international collaboration. In 2012, CBBR benefited from the support of the Mauritius Commercial Bank to acquire a number of sophisticated equipment for bio-testing. This was the first time in Mauritius a bank sponsored research.
CBBR plans to intensify training in polymers and advanced materials as well as in the field of compliance for bio and pharma testing open to the big Indian Ocean region. Mauritius is in an excellent position bridging Asia and Africa. CBBR is also heavily engaged in the development of the Mauritian Innovation System in close partnership with the Institute for Innovation and Technology, Germany.
In a lecture at a COMESA-NEPAD meeting in Nairobi last year, Prof Jhurry, Head of CBBR proposed to identify research institutions in the COMESA region that have reached world-class level in terms of research achievements and the sectors in which the Centres of Research operate and to map their existing resources with the needs of the region. It is imperative to join efforts to assist these institutions to move to commercialization of R&D, as a means to boost innovation.
The creation of CBBR and uniqueness in the Indian Ocean, its world-class research in the emerging area of nanomedicine and biomaterials, its network and positioning between University and private sector makes of it a centre of reference for the region. Such a model could be emulated by countries of the region.