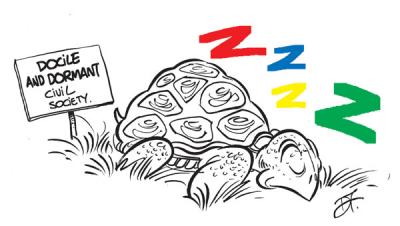 We are about to celebrate 44 years of independence. The country has indeed come a long way in those 4 decades but it also seems that the country has come full circle when it comes to politics. 44 years ago, a battle was won : that of claiming one's country back from the hands of colonisers. 44 years later, another battle is brewing : that of claiming the country back from the hands of leaders who have been complacent for far too long about their positions and roles. We have been reliant on the opposition for far too long to tow the government back in line when excesses were thought to be happening. However, when the same opposition is flirting with the government, only the dead will fail to see that we can rely on only ourselves to get our country back to a more egalitarian ground. Such is the cause of the Facebook group Lamars 10 Mars- Ver enn Nouvo Repiblik.
According to the Group Description, the aim of this march is to show one's support towards a new Republic based on "respect, secularism, meritocracy and a sustainable and solidary economy". There are a few sound reasons why such an initiative should be supported. In the first place, this movement is supported by a number of groups together with Rezistans ek Alternativ and Blok 104. The latters have to be given the credit of daring to go against a practice that has frankly become redundant in today's society. That battle is still ongoing but that is another story. Judging by the comments on the Facebook page, there is no doubt that a good portion of the Mauritian population local and abroad, ascribe to that school of thought.
Secondly, do not be under the misconception that this is a spontaneous movement. As corrected by one of the members of the group, this movement has been working on this project since 2005. It hopefully means that all the strategies and subsequent actions have been well planned and thought out. Moreover, initiators of this movement regroup people who come from different sectors. This means that they know well what are the stakes there, what needs to be done to promote better conditions and improvement in a vast number of sectors. The fact that there has been a forum to debate ideas is one good point noted for the movement. Since it has been brought on Facebook as well, it has also given a broader spectrum of people a chance to have a say in what they believe can be ascribed to the formation of a new republic.
Moreover, the creators of Lamars 10 Mars are quite realistic about the march. Experience has taught them that change cannot be expected overnight ; therefore there is the admission that things might not work perfectly for this march. Lessons will be learnt and improvement will be brought on what has not worked properly. Another reason to support this march is the fact that finally students from UoM are taking a stand on issues. The group AWAKE has also joined hands with the other groups to take part in Lamars 10 Mars. As per its Facebook page, AWAKE has been created for the students by students. It is having its launch this week and looks promising on paper. Can we hope that the Reduit campus is finally becoming the hub of progressive change by young people and moving away from the secondary school mode in which it had been stuck in for so long ? Time will tell, but current happenings are giving reason to hope so.
Social awareness has long been present in Mauritian society but has mostly been confined to 'emba laboutik' or in the comfort of people's houses. Previous marches of unionists might not have garnered the amount of attention or criticism as the WANTED group's march had. The latter did have its shortcomings but the group's perseverance should be acknowledged. It takes a great deal of courage to continue on a 'mission' despite being criticized on many fronts. Should Azir Moris join hands with the people from Lamars 10 Mars as has the Club des Militants, we can not only expect a movement towards left-wing politics but also the fact that determined Mauritians can come together to rally for their country. Will the march and subsequent actions bear fruit ? We will have to wait and see. In the meantime, let's live in hope that they will.