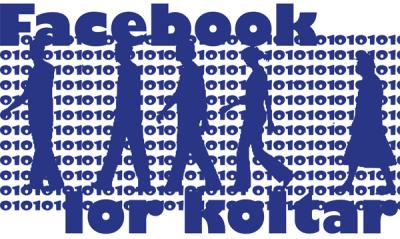 Contrary to what you might think, I don't spend all of my waking hours on Facebook. It has just become a daily habit, just like checking my email and newspaper websites from home. However, I'll admit that during the past couple of weeks, I have been spending more time than usual on FB and gradually found that it is a world of its own not just limited to your friends and what they are up to. Some parts of it are well worth sharing. This week, we find that the much-hyped wind of change that we were all expecting to blow throughout our country has turned into a mere gust and that people whom thousands looked up to have turned out to be unable to handle pressure. Rest assured, all is not doom and gloom as movies, food and the anticipation of the final comeback of a much-loved series are all something to look forward to.
The Beginning of the End
Ladies and closet and open Desperate Housewives-loving gentlemen, get ready to bid farewell to the quirky characters of Wisteria Lane. This Sunday, the first episode of the final season of the much-loved series will be aired in the USA. The Facebook page of DH has been intensely promoting this last season, with teaser trailers of a couple of minutes to get viewers hooked even more. With 8070 Facebook fans of the DH page attending the 'Desperate Housewives – The Final Climactic Season – Premiere Event', other die-hard fans of the series all around the world will be glued to their TV whenever it premieres in their respective countries. The series finale will definitely mark the end of an era. Never have red apples looked sexier or juicier. Let's hope that this season brings the wit, laughter and sometimes-incongruous plots that have become characteristic of this series.
Local culinary delights
Home is definitely where the heart is and sometimes we, people, who live abroad, develop some stomach cravings that can only be fulfilled by 'manze lakaz'. So, while having one of those cravings, I was browsing online to find something to quell my demanding stomach. I came across a Facebook page called 'Les Meilleures  Recettes de l'Ile Maurice'. I had struck gold since it contained simple recipes from home that would mean happy days! The group not only boasts over 8000 members but also has photos of typical Mauritian roadside snacks, homemade simple Mauritian dishes as well as a sampling of dishes across the different cultures that pepper our country. Until I come home to get the real deal, this FB page allows me to get a faint taste of home.
SRK overdose
With Divali promos starting already on satellite Indian channels, one cannot escape Shah Rukh Khan's upcoming film RA. One. He is sometimes seen launching Happy Meals in India containing figurines of RA. One and sometimes launching video games based on the movie. You'd think that your Facebook would provide some relief from such heavy promotions but that's not to be. I recently got a request to 'like' the RA. One Facebook page. Divali is a few weeks away, and such heavy film promotion is bound to bring about an SRK overdose, and the incongruous blue eyes that the actor is wearing are not helping either.
Reaction to 'The Mauritian Linguistic Identity'
The previous column of Facebook lor Koltar posted last saturday in Forum received certain relevant and irrelevant reactions from the members of the "WANTED 15 000 youngsters to save OUR future" when it was posted on the group's FB wall. There are many people who would agree with Alain Bertrand's following comment: "Great article – I agree @ 200%.
Thing is that Mauritian Creole has, since the very foundation of our nation, been ostracized, cataloged as a vulgar, asocial and limited communication vehicle. I can recall my mum's accounts about how dancing sega would earn an honest girl the « hoe » title.
To my eyes, this ugly reputation of Mauritian Creole is an alive remnant of our colonial past, part of what I call the Mauritian dwarf complex.
Today, the new generation is pulling our colorful creole off the social gutter, thanks to its will to be free from ties that link us to a dire past. Mauritian creole revival, actually shows us forgiving our elders who have, for too long, walked heads down, drenched in shame.
Getting creole language back in the debates, radios, Mobile phones, SMS, Web walls and blogs is a great move that signals the uprising of a shiny new Mauritianism based on our youth's will to be free from social chains and stains.
That's my take, my personal satisfaction expressed…"
However it has to be mentioned that the level of debates on that particular page as well as the alternative group "WANTED 15 000 youngsters to learn the meaning of democracy" has considerably declined. The administrators are doing their best to keep up the level of the pages but the nature of such a public platform means that some form of anarchy will prevail. Any kind of restriction is being seen as an obstacle to freedom of speech and gratuitous personal remarks have become commonplace. By mid-week, some kind of order had been restored but this whole process shows that to initiate such a movement on such a platform can most certainly reach its zenith quickly but the possibility of a downward spiral is as quick if not quicker.