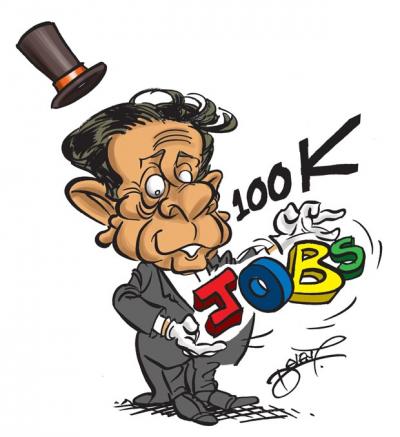 Text 1: He Bolted to victory on Sunday in Beijing in 9.79 seconds beating Gatlin who covered that 100 metres final in 9.80 seconds.
Text 2: The Economic Mission Statement of our PM (Saturday 22.8.2015, all media)
History is written by achievers.
A second economic miracle is within our reach.
Committed to see that job creation is being delivered as forecasted.
The wait and see attitude …cannot go on.
We stand a great chance to emerge as a truly competitive economic partner for Africa.
Investment of Rs 183 billion for the creation of 100,000 jobs in the private sector and investment of Rs 75 billion for 10,000 new posts in the public sector.
Comments: Some of us have been (since 25 years under the leadership of several ministers of Education) doing the research and proposing the foundations for a more human education system where individual learning needs will be addressed and inbuilt remedial tools will help those in difficulty, but without the rat race that CPE and admissions pressure had built. The opening of 34 new SSS under the leadership of Steven Obeegadoo and of 6 new confessional colleges by the BEC under the leadership of Maurice Piat and Michael Atchia have helped enormously in reducing the rat-race and stress in (especially) our primary school children.
Now a final integrated reform package from Leela Devi Dookun-Luchoomun will set the pace for a new approach to basic education. Some logistic problems are still pending but trials prior to effective implementation can help solve these.
 However, let's not confuse beneficial reduction in stress (for both pupils and parents!) and open-ended curricula, with absence of training for competitiveness, for achievement and for doing ones very best. As an example: most if not all injunctions to various sectors of the nation, in the PM's mission statement, are based on the need for effort, hard work and success in competition. These MUST continue if the competitivity of individual Mauritians citizens of tomorrow and that of Mauritius as a nation is to continue. Ask Bolt!