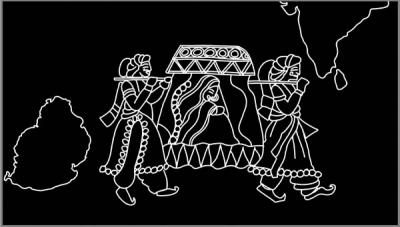 I am born and bred Mauritian, but at least 75% of my origins hail from India… with the rest classifiable as 'miscellaneous'. I was raised Catholic by my Christian mother, dabbing into Hinduism during the occasional events on my father's side of things, making me as confused with myself as I was uncomfortable with acknowledging this duality… much to my mother's credit, unfortunately.
A decade ago, I returned from the West to my kingdom of confusion… still officially Catholic, but performing Hindu rites and rituals every so often, of my own free will. To cut a long story short, the Christian side of me slowly faded, making me a full-blown 'Indo', bearing saree, 'chuss' or 'kameez'… observing 'vrats', telling 'mala' beads, chanting mantras, swirling sandal sticks… the works! Much to the horror of my inconvertible mother, I had chosen the path of Hinduism… as a way of life, over and above spiritual and cultural character.
For some reason, I didn't feel the 'pull' towards India, home to Hinduism, until last year. Then again, my excuse to go there was to attempt 'panchakarma', a rigorous ayurvedic cleansing custom. I took myself to Kerala to do so, nothing to do with Bihar, where my forefathers hail from… (based on the documentation my father obtained from MGI for the purpose of obtaining a 'PIO' card, which offers a lot more than avoiding an entry visa into India). Amitav Ghosh's Sea of Poppies in hand, I got an insight into why my forefathers might have jumped on a boat heading to 'Marish' (what our island was apparently referred to by the migrants)… giving me a life I may have never have led, had they stayed back and endured the hardships which the state of Bihar continues to have today. (Incidentally, Nitish Kumar – the ambitious Chief Minister for Bihar and best buds with many top people in Mauritius – recently got the state a 'backward' status; this, reportedly, should allow more aid from the central government, to progress out of pandemic poverty). Back in Kerala, it didn't matter that I wasn't in my 'original' state. I deeply felt I had come full circle and returned on behalf of my ancestors, who'd braved so much to come across the 'kala paani'… this much-feared Black Water, which threatened to take away the stem of their souls.
My thought is that the Forefathers must be smiling with satisfaction seeing all of the many things that didn't sink in the Black Water. Generations of Indian descendants have kept an enormous array of traditions alive, whether from Bihar, Tamil Nadu, Maharashtra or Andhra Pradesh. Languages and langotis have transcended the centuries and remain at the core of Indo-Mauritian culture. All the better for me, since I, long lost from their lineage, have so much to catch up on… beginning with ancestral languages which I barely understand. I am an absolute addict to Hindi films and weep if there's one showing without subtitles. I have faith however that by the time Chulbul Pandey returns to the silver screen in Dabangg 3… I will be relying much more on my own linguistic capacity!
But other than my frantic fascination for Pandey, there's another 'Desi' boy I have my eye on… and that's my 'vould-be' hubby. As if to make my transformation complete, I ran into a square-shouldered South Indian, Rajnikant fan in a 'lungi'… who courted me in a 'filmy' fashion… complete with the set of lines I had only ever read on the subtitled screens before. My 'Pati-Dev' (husband-god, aren't they all…) born and raised in Tamil Nadu of Keralite parents, is observant of my 'northern' attitude and attributes. I am no idli-sambar fan (a popular southern savoury), I love 'aloo' (or potatoes) in most of my meals and pray with lots of 'superfluous' items (vat to do baby, he shrugs). However, I am hoping that reading the Times of India as much as the Deccan Herald (Bangalore-based paper)… eventually becoming a fan of any cricket team (how can it be otherwise?), understanding jokes about Narendra Modi or Rahul Gandhi (both PM hopefuls) and learning more about state versus 'desh' politics (Congress and BJP do not rule everywhere) will make me less of an improbable Indian.
The reason is that Mauritius is the island my forefathers adopted and adapted as their own… but India will forever remain our root. If the 25% non-Indian in me is lost in a historical maze, I can only hold on to what is tangible and true. Perhaps all Mauritians do not feel the need to query and quest their ancestry, but I have an indomitable yearning for it… perhaps because it can finally make me a complete being… one whose plurality is only enhanced by the reality of an insular identity.