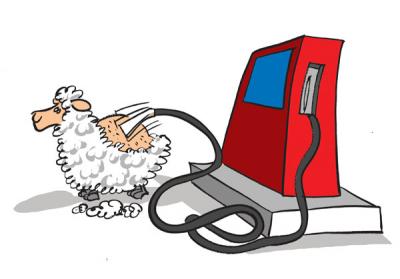 1.     The recent Petrol Price Hike raised gasoline price to its highest level in the history of Mauritius. Gasoline at Rs 52.25 per litre is unheard of.
2.     STC said it was due to increase in CIF price (Cost, Insurance and Feight) – but we were supposed to have just renewed a 3 year-contract with Mangalore, which was said to save us millions of rupees, compared with other suppliers. But then, why has the price been increased just after renewal of this cost-saving contract ? What is the price charged by Mangalore and what is its premium for refinery ? What are terms of this renewed contract of Mangalore ? So long as this contract is kept secret, who knows that we have not overpaid to Mangalore ?
3.     STC also said it's due to USD @ Rs 31.25, ie caused by depreciation of the rupee. But this is artificially contrived by Government as a matter of policy to depreciate the rupee. XLD, Finance Minister, has always said that he wants a weak rupee, because it is overvalued by 13%. Therefore, this is a policy-induced petrol price hike.
4.     With depreciation, and consequential price increase of petrol, Government now collects higher tax revenues (especially as petrol is inelastic in demand). More tax is raised on the back of the consuming public. Government should have refrained from collecting this windfall tax gain. But on the contrary, it is putting a VAT on these additional tax receipts, causing a Tax on tax. This means it is adding insult to injury. The total amount of excise duty and VAT alone on petroleum products is reported to have reached Rs 5 bn per year.
5.     Government pretends it is making a favour by exempting the contribution for hedging losses in the price fixing. But this is not a favour but a totally unjust punitive payment imposed on the consumer for a gross incompetence of Government (officers). Already the public has paid over Rs 5bn for the hedging loss scandal. It is no favour from Government and the officers responsible for the loss have not been taken to task yet ! Moreover, if Government can remove or waive the contribution for hedging loss, why does it not waive the windfall gains on excise duty and VAT receipts ? It is getting a jackpot !
6.     Government is collecting levy for MID and Road Decongestion Programme. But what is the point to collect MID levy when the money is not spent on MID projects but just transferred into the Consolidated Fund, in Government coffers ? Also, the RDA levy is collected to build roads for decongestion, so the public is already contributing to the construction of the extension of Motorway, Terre Rouge-Verdun Trunk Road, Caudan flyover and other road projects. But then why is the existing road network lumped into the toll road project to make the public pay again for the use of these roads which they have already contributed to build ?
7.     Also, included in the retail price is the cost of freight. But do we know if we are not paying more than the international rate for the freight, especially when the global slowdown is dampening freight rates worldwide. There is no competitive bidding for the freight as we are tied by a long term exclusive contract with Betamax without knowing the terms and conditions of the contract and the pricing mechanism. So, is the retail price not unduly inflated by an overpriced freight cost ?
8.     Already, Government is taking the lion's share in the retail price. But STC also is making lots of profit on its sale of petroleum products (Rs 1.9bn in 2011) which, after paying for subsidies to rice, flour, LPG and cement, still left the STC with over Rs 760m profits. Why should the public be fleeced with exorbitant petrol prices in order for STC to make excess profits on our back. For what purpose ? To fill Government coffers ?
9.     This hike in petrol prices is unjustified and unjustifiable. Government does not need to extort more money from the public. Government already brags of excess cash balances in the National Resilience Fund, sound public finances and lower budget deficit. Why unnecessarily penalise the public so much more ? Why create further inflationary pressures on the shrinking consumer purse ?
10.     Finally, the International Women's Day in March is becoming like the Ides of March, a nightmare for the housewife. In March 2012, the price of a 12kg cylinder of LPG was increased by 10% from Rs 300 to Rs 330. In March 2012, gasoline price has been raised by 6%. Government keeps giving poisoned gift to women on the celebration of their International Day.