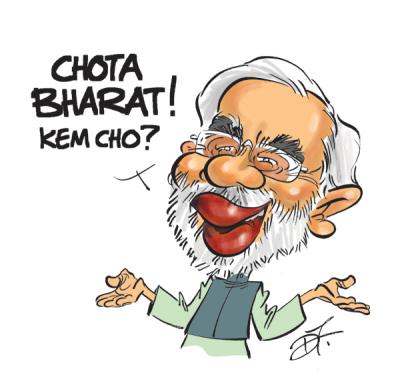 It would be a challenge to locate a Gujarati speaking African origin Black Muslim even within the richly diverse population of Mauritius where people from different ethnic, religious and cultural backgrounds have come together to build a unique nation.
Yet, when I met Mohammed, a warden in the remote forests of Gir – part of Junagadh district in the state of Gujarat, I was neither surprised at his appearance nor his name. He was black, well built, distinctly african and at the same time spoke fluent Gujarati – in fact, the only language he could speak.
Siddis – as they are known in India, number about 50,000. The Europeans and Muslim rulers between the seventeenth and nineteenth centuries brought them in as workers and slaves from Southeastern parts of Africa – never to return back. They are Indians for three hundred years – some of them Christians and some Hindus.
Why do I remember the Siddis in the context of the forthcoming visit of Indian Prime Minister Narendra Modi to Mauritius?  Most Siddis live in Karnataka and other parts of Western India and not in Mr Modi's home state of Gujarat.
The Siddis may be numerically insignificant within the larger billion plus population of India but they epitomize the very idea of India – that has, for ages, not only allowed but participated in the nurturing of unimaginable diversity and fostering of individual identities. Never attempting to suppress them or indeed – change them.
With a large population of Indian immigrants, estimated in the vicinity of seventy percent, Mauritius is sometime portrayed as India's backwaters. Clearly a section of the population sees India's patronizing attitude as a threat to its own sense of identity – separate from the Indian roots of its majority population.
But are these threats legitimate?
When India offered to develop Agalega (a twin island over a thousand miles north of Mauritius) for tourism and security purposes, concerns emerged over  its actual ambitions, provoking a series of press articles that forced a statement in Mauritian parliament denying any intentions of sell-off to a foreign power. There is no doubt that India wants to increase its strategic presence in the Indian Ocean where the Chinese have made considerable progress and countries like France and the US have been always present.
If there were a genuine offer that helped Mauritius develop the Agalega commercially and benefit from it – what grounds would it have to reject such proposals? Simply because it came from India!! After all Mauritius allocated a large portion of land ashore to the Chinese to build a Special Economic Zone a few years ago without the blink of an eye.
People who oppose closer India Mauritius relationship must give due importance to the fact that unlike China's cheque-book diplomacy and the Western world's trade and economic materialism, India's engagement with Mauritius is above board, open and transparent and based on mutual respect and friendship. On the top of that, India's foreign policy is not only scrutinized by its own population that demands adherence to universal principles of peaceful co-existence, fairness and justice but fit into a rapidly emerging world order that aspires to make the entire world a better place for all human beings to live.
In 'Pax Indica – India and the World of the 21st Century' – Shashi Tharoor's recent survey of India's foreign policy, Mauritius receives a passing reference in its 400 pages – nowhere indicative of the aggressive Indian ambitions for a military base in Agalega – an idea that seem to throw the media on either side of the Indian ocean into periodic bouts of frenzy.
Admittedly, India is a giant that is beginning to influence geopolitics in the twenty first century in a way that it has never done before. It is not only the fastest growing large economy in the world today but a source of unmatchable consumer demand – where the world's largest producers are lining up to produce. It is without surprise that the world is rushing to do business with India particularly under the leadership of current Prime Minister Narendra Modi given his business friendly policies.
A prudent government, rather than ruminating over Agalega, can strike a deal with India that can help achieve its own ambitions of rapid economic prosperity. If only Mauritius could figure out a way to influence and benefit from some of the trade and investment flows that are likely to flood the India-Africa corridor in the coming years it would be well worth the effort. Better still would be to revive discussions on the FTA – proposed long ago and now gathering dust. Looking at the experience of countries such as Thailand and Sri Lanka it is easy to estimate how such economic partnership with a 2 trillion dollar economy could earn rich dividends for Mauritius.
In the recent years, Indian diaspora has been rightfully enthused by India's economic prospects and has begun to experience a renewed sense of pride and belonging to the motherland.
Yet, it is not the diaspora that forms the basis of India's relationship with Mauritius but its respect for diversity and the will of the people expressed through vibrant democratic means that underlie it. The Gujarati speaking Black looking Siddis define India in a way that Indian looking Bhojpuri speaking Biharis define Mauritius. That is the strength of two countries and that is the glue that binds this relationship.