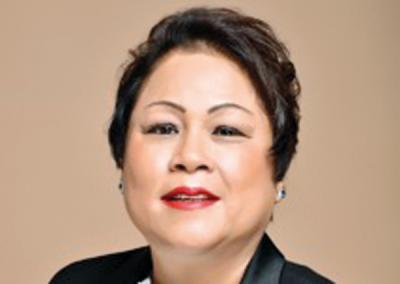 At the apex of her career, Lynda Kok Shun is currently appointed Honorary Consul of the Republic of Namibia in the Republic of Mauritius – a culmination of her relentless efforts to forge ahead in spite of all the odds found on her path.
Currently, the only Mauritian woman to be found in the galaxy of diplomats for an African country, through her capacity and perseverance, she will assert her personality in this field.  Only one month after being appointed Honorary Consul, she organized the celebration of Namibia's 27th Independence Anniversary in the presence of the Prime Minister of Namibia, Dr Saara Kuungelwa Amaldhila which coincided with the Africa Economic Platform.
Being nominated for the prestigious Tecoma Award organized by Eco Austral, a financial magazine of the Indian Ocean in 2013, was a turning point in her life.  Propelled to the forefront, stamped her trademark, finalist of 2014 Africa's Most Influential Women in Business and Governments Awards, organized by the Press Group of South African CEO Communications, Lynda Kok Shun has made the Mauritian "savoir faire" scintillating in the firmament of the African Continent.  She has braved many a storm in the field of business; especially it is a male-dominated universe in which she dared to tread upon.  This business woman likes to lift up challenges and she always comes out fortified after.
Fresh from her studies in London, she joined a large conglomerate where she devoted 20 years of her life.  She afterwards set up her own business and created Magilyn Ltée in 2009, starting from scratch. She travelled far and wide across the region. Magilyn Ltée initially began its operation with the manufacturing of clothing meant for EPI, before embarking on international trade and commerce.
Her company rose at a very good speed year after year, and this trademark asserts itself and carves out a good reputation in the region. It gets the share of the market and expands to other sectors, while still exploring new avenues for its expansion.  "The Sky is the Limit", such is the motto of her business, never resting on her laurels.
 Blending Chinese and Western cultures, she takes out the best of each culture to make herself a citizen of the world. Former Rotarian, former member of the Executive Committee of the Mauritius Gymkhana, she is a member of several Chambers of Commerce of the island.
Her interests are Feng Shui (she attended Lilian Too's Feng Shui in Malaysia in 2009), reading, travelling, sea, nature and plants.  The "motivation": her 23 year-old son, Dimitri, Law Student at Manchester University.