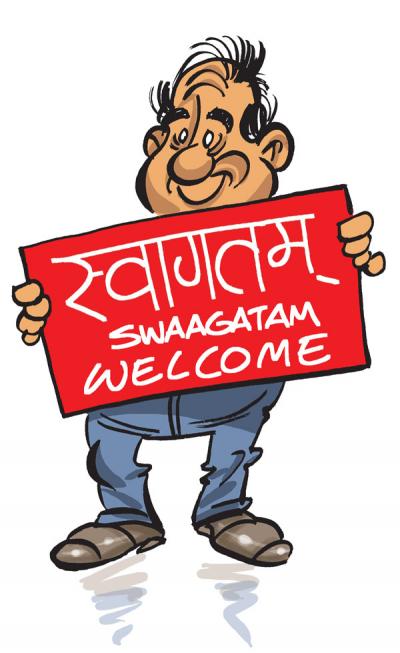 When I landed at the Sir Seewoosagur Ramgoolam international airport, irritated from the long overnight wait at the Indira Gandhi international airport, Delhi, I was sure that this visit was not going to be any different from my other trips to different corners of the world; I would finish my work in Mauritius and go back home as soon as possible. Little did I know I was to be proved wrong just in a short while! I was certain that the transport from the MGI would have gone back not knowing my flight was so much delayed and I was really on the flight, and I will have to find my way to their guest house. To my surprise and relief as I came out of the airport I saw someone with the plaque bearing my name. The driver who had come to pick me up was waiting patiently and without any grumbling he welcomed me. My ears had a treat when he tuned in to old Hindi songs and my eyes feasted on the greenery all along the way. This continued throughout my visit, people listening and singing Hindi songs together with the greenery all around and incomparable natural beauty.  By the time I reached the guest house half of my tiredness had gone away. I knew I was going to be in love with this paradise called Mauritius.
My first day, I get ready and go out to meet my academic host and on the way what do I find? Happy, friendly people saying 'Bonjour', people who didn't even know who I was? And this continues till the end of the day to 'Bonsoir'. What a change for me who is not used to being talked to without proper introductions? And I continue to be surprised at the ease unknown people talk to me and the interest they show when I tell them that I am from India, land of their ancestors for most of them.
How Mauritians have preserved the traditions of the places their ancestors came from is surprising and even more heartening is the fact that they have developed interculturality in the true sense of the term. Conversing in French, English and Creole, greeting like the French, attired in what I might say Indo-Asian dresses, having  Indo-Asian food, worshipping  Ganesha, Hanuman and Kalimai, speaking and learning so many Indian languages e.g. Sanskrit, Bhojpuri, Hindi, Marathi, mastering various forms of Indian music and dance and looking forward to visit India someday. Whatever I have seen of Mauritius, their homes, their daily routines and their life, makes me wonder how they have achieved the right mix of all the cultures and attained a unique Mauritian culture and identity. I hope other multicultural societies and countries have a chance to learn something from Mauritius.
This trip is going to be memorable for me! Not only because of the natural beauty of the country but also because of the beautiful people of Mauritius. I learnt from them what it really means to be 'Diaspora'. I have been reading about Diaspora and my knowledge being only theoretical I didn't realise how people feel being away from the land of their ancestors. Thank you Mauritius for teaching me the real meaning of  Diaspora! I would be more understanding of the feelings of the people of Indian origin all over the world from now on. I can say India lives in the heart of Mauritian People and henceforth Mauritius would always live in my heart.