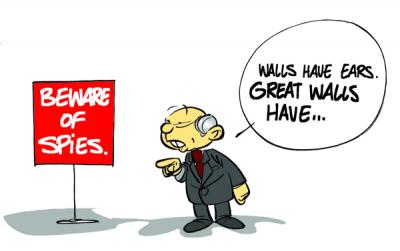 When Sharmila and I were recently in Singapore to visit our son Dhiren, daughter-in-law Sejal and grandson Kai, we were fascinated by bits of information released daily in the press on the death of a British businessman, Neil Heywood, in China.
Heywood's death which occurred in November 2011 in a hotel in the city of Chongqing was then recorded by the Chinese Police as a suicide case. Police said he died from excessive alcohol consumption and his body was quickly cremated. The Foreign Office in London stuck to the Chinese version despite doubts expressed by Heywood's family. The matter could have rested there, but the truth, however much deeply hidden, will always find its way out and burst in the open like a tsunami.
What happened on the 6th Feb 2012 triggered a series of intense political tremors which shook the seat of power in Beijing and reverberated in London and Washington. An incredible situation was created when a senior Chinese official walked into the United States Consulate in the city of Chengdu to ask for protection and political asylum. He was no ordinary person. He was the former Police Chief in Chongqing. Wang Lijung who earned a reputation as a crime fighter told the Consular officers that he feared for his life. He gave them details of several corruption, torture and murder cases and particularly on the death of Heywood.
Wang explained how Heywood was murdered by poisoning on the specific orders of Mrs Gu Kailai, who is none other than the wife of Bo Xilai, the powerful Communist Party Chief of Chongqing, a member of the elite Central Committee and a rising star in the Party's hierarchy. With his experience as a former mayor of the coastal economic hub of Dalian and a former Minister of Commerce, Bo (aged 62) transformed Chongqing into a modern and prosperous city, thus earning the admiration of the Chinese leadership in Beijing. Bo's aim was to be elected to the Standing Committee of the Supreme Politburo and participate in the highest decision making body in a manner to exercise sufficient influence to target the top post of Chinese President.
Washington was immediately informed of the explosive revelations of Wang and the request for political asylum. Technically, Wang did not qualify for political asylum, but the US got a mine of information from him. Finally, Wang left the Consulate on the condition that the Chinese authorities in Beijing would ensure his safety. Beijing dispatched a special team to take Wang to the capital for questioning. Today, Wang faces charges of treason.
Bo was stripped of all his powers
The Chinese leadership was terribly embarrassed by Wang's unexpected revelations and was compelled to take decisive actions. Gu Kailai was immediately arrested while investigations into the murder of Heywood were underway. Gu is likely to face a murder charge.
Though Bo had no direct implication in the murder yet he shielded his wife when he became aware and hunted down all those who could harm the family's interests. Wang felt he was on the hit list and that was why he sought refuge at the US Consulate in Chengdu. Bo was stripped of all his powers and taken to Beijing for investigations and has not been seen since then.
In Chongqing, all those who suffered at the hands of Bo's brutal police openly spoke of the corrupt methods employed by Bo and his associates in higher circles elsewhere in China. They also criticized the size of the business empire of Bo's family and the like.
Wang's revelations had the effect of a cold shower in London. The British Government walked on tight rope as the British Prime Minister had to explain in Parliament why the Foreign Office aligned itself readily with the original Chinese version of suicide and did not take seriously the reservations expressed by Heywood's family.
Heywood was an influential business associate of the Bo family, enjoying a special status by forming part of the family inner circle. He even helped Bo's son,,, Bo Guagua, a princeling, to get admission to a prestigious British University. Guagua led a flamboyant life in London, throwing parties for students. He is now studying at Harvard University. His return to China is uncertain.
It came to light that Gu stayed in UK during her son's student days and occupied a flat rented by Heywood for several months. Those were the sunshine days. Then came the dark clouds, followed by thunder and lightning. Back in China, Gu became overly nervous and suspicious and was convinced that someone in the inner circle had betrayed her. Heywood felt he might be targeted and confided with friends that Gu wanted him to transfer a large sum of money to the UK illegally. Heywood wanted a more substantial commission, much to Gu's displeasure. However, the precise motive for Heywood's murder has not yet been established.
A major investigation is going on. All the close business associates of Bo and his family in China and abroad are being questioned. More heads are likely to be chopped.
Fair trial ?
What will happen to Bo and Gu ? Will they benefit from a fair trial ? Will the international press be allowed to follow the proceedings ? Will China accept its image to be tarnished by possible revelations in Court, implicating other corrupt Chinese leaders and princelings ? There are many questions, but few answers as the ripples will be felt for a long time with far-reaching consequences on China's political system.
Already the international media has given extensive coverage to Heywood's murder, Gu's arrest, the lavish expenses of Guagua overseas, Wang's revelations and Bo's dramatic downfall linked with his peculiar style of governance. The BBC has recently featured a documentary on the whole affair while the US top magazines have published Bo's picture on the front cover. As journalists are digging more and more into this political tsunami, I bet that Hollywood must be examining scripts for a film on the Bo family. All the ingredients for a blockbuster are present.
We too in Mauritius have our string of scandals. From what we see in Parliament, both the Government and the Opposition are working extremely hard to extend the list of scandals, without realising the immense harm these can cause to the image of our country internationally. At this rate, we may soon be termed as the island of scandals and it should come as no surprise if Hollywood releases a movie called 'Black Stone'.