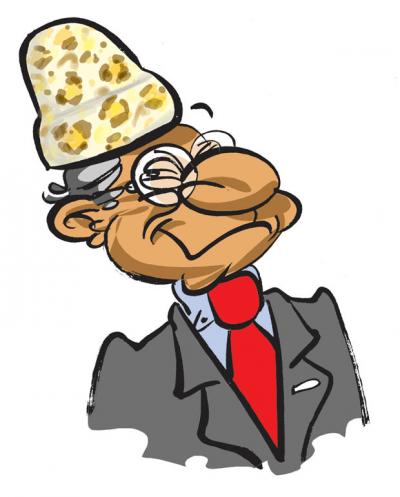 Dr Navin Ramgoolam's latest ambition is to become a 7 year term President with executive powers, a privilege enjoyed by two of his close friends namely President Ali Bongo of Gabon and President Denis Sassou Nguesso of the Republic of Congo. The South African President holds office for a period of 5 years while his United States counterpart has a term limit of 4 years. In September 2000, the French voted for a constitutional amendment to shorten the length of the presidential term from 7 to 5 years. Therefore, given that Ali Bongo and Denis Sassou Nguesso have inspired Dr Navin Ramgoolam to seek a 7 year term presidency, we have to ask ourselves whether the two Presidents have track records that are worth emulating. Unfortunately, a close look at the two reveals tales of power shifting from father to son, luxurious properties in Europe and the US, several wives and extramarital affairs, extravagant lifestyles, fleets of expensive cars, and systematic misappropriation of public funds while a large proportion of their population live in dire poverty, some of them having to pick left over food from garbage dumps in order to survive.
Ali Bongo was elected President of Gabon in August 2009 succeeding his father, Omar Bongo, who had been President of the country for 42 years. During this period, Omar Bongo and his children amassed so much wealth that they became one of the richest first families in the world (Guardian, 5 May 2008). According to a US Senate Committee Report of 9 November 1999, Omar Bongo owned 39 luxurious properties, 183 cars and 66 bank accounts in France. His annual expenses paid for by the State budget amounted to Rs 3.3 billion annually in 1995, 1996 and 1997. During a French investigation, an executive of the former oil giant Elf Aquitaine testified that his firm paid Rs 2 billion annually into Omar Bongo's Swiss bank account in exchange for the right to exploit Gabon's oil resources. Without an ounce of guilt on his ill-gotten wealth, he once explained to a reporter that corruption is not an African word.
Besides property and money, Omar Bongo had an appetite for women. During his lifetime, he had three wives in succession, and was involved in several extra marital affairs. Anthony Collings writes in his book "Journalists who Challenge Dictators" that call girls always accompanied shipments of suits bought by Omar Bongo from a Paris menswear designer at an annual cost of Rs 1.8 million. One call girl raised a scandal when she refused to have sex with Bongo without him wearing a condom. In another case reported by the New York Times on 5 February 2004, Ivette Santa Maria, a Peruvian beauty pageant contestant, was lured to Gabon and taken to Omar Bongo's presidential palace. As he joined her, he pressed a button that opened sliding doors revealing a large bed. She managed to escape from the palace and was evacuated from Gabon with the help of international women's groups.
Omar and Ali Bongo prove that the dictum "like father like son" holds true as regards corruption. In 2010, one year after he became President in an election widely denounced as being fraudulent, Ali Bongo bought a fourteen room townhouse in Paris worth Rs 4.3 billion. He also purchased three residences in Beverly Hills, a US town inhabited by actors and celebrities. During a 2006 shopping spree in an affluent US beach city captured by the US TV network VH-1, Ali Bongo's then-wife Inge turned up her nose at a mansion worth Rs 750 million. « I need something really big, really, really, really big, » she said. « I would think for that amount of money, I would expect a bit more grandeur. » Jack Blum, a United Nations consultant and expert on offshore banking, estimates that the Bongo family and its cronies have siphoned off 25% of the gross domestic product of Gabon.
The other friend of Dr Navin Ramgoolam, Denis Sassou Nguesso, has been President of the Republic of Congo during 30 years winning elections tailored in his favour. Like the Bongos, he used his position to amass a fortune and lead an extravagant life. He owns 20 luxury properties in the chic areas of Paris costing over Rs 1.8 billion (The Telegraph, 16 Dec 2013). Between 2005 and 2011, he spent Rs 52 million on clothes that he never wore more than once. Over the same period, his son, Christel Sassou Nguesso who is being groomed to succeed his father, spent Rs 19 million entirely on shirts. The son is the proud owner of at least 7 cars in Paris including a Porsche Cayenne, a Maserati and a Bentley coupé. During a five night stay at a New York hotel in 2006, Denis Sassou Nguesso spent Rs 7.3 million, which was more than the Rs 5 million that the UK provided to his country as humanitarian aid during the same year
A popular Creole proverb tells us that "quand ou frequente lichien, ou gagne pisse". Ali Bongo and Denis Sassou Nguesso have already infested Dr Navin Ramgoolam with the bug of wanting to be a 7 year term President. If Dr Navin Ramgoolam catches more bugs from his two friends, we shall suffer the same fate as the people of Gabon and the Republic of Congo.