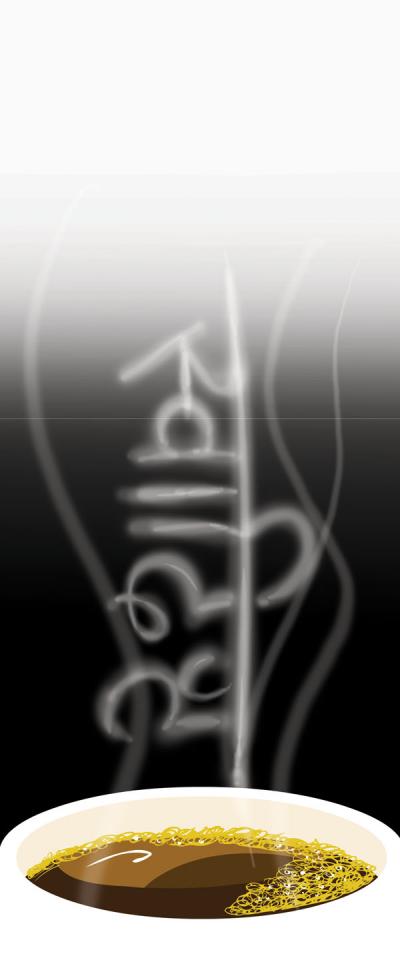 It was a dank Friday afternoon and I was utterly engrossed in Tony Blair's book entitled "A Journey" which took him three years writing his memoirs.  I just finished the following sentence where he argued that Prime Ministers and alcohol are common bedfellows and a book could be written on the subject when urgent knocks on my door were heard. It was a call from the Director General of MGI/RTI who invited me for a cup of coffee. While the coffee was brewing, its strong smell which filled the office evoked my memories when I was a student in Bombay University and when I travelled for conferences in many countries.  Recently, my wife Ameeta accompanied me to Mumbai; it stirred my mind and revived our past glory days which we spent together in Mumbai. Everything has changed. I mean the crowd multiplied. More skyscrapers were erected but the nauseating stench smell of human excrement and urine still hanged in the air.
Passing by the Jahangir Art Gallery it reminded me of the Samovar Café where I used to go with my Professor  Rajaraman who is a great poet  and kept talking to me about the book written by E.M. Forster "A Passage to India' . Those were the days where places like this were the real platform for intellectuals rather than hollow conferences. Samovar is not a place for awkward conversations and distant looks. The warmth the place exudes kicks in feeling of nostalgia. What adds to the charm of the place is its timelessness. This boutique café is a place where creative minds chat over cup of coffee.  Samovar, a long, narrow-corridor cafe is where the city's history has taken shape (young MF Hussain, Sabbavala, Shiva Naipaul and Amitabh Bachchan used to eat here). Mostly academics and students go there to spend some time.
 Usha Khanna, the lovable 71-year-old young lady here, manages the café with home style food and care. Foods are also served like Keema Roti Rolls, Prawn Curry, Fish Curry, Stuffed Parathas, Dal and Chawal. One must try the Hyderabadi Keema with Lachha Paratha and Mango Panna. Today this 43 year old café boasts of an eclectic clientele and feeds personalities such as R. K. Laxman, Anjoli Ela Menon, M. F, Husain and Shobhaa De to name a few. In fact Amitabh Bachchan got his wife Jaya Bachchan to Samovar for their first date. Samovar is also the only café in Mumbai which has its own coffee table book, for which creative minds from various fields have contributed.
?In Cairo, Egypt, there is the smoky mirrored café which has been an inviting respite within the labyrinthine tangle of the 14th-century Khan el Khalili bazaar. Beneath chequered archways and tin lamps, wobbly brass-topped tables teeter under the traffic of steaming glasses of mint tea, dark coffee, and apricot-flavored shisha tobacco from hookah pipes. In this hazy atmosphere, Nobel Prize- winning Egyptian writer Naguib Mahfouz sipped his way to inspiration.
In  Paris, France, writers like Jean-Paul Sartre, Simone de Beauvoir, Albert Camus and the Lost Generation  met at Le Procope. They were coffee lushes with a fierce veneration of left Bank café.The coffeehouses of the sixth arrondissement from Hemingway's Les Deux Magots to Apollinaire's La Closerie des Lilas – trace their roots to Le Procope, the oldest café in the city of light Founded in 1686, Le Procope hummed with the brainpower of Voltaire, Ben Franklin and Victor Hugo.
In Argentina, Cafetorni was opened in 1858, the Argentina's oldest café which has been a hotbed of culture that merges a Parisian aesthetic with an Argentine intellectualism. Café Tortoni is amber–lit gallery of ceiling- high columns, stained-glass panels, and marble–topped tables. Buenos Aires-born writer Jorge frequented this café; Albert Einstein ate alfajores (dulce de leche cookies) there.
In Rome, Italy, at the Antico Caffé Greco marbles tables upholstered chairs gold, and crimson damask walls, jacketed waiters and countless mirrors reflect an age of elegance that remained suspended in time since 1760 in this classic café in stylish Via Condotti near the Spanish Steps. Goethe, Bryon, Dickens, Keats and Twain were a discriminating lot and each of them whiled away the hours in one of the oldest coffeehouses in the Eternal City.
In Kolkata, India, the coffeehouse at college street, generations of writers, artist, and scholars have turned this caffeinated space near the University of Calcutta into a home base for intellectual exchange. Political and cultural movements gathered steam in this café, which opened in 1942 as luminaries such as Bengali Renaissance man Rabindranath Tagore, filmmaker Satyajit Ray and singer Manna Dey fuelled their intellects here.
The smell of the coffee in the D.G's office evoked this travel of taste. These are some interesting places which I visited and make it a point each time I travel I search for a caféhouse. These ten minutes in the office refreshed my invisible scars. Hope to have a coffee house of such a calibre in Moka.