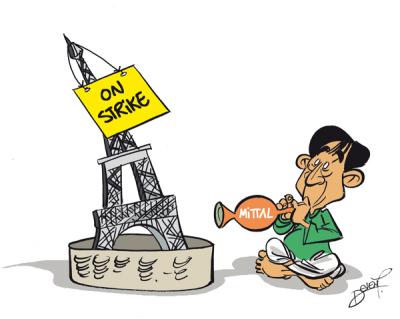 The French like to think of India as a huge slum, but LN Mittal, the India-born steel tycoon is no slum-dweller. He lives in the world's most expensive home – in London and his company, Arcellor Mittal, owns steel plants across Europe including in France where it employs over twenty thousand Frenchmen.
Europe is in financial trouble and Mr. Mittal's plan to close two furnaces in a particular manufacturing unit and throw some six hundred workers out of their jobs has the left leaning French government up in arms against him. It threatened to nationalize his assets but then considered selling them to a buyer (read European) more committed to keeping those jobs. One government minister dismissed Mr. Mittal as 'someone who is known not to honor his promises' while another one claimed 'he is not welcome in France' before realizing that the benevolent buyer that the state had identified did not exist.
Finally a quick-fix deal under which Mr Mittal will somehow keep workers employed has been struck. Most analysts see this as an unsustainable arrangement and predict turbulence ahead for both the French government and Mr Mittal. Europe continues to suffer from economic slowdown and production from such plants in the near future is simply unviable. It is only a matter of time when Mr Mittal will pull the plug on the French workers. His company – the largest steel maker in the world is also under financial stress and might not be able to cough up the promised investment required to keep workers employed.
Interestingly all this is happening against the backdrop of a planned 8,000 job cuts at Peugeot, a very French automobile manufacturer, giving rise to allegations of racism against the Indian billionaire and his business interests in France.
Is racism being used as an excuse to side step a more fundamental domestic problem in France – that of worker productivity and manufacturing competitiveness – and the inability of a leftist government to deal with it?
The French, probably are unaware that Mr. Mittal is no less disliked in India than in France. He has never invested in India – this despite several efforts by the government to attract him back to his own country. He is a businessman and he is in love with no country – he will only go places where he can make money – he has repeatedly said.
It is not sure if the French workers are fooling themselves or their government is fooling them. While they protested, over the years, to reduce work hours and increase wages – workers in China, Vietnam and in Eastern Europe have started producing steel at a fraction of their cost. Mr. Mittal has not taken away their jobs- as they are being made to believe – French workers themselves have destroyed their jobs – by being uncompetitive.
Business enterprises exist to make money. They keep jobs and pay taxes only as long as they are profitable. No government on the left or on the right and anywhere in between can expect businessmen to operate at the expense of making profits or retaining unviable jobs. To that extent one must credit Mr. Mittal with rare honesty – he is not ashamed to admit that he does his business to make money unlike many others who masquerade profit seeking as job-creating philanthropies.
It is also important to realize that governments can longer help workers – irrespective of the electoral promises they make. The onslaught of globalization has taken away many tools that governments earlier possessed – including their power to restrict cheaper imports from other countries that destroy local industry and lead to job losses.
Workers unfortunately have reacted to globalization by demanding more intervention, more rigid labor laws and more wage protection from the governments rather than sitting with them to understand how the new and emerging economic opportunities could be exploited to their advantage. Germany for instance has successfully taken advantage of a production boom in China and India and other parts of world by supplying the machinery that makes manufacturing possible. Workers in Germany, one would argue have aligned with their government and business owners to plan their success in the Chinese boom in a way that the French have not.
India is no slum and there is no guarantee that France will not be in the near future – given the contagious economic disease mushrooming in its neighborhood.
It is not Mr. Mittal that the French should be fighting against – but their own government for getting them to believe that workers can have a free lunch as long as they can take to streets and protest. Workers, on the other hand, would do themselves a favor by recognizing that it is neither Mr. Mittal, nor their government that will save their jobs – but their own ability to deal with treacherous labor markets and untrustworthy investors – both domestic and from overseas.