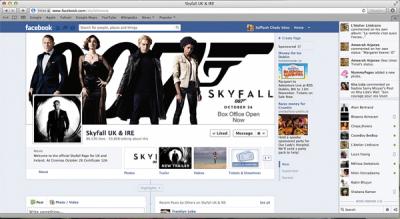 How do you like your martini and how would you introduce yourself?  If it is in the suave-spy-style, get ready for some more of that coming up in two weeks' time. In the book world, J. K. Rowling is making the headlines again, but it's not what you think. Another interesting thing on Facebook these days are the witty observations of a toddler. Buckle up your seat belts; let's take a tour of Facebook this week.
Shaken, not stirred
    007 is back in Skyfall, the 23rd Bond movie. Publicity for this movie is on full throttle: on buses, posters, TV ads and not to mention Facebook. The Facebook page of the movie is counting down the days until the movie's premiere on the 23rd of October in London. Daniel Craig dons the avatar of the MI6 agent for the third time after Casino Royale and Quantum of Solace. Female fans of the franchise would look for the sexy suave spy once again, while male fans are wondering about the Bond girl. Not to worry, as always, as the Bond girls in this movie are as stunning as previous ones in the curvaceous forms of Naomie Harris and Bérénice Marlohe. The Facebook page would give you an idea of what to expect in the movie in terms of female sexiness.
    Can you already hear the Bond theme in your head? Another coup de maître of this Bond movie was to have Adele sing the Bond theme song for Skyfall. As previous Bond themes, 'Skyfall', is dramatic with the opening line "This is the end.." leaving you wondering whether this movie will be ascribing to some sort of disaster-movie genre. As dramatic as the theme song is, it lacks the energy of previous Bond themes like  'Live and Let Die', which the Mauritian audience would associate with a popular morning radio show, or even closer to recent memory, 'Die Another Day' by Madonna.
    In case you are a fan of trivia or Trivial Pursuit, it would be good to add to your 'movie' category knowledge that the 5th Ocotber 2012 marked the 50th anniversary of the release of the first Bond movie, Dr. No. As usual, if you are in desperate need of sneak peeks at the new Bond movie, take a tour on Skyfall's Facebook page. It would definitely fix you until the movie comes out.
The Casual Vacancy
    If I say J. K. Rowling, you'll definitely think Harry Potter. Well, think again because J. K. Rowling's new book called The Casual Vacancy is for adults. Now, don't let your minds wonder along the lines of adult book as in Fifty Shades of Grey but more along the lines of an Agatha Christie. As can be seen on the Facebook page of the book, it has received largely positive reviews though some tried to look for some reminiscence of anything remotely connected to magic and wizardry which was totally inexistent in the book. Basically, it is set in a typically English village, involving some great characters who inhabit therein. With a murder plot to boot, it is guaranteed to be a good read. Parents, if you want to get away from kids this coming summer holidays, there's one book to add to your booklist.
The Honest Toddler
    Parents of toddlers know how these little monkeys can make life hard. So if you feel the need to decompress, I suggest you take a look at a Facebook page called Honest Toddler. You are guaranteed to see things in a lighter way. With  'philosophical' observations like "When you love someone, you don't walk away from them. Even if it's just to the kitchen." and many such more, you are guaranteed laughs. You might even recognize yourself in many situations.
    So prepare for James Bond, go look for J. K. Rowling's latest offering and do not deprive yourself the opportunity of having a good laugh.