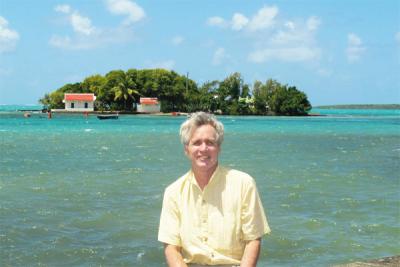 When booking a flight on a round-the-world trip ticket four years ago between South Africa and Australia, Tom Parker's travel agent suggested that he change planes in Mauritius. A native of Seattle, Washington, Parker knew little about Mauritius, except for a vague notion of it being a high-end vacation destination for Europeans and the home of the extinct dodo bird.
Parker decided to extend his stay to four days, finding the island fascinating. Several years and four visits later, Parker has just published a guidebook on Mauritius that he hopes will introduce Americans to the rich history, natural beauty and multi-cultural society of Mauritius.
« The strange disconnect between different cultures living in close proximity, the wide range of contrasting architectural styles, the large number of people of South Asian descent speaking French in a former British colony where the official language is English – it all seemed odd to me but in a very appealing way », he wrote in Dodo Destiny : An American Eye on Mauritius.
Parker's book is part history, part personal memoir, part tourist guidebook. He takes the reader on a walk through Port-Louis, which he finds « vibrant, loud, crowded, chaotic and utterly fascinating », commenting on the mix of architecture, the unusual street names and the National History Museum, which he found neglected and underfunded.
He offers an overview of the contributions of Labourdonnais, the development of horse racing, the patterns of immigration, the advent of postage stamps and the story about the demise of the dodo. He discusses the origins of Pamplemousses gardens and the role of Pierre Poivre in bringing exotic plants and spices to Mauritius, and offers insights into Réunion Island and Rodrigues.
« The book is a composite of my various visits », Parker said in a telephone interview from his office in Seattle, where he has worked as a technical writer for Microsoft. « Most Americans confuse Mauritius with Mauritania. I tell people that it's one of the most interesting places you've never heard of. »
Parker fielded many questions about his book, which is one of the first in the U.S. to focus on Mauritius. Here are excerpts from that interview :
What motivated you to write this book ?
This is the type of book that I would have liked to read before my first visit to Mauritius.
I was a history major in college and enjoy reading biographies and researching the history behind destinations that I plan to visit for the first time. For some reason I find myself drawn to esoteric or even trivial facts that underscore what makes a particular person or place unique. I like travel essays or memoirs that create a « biography » of a place through personal observations and selected facts that I can relate to.
There aren't many books written about Mauritius available in the U.S. and none for an American audience aside from general travel guides. I wasn't prepared for the dramatic cultural contrasts I found in Mauritius on my first visit. After first arriving in Port-Louis and seeing the British colonial architectural legacy mixed with Hindu temples, Islamic mosques, a Chinatown, and lots of people of Indian descent speaking what seemed to be French – I kept thinking « What is this place and why haven't I heard of it before ? »
The people of Mauritius were also an important part of my motivation. Everyone was very welcoming and friendly – that makes a lasting impression. And the dodo was an inspiration – if only out of ceaseless curiosity on my part. Everyone in America thinks they know what the dodo was but in fact, they know virtually nothing about it other than it was a famous, strange-looking bird. When I found myself in the ancestral home of the dodo where its image – but not its story – was everywhere, I wanted to learn more about it.
This reads like a travel essay mixed with historical facts. Who is your target audience ?
Hopefully the book will appeal to a broad audience of anyone interested in visiting Mauritius but specifically history-minded and independent travelers, and those with an interest in global conservation. For Americans, it takes almost 24 hours by air to reach Mauritius and it's helpful to read personal observations and learn salient facts about the country in advance to understand why it's such an unusual place to visit. One of my friends suggested that this book would be helpful for first-time visitors to read on the long flight out.
Given the richness of Mauritius history and its natural environment, how did you decide which topics to emphasize ? Who did you interview ? What sources did you consult for research ?
The choice of topics are definitely subjective and include those that I find personally interesting and are what I think make Mauritius so unique. For example, I think many Americans would be surprised to find the elegant, formal SSR garden in such a remote location and would be startled to know that it is older than the United States.
I interviewed many Mauritians I met on an informal basis during my different visits to learn about aspects of their lives or specific topics. In terms of research, I've read many books and online resources about Mauritius and the dodo, and in the process have accumulated quite a few books.
Why did you include Réunion and Rodrigues in your book ?
After several visits, it seemed clear to me that I should include them in order to provide a full picture of Mauritius. Rodrigues is an integral political part of Mauritius, and Réunion shares a common history of French rule. Both islands share a natural history as part of the Mascarene archipelago and face similar environmental challenges. I also think that at least some American travelers who find Mauritius interesting will naturally be curious about visiting Rodrigues and Réunion. After traveling half way across the globe to Mauritius, it's a short hop to these other islands.
It's interesting that you sensed that despite the country's multi-culturalism, there exists a Mauritius national identity. Some sociologists in Mauritius, especially a few attached to the university, believe otherwise. What observations led you to conclude that such an identity exists ?
I know that there are differences between different cultural groups in Mauritius and the nuances of divisions are probably not visible to foreign visitors like myself. However, after touring the country extensively and speaking with Hindus, Muslims, Creoles, and Mauritians of European and Chinese descent, it was obvious that they considered themselves to be Mauritians first, and often stated this directly. I detected a real sense of national pride everywhere, which often came out unintentionally through casual conversation.
If you were to cite the most important things that impressed you the most about the country, what would they be ?
The striking cultural contrasts of distinctly different groups living in close proximity – as evidenced by people, architecture (Hindu temples, Islamic mosques, Catholic churches close together) and the amazing mélange of languages – and cuisines. All packaged in one small but beautiful tropical island.
In addition, the record of successful conservation programs in Mauritius is of particular interest because species extinction is increasing at an alarming rate throughout the world. It is especially worrisome on Madagascar, which is relatively close to Mauritius. The programs to save the Mauritian kestrel and other endemic species are notable because they have been successful on an island that is trying to balance the needs of a large growing human population with very threatened and rare endemic species that can exist only in a fragile environment. Programs like this will need to be implemented elsewhere in the world. The fact that these programs have succeeded on the site of history's most famous extinction, the dodo, is both ironic yet hopeful.
For more information about the book, which is available in print and electronic versions : www.dododestiny.com.