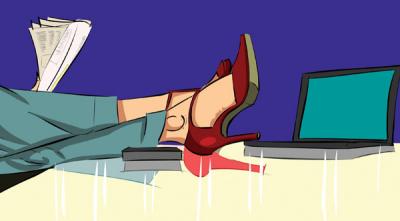 Brand me anti-feminist, unequal-opportunity proponent… or any other term you fancy… but women cannot, as men can. This is the gist of my observations… and I encourage all those who want to beg to differ, to do so, as this Forum allows.
I drove my 13-year old to Casualty at 2 a. m. one morning this week, after he complained of dizziness and threw himself on the bed next to me. As I drove down, I worried less about how he was feeling and how I was going to miss out on an 'important' meeting and equally pressing site survey. Then that guilt kicked in… and I kicked myself, wondering whether I had my priorities right. How could I be thinking of immaterial meetings and visits when my son could be found with some precarious ailment ?
In the hospital waiting room, thoughts flooded into my mind. A while back, I read an article entitled Why Women Can't Have It All, by former Director of Policy Planning, Ann-Marie Slaughter, appointed by U.S. Secretary of State Hillary Clinton. In her article, she described how her work took her to Washington D.C. during the week, to return home to two teenage boys and a husband at week-ends. That didn't suffice to tend to her family's needs, she explained : "Eighteen months into my job as the first woman director of policy planning at the State Department… I found myself in New York, at the United Nations' annual assemblage of every foreign minister and head of state in the world. On a Wednesday evening, President and Mrs. Obama hosted a glamorous reception at the American Museum of Natural History. I sipped champagne, greeted foreign dignitaries, and mingled. But I could not stop thinking about my 14-year-old son, who had started eighth grade three weeks earlier and was already resuming what had become his pattern of skipping homework, disrupting classes, failing math, and tuning out any adult who tried to reach him." In the end, Slaughter killed the job in D.C.
As if I wasn't comforted enough by this super senior person in the big U.S. of A struggling with work and family… I came across Allison Pearson's novel I Don't Know How She Does It (now a major motion picture apparently). Sitting through this book on a relaxing week-end (with kid plus one), I felt like I was reading my life : the micro-managing, the guilt of skiving off work to tend to more important family matters (in my view, even if not in my unmarried-and-childless female boss's)… the mental mumbled-jumbled notes-to-self made as my eyes close in the darkness every night, trying to remember : ring plumber, send important e-mail (aren't they all), buy ever-growing child non-shrinkable socks, clean fridge, buy paint, remind handyman to paint gate, check dog's eye wart… (the list goes on).
This is my life. It feels like multi-tasking gymnastics and time-management callisthenics… so much so that I was even tagged 'Super Mum'… and to be honest, I unashamedly think I deserve it ! I am not even going to moan about the single mum thing, because I realise women who are in a couple sometimes do not have it better than me. Reading through Pearson, it was evident to me that actually, some men can be an addition to the burden of many of these women… as they apparently compete with attention bestowed on children. Some women start making choices between family and intimacy. For some of them, caring for one's body is taken over by the need to bond with offsprings, romantic getaways are replaced by trips to Disneyland and well, as I said before, women just can't have it as they used to with the men in their lives once their children come into play. And being with the man then becomes another item on the never-ending list…
I personally did not feel the weight of motherhood until my son reached his teenage years and started growing parts I had only seen on adults before. I didn't feel the need to physically, intellectually and emotionally be there until his matching needs came sprawling out of him like his spurting limbs and his mind racing to catch up with high doses of hormones and potent peer pressure. I feel, right now as I write this paper, that I need to be with him more than I ever will be in his life. Cereal bars, schedules and travel mugs have to be replaced by early-morning, home-cooked breakfasts including the five food groups and the apple-a-day which might keep that doctor away. Therefore, I am a career girl who has decided to cut her losses by cutting off a superbly well-paid and high profile job… well, just because my child needs me…. and because in a few years time, he will be gone. Women, we can't do, as men do. That is the bottom line of this story.