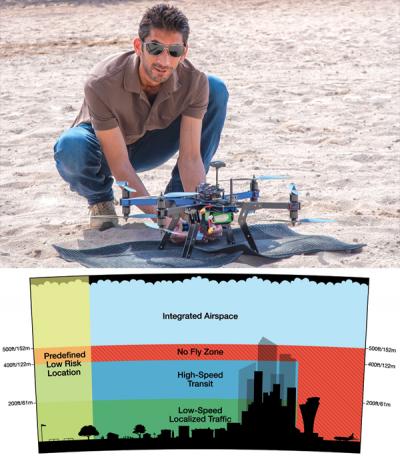 During the past couple of years we have seen a rapid increase in the use of drones in Mauritius. Drones, also known as Unmanned Aerial Vehicle (UAV) or Unmanned Aerial System (UAS), are used for a variety of purposes may it be recreational or professional. With this in mind it is highly time for the government to come with a proper regulation on the usage of drones.
Worldwide, we have seen that several countries have taken different approaches in drone regulations. From completely banned in some states in the United States to free use in some region of Australia, the legislation has to be adaptive to the region of use. Amazon recently published a proposal where they suggest the delimitation of a specific airspace for drones. See diagram below.
At this point it is important to know that there exist several types of drones. Drones vary in weight, size, speed and most importantly in the robotics controlling the drones. Some drones are fully manual, i.e they need to be controlled by a pilot, while we also have pre-programmed drones that are able to take off, fly a specific flight path and land automatically. The legislation for drones should take this into account, as it should be adapted to the drone being used.
There is also a need for a specific institution, which will be responsible to provide an airworthiness certificate and classification for drones. It is well known in the drone community that drones of certain makes are famous for fly-aways (stop reacting to the pilot command and just fly away on its own). These drones should not be allowed to fly in public areas or highly populated regions.
Privacy is also important point to be considered. Drones' primary use is to take pictures, which are then used in different ways. So regulations should take into account where the photos are being taken and how these photos are being used.
Another important part of the legislation should be on the pilot controlling the drone. That pilot should have enough experience and knowledge on drones, environmental implications and airspace usage among others.
The points above are just a few in a very long list of considerations for legislation for drones in Mauritius. Other points that should also be considered;
Flying line of sight or FPV
Altitude of flight
GPS tracking and flight logs
Communication equipment
Sensor base sense-and-avoid equipment
The need for legislation on drones is a necessity for the country and it should come in before any serious misuse. The drone legislation should ensure that no one is penalized. Amateurs and hobbyists should still be able to enjoy flying while professionals and other business entities should be able to use drones without too much hassle.