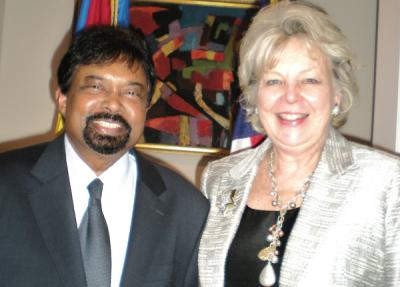 The Honorable Somduth Soborun has been elected co-chair of the Economic Development Committee of the African Group of Ambassadors in Washington, D.C. The committee promotes Africa as an attractive region for U.S. investment and as an active trade partner with America.
Having a leadership role on the committee « puts Maruitius in the driver's seat in regards to the economic agenda of the African Diplomatic Corps in Washington, » Ambassdor Soborun told Weekend. « And it provides a unique opportunity for us to factor in our own national agenda in a more forceful manner together with other countries. »
The committee also gives Mauritius a high profile with the U.S. Congress the Obama administration and U.S. trade officials, « which is highly positive, » he added.
In a related development, Rep. Jim McDermott, a Democratic congressman from Washington State and co-author of the original African Growth and Opportunity Act, has introduced a bill to renew the Third Country Fabric provision of AGOA through Sept. 30, 2015. McDermott visited Mauritius during the 2003 AGOA Forum.
Renewal of the provision has been a top priority for Mauritius and other countries in the African Diplomatic Corps and is supported by the Obama administration. The third country fabric provision, which accounts for 95 percent of the apparel imports under AGOA, is scheduled to expire next year. Because apparel orders are typically placed nine months in advance, renewal prior to the end of 2011 is essential to prevent lost orders.
Ambassador Soborun hosted a luncheon last month for the Hon. Mary Carlin Yates, a senior adviser to the Obama administration on strategic planning and former U.S. ambassador to Burundi and Ghana, to push for extension of the provision.
AGOA supporters hope that the extension will pass Congress by the end of the year.