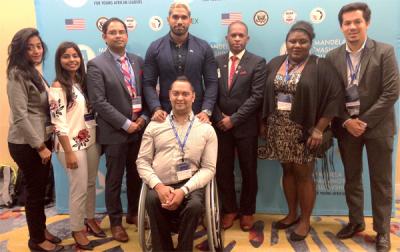 Twelve young entrepreneurs and civic, health and environmental activists are returning to Mauritius after an exhilarating six-week program in the United States that has inspired them to launch new programs and be strong leaders for change in their communities.
They were among 1,000 young leaders from Africa who were selected from 60,000 applicants to participate in the Mandela Washington Fellowship for Young African Leaders. Now in it's fourth year, the program was President Barack Obama's signature initiative for Africa to support the best and brightest of an emerging generation of African leaders.
With all expenses paid by the U.S. State Department, participants gathered in Washington this past week after spending six weeks of academic study and leadership training at nearly 40 universities across the United States. They had the chance to sharpen their skills through coursework and professional development in business and entrepreneurship, community service and public management.
For just about all the participants from Mauritius, this was their first visit to the United States. Beyond the academic studies, it was also a time to experience life in America, from playing basketball to eating hot dogs.
At the closing events held at the Marriott Hotel in downtown Washington, they exchanged stories of their experiences, networked with their peers, and set plans in motion for innovative ideas they want to try out back home.
But as the hotel was abuzz with a sense of excitement, with Africans circulating in colorful national dress, there was an underlying sense of unease about the program's future. Unlike last year, when President Obama personally addressed the group with an upbeat speech, President Trump was not present, and neither were any of this top officials.
« Sexual harassment of women in Mauritius is also on the rise »
Although there's been no official word, the program is bracing for budget cuts next year that will allow 700 African participants, down from 1,000. The Trump administration has proposed trimming the program's budget from $19 million in 2017 to $5 million. Trump seems to be on a mission to dismantle Obama's initiatives in many areas, and this one also clashes with his pledge to « Put America First. » It is expected that U.S. policy toward Africa under Trump will focus more on military and security issues, rather than democracy, human rights, trade and community building.
While some argue that the program is a self-serving public relations move by the United States, others say such « soft diplomacy » provides jobs for young people and builds grassroots support for democratic institutions that help curb crime and radical extremism.
The program's fate concerned many in the Mauritian contingent, but it didn't stop them from embracing their American experience and vowing to apply new skills and knowledge to their activities back home. The group included a wide range of occupations and passions, reflecting the commitment of a new generation of Mauritians to improve the lives of women, children and the disabled, take care of the island's fragile environment, advance health services, and launch new businesses as young entrepreneurs. They join a network of more than 60 other Mauritians, aged 25-35, who have participated in years past and are currently using their experience to make positive changes in their organizations and communities. Fellows continue to network and improve their skills after the fellowship ends through an Africa-wide alumni network that organizes regional conferences, mentoring programs and professional development events.
This year's participants include:
Jean-François Favory, age 35, an advocate for the rights of disabled people in Mauritius and a passionate player of handicapped basketball. He lost the use of his legs at the age of 7 as a result of a medical mistake. Despite his handicap, he lives independently, drives a specially-adapted car, and has worked in graphic design, computer maintenance, in a bank and a call center.
He credits his success to a custom-made wheelchair, a love for sports fostered at the Fraternité Mauricienne des Malades et Handicapés, and a positive attitude toward life. He currently volunteers at the FMMH, working with sports programs adapted for the disabled, and helping with the organization's administration.
« Before I lost my ability to walk, I loved running and climbing trees and mountains, so being able to do sports again (at the FMMH) was as if my life had started again, » he said in an interview. The FMMH's Jacques Lim Kee helped him regain his self-confidence and to believe that « even if I lost the use of my legs, I could achieve greater heights, and this is why I am independent today. »
Jean-François said his goal is to make more aspects of society in Mauritius accessible to the disabled. Being in the United States for the past six weeks has opened his eyes to the possibilities, and to the need for Mauritius to modernize the way it treats disabled citizens.
The United States has a federal law that protects the rights of the disabled by mandating that schools, transportation, parking spaces, businesses, even bathrooms be accessible to those in wheelchairs. A similar law has been considered in Mauritius but has never passed, and Jean-François said his mission is to continue to push for it.
« In the United States, I can take the bus. I can't do this in Mauritius. Taxis here are accessible and parking spaces for the handicapped are monitored and enforced by law and you can be fined. In Mauritius, you have spaces reserved for the handicapped, but others park in them, and there is little enforcement, » he said.
« When I was studying at the University of Delaware, it was amazing. I had access to everything, » he added. « There were ramps for wheelchairs, elevators in the buildings and I just had to press a button and the doors would open. People say America is the land of opportunity, but I say it's the land of accessibility! »
Jean-François said that he is lucky to have a custom-made wheelchair, made in England, which is adaptable, light and easy to transport, unlike the bulky and heavy chairs that are provided by the Mauritius Ministry of Health. These heavy chairs greatly limit the movement of children and adults, making visits to a shopping mall or the beach impossible and making it hard for people to do some of the basic things of life. « You need the proper equipment to be independent, and those heavy wheelchairs make the disabled more dependent than independent. For us, a wheelchair is our legs. »
Among his goals are to raise money to purchase more of the lighter, English-made chairs, which cost about US$4,000, and to make Mauritians more aware and caring of their fellow citizens with disabilities. « We want others to know that we are not good for nothing, that we can work, that we want to be active and live our lives freely, and one of the things I've learned in this program is how to better communicate a message and how to better structure a non-government organization. »
Jean-François also wants to launch a call center business that would be run by disabled Mauritians and employ disabled citizens. Profits of this company would be used to better the lives of Mauritians with handicaps and their families.
He will be staying on in the United States for another six weeks to develop this plan with the help of a disability-rights organization in Phoenix, Arizona. « The U.S. State Department is investing in me to be a leader in Mauritius to help people with physical disabilities, » he said.
Diksha Lumbini Beeharry, 26, is a British-trained lawyer and passionate advocate for equality for women. She attended Kansas State University for six weeks, and plans to use her new skills and knowledge to help fight domestic violence in Mauritius and set up a leadership program for young girls. She serves as president of the Mauritius branch of Mafubo International, which strives to empower and educate women and « make them the architects of their own lives. »
Diksha said many women who are experiencing domestic violence are not aware that they can receive free legal advice if they earn 10,000 rupees or less per month. She is active in the « Eduquer pour Eradiquer » project that is visiting villages throughout the island to inform women about the services available to them. Domestic violence is a big problem in the country, affecting 1 in 3 women, she said in an interview, and local police often don't take women's complaints about violence in the home seriously.  Current law on domestic violence « doesn't have much teeth in it, and needs more criminal liability, » Diksha said. « Contacts I made on this program will help me with legal resources » to work toward improvements.
Sexual harassment of women in Mauritius is also on the rise, she said, as men feel they have the right to yell derogatory remarks out a car window or make degrading comments on the street or in the workplace. « This kind of passive-aggressive behavior has not gone away with the new generation. They think it's OK to look at women and make them feel insecure. »
The challenge going forward is to educate men and boys that this kind of behavior is unacceptable, she said. This will involve educating mothers and fathers to treat boys and girls equally and to teach boys to respect women.
Dimitri Owen Figaro, 30, from L'Escalier, is a nursing officer at the Ministry of Health and a Red Cross volunteer. His passion is to spread the word about the dangers to Mauritius of climate change.
He hopes to use his experience in America to expand the Climate Leaders Initiative Network, which has established six hubs across the island to educate youth about how global climate is affecting Mauritius and Africa more generally.
« Climate change is affecting more countries in Africa than other places in the world, » Owen said in an interview. He has also expanded his network to Uganda, Nigeria and Kenya.
« The goal is to change personal behavior in respect to climate change, » he said. « And we have a growing problem of waste – especially plastics, but we have no recycling plants in Mauritius. » He said the government has taken some positive steps by banning use of plastic bags, but more can be done, such as banning takeway boxes and other wastes that end up in the environment.
Owen said that one of the biggest consequences of climate change for Mauritius will be temperature increases and extremes of weather, such as droughts one year and flooding the next. This will have enormous impacts of availability of water and on agriculture. There's also a human health aspect, he said. If plastics are not banned, particles in plastics can be consumed by fish, which are then eaten by people, and this could pose health problems.
Other participants included Dr. Tetraj Ramchurn, a surgical oncologist with the Ministry of Health, who used his fellowship to explore areas of  medical cooperation between the James Cancer Center in Ohio and Mauritius;; Lalita Devi Purbhoo Junggee, co-founder of 1950 Design & Print, which is expanding into Africa; Mehreen Banon Rughony, who works to empower women and girls as a program officer at the National Women's Council, Atish Teetan, HR executive for a supermarket chain in Mauritius, who aspires to launch his own business in a few years; Meghanaiyegee Venketasamy, who focuses on leadership training for women; Alvin Claude Bernard Athave, who works in IT at a bank and launched YUT Basketball, which coaches young people in the sport; Joan Kingszy Aza, a volunteer social worker focusing on education and drug counseling; Sabrino Clair, who works in food technology and safety and owns a small poultry business. He is committed to helping other entrepreneurs in Rodrigues; and Pravesh Gaonjur, an IT specialist focusing on information security. His goal is to create an IT Strategic Plan that would make Mauritius a secure cyber island.
The Mandela Fellowship is one many other exchange programs sponsored by the U.S. government and open to Mauritian citizens. Since 1967, more than 700 Mauritians have participated in one of the programs, including Prime Minister and Minister of Finance Pravind Jugnauth and four members of the Prime Minister's Cabinet, according to the U.S. Embassy.