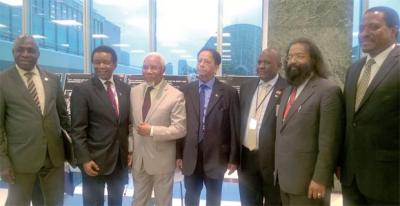 À 24 heures des débats lors de la réunion plénière de la présente session de l'Assemblée générale des Nations unies, les dernières étapes procédurales ont été complétées. Ainsi, depuis hier matin, le secrétariat général des Nations unies a posté officiellement sur son site Web le libellé de la Draft Resolution proposée par Maurice en vue d'une « Request » pour une Advisory Opinion de la Cour internationale de Justice (CIJ) contre la Grande-Bretagne au sujet du démembrement du territoire mauricien avant l'accession à l'indépendance, le 12 mars 1968. Entre-temps, le Minister Mentor sir Anerood Jugnauth, qui dirige la délégation mauricienne à New York en vue de l'adoption de la résolution de Maurice, a procédé à l'inauguration, dans le hall du siège des Nations unies, d'une exposition consacrée à l'exil forcé des Chagossiens depuis la fin des années 60. En début de soirée, Lalit, un des partis politiques luttant de manière systématique pour un recours à la CIJ sur les Chagos, marquera à sa façon le double événement de la Journée de la Musique et de la cause chagossienne.
Depuis hier, l'ultime étape dans les procédures en vue des débats en séance plénière des Nations unies a été franchie. La Draft Resolution pour la « Request for an advisory opinion of the International Court of Justice on the legal consequences of the separation of the Chagos Archipelago from Mauritius in 1965 » a été publiée à l'officiel dans le circuit des Nations unies. Ce document, signé du représentant permanent aux Nations unies, Jagdish Koonjul, en date du 14 juillet 2016, n'avait pas été rendue publique à ce jour en raison de la demande de la présidence de la 71e session de l'assemblée générale des Nations unies en vue de chercher un terrain d'entente avec Londres sur la question de la souveraineté territoriale.
L'Explanatory Memorandum de trois pages accompagne la Draft Resolution (item 87 à l'agenda) et retrace la chronologie de l'excision des Chagos du territoire mauricien en 1965 avec la « So-Called British Indian Ocean Territory ». Justifiant sa démarche, Maurice souligne : « The Chagos Archipelago is a group of islands in the Indian Ocean that has been part of Mauritius since at least the eighteenth century, at a time when Mauritius was under French colonial rule. All of the islands forming part of the French colonial territory of île de France (as Mauritius was then known) were ceded to Britain in 1810, after which Mauritius, including the Chagos Archipelago, was under British colonial rule. »
Maurice s'appuie également sur les disposition de quatre résolutions des Nations unies, soit les 1 514 du 14 décembre 1960, 2 066 du 16 décembre 1965, 2 232 du 20 décembre 1966 et 2 357 du 19 décembre 1967, tout en citant les « findings » de l'arbitrage sous la Convention des droits de la mer à l'effet que « an arbitral tribunal acting under Part XV of the United Nations Convention on the Law of the Sea recently unanimously found that this commitment to return the Chagos Archipelago to Mauritius is binding under international law, acknowledging that Mauritius has real and firm legal rights with respect to the Chagos Archipelago ». Le document ajoute que « two members of the Tribunal found, inter alia, that the excision of the Chagos Archipelago from Mauritius in 1965 showed "a complete disregard for the territorial integrity of Mauritius by the United Kingdom", in violation of the right to self-determination ».
Maurice affirme que la meilleure formule pour compléter le processus de décolonisation face à la position adoptée par la Grande-Bretagne « for the General Assembly to engage with relevant States directly concerned with the Chagos Archipelago, through consultations, negotiations and other measures, all towards a peaceful and orderly resolution of this matter. To fulfil that function, the General Assembly would benefit from an advisory opinion of the International Court of Justice on the legal consequences of the purported excision of the Chagos Archipelago from Mauritius in 1965 during the period of decolonization ».
Dans le cadre du lobbying en vue de rallier une majorité de votes aux Nations unies, Maurice s'est assurée du soutien inconditionnel de l'Africa Group, la présidence en exercice de la Commission de l'Union africaine sollicitant le vote unanime des pays africains en faveur de la résolution de Maurice. De son côté, le Minister Mentor – qui avait à ses côtés le leader du Groupe Réfugiés Chagos, Olivier Bancoult, et le représentant permanent de Maurice à l'Onu – a inauguré une exposition sur les exilés des Chagos.
Intervenant, sir Anerood Jugnauth a soutenu que « the continued denial by the UK of the right of Mauritian citizens, particularly those of Chagossian origin, to settle in the ChagosArchipelago is a manifest breach of international law and a blatant violation of their human rights ». Commentant cette exposition, il a fait ressortir : « Through this exhibition, you will be able to get a glimpse of a lost paradise that has been unlawfully excised from the territory of Mauritius prior to independence by the colonial power. À lost paradise that has seen its inhabitants unlawfully removed by the colonial power. »
Sir Anerood Jugnauth maintient que « the UN has a mandate to complete the decolonization process throughout the world ». Et que, de fait, avec le soutien de tous Etats membres des Nations unies, « a lost paradise that should be returned to the effective sovereign control of the Republic of Mauritius and where our citizens, particularly those of Chagossian origin, should be able to resettle ».
Le Minister Mentor a fait état de la détermination des autorités mauriciennes pour un retour sans condition de cette partie de son territoire. « The Government of Mauritius will continue to press for the completion of the decolonisation process of Mauritius and the early and unconditional return of the Chagos Archipelago to the effective sovereign control of Mauritius, whilst firmly supporting the right of return of the Chagossians and other Mauritians to the Archipelago without, however, going back on its repeated commitment to permit, within an agreed framework, the operation of the US base in Diego Garcia », déclare-t-il en s'appesantissant sur le fait que « the Government of Mauritius also supports the legitimate aspiration and claim of Chagossians, as Mauritian citizens, to be resettled in the Chagos Archipelago ».