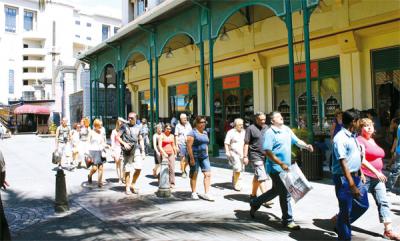 In 2013, China stands as the No. 1 global outbound tourism source market, surpassing Germany and the USA both in terms of numbers of travels and spending – indeed an immense potential for Mauritius! The picture today for our tourism industry is rather different from what things looked like 25 years back and the challenges are indeed many given the extremely dynamic and competitive global tourism landscape.
As per China Outbound Tourism Research Institute (COTRI), China's outbound travel market will increase by 17% this year meaning that 106 million Chinese tourists from Mainland China are expected to travel to destinations from June 2013 to mid-2014, spending an estimated US$129 billion during the same period! Chinese tourism is possibly one of the biggest phenomenon to hit the global travel industry.
The Maldives, Hawaii and Bali are currently the first three favorite island tourism destinations of the Chinese. To set the scene for this article can we define our tourism appetite and ambition the following: By end 2015, can we target 1% of 106 million outbound tourists from China, i.e. roughly 1 million Chinese tourists to Mauritius every year? A feat that could potentially redefine and drastically change our tourism landscape and significantly contribute to economic growth and development.
As China adjusts to its role as a global economic and political powerhouse, the emergence of Chinese global tourism triggered by rapid urbanisation, relaxed travel restrictions, growing prosperity translating into more disposable income for average people as well as an explosive growth in middle class (with a total population of 1.3 billion) – a phenomenon that any country serious about its tourism industry cannot ignore! Chinese tourists, including those travelling to Hong Kong and Macau, have increased in numbers from about 10 million per annum in the early 2000s to more than 80 million last year, with near future projections well over 100 million, much earlier than the originally forecast 2020.
The "New Chinese Tourists" – sophisticated, affluent, self-organised, travel-savvy, well educated and mostly under 45 years of age – could potentially be attracted to our beautiful island should we be able to offer customised services to fulfill their needs and in the process get them to spend more. Differentiation, visibility and awareness will be key to achieving a China tourism strategy to reach the 1 million Chinese tourist mark and will entail a rethinking at different levels, as illustrated through some examples below.
 Enhancing our product value proposition could require tweaking to adjust, for example, to the  Chinese' eating habit which is quite particular: they have dinner early usually around 18h00 – are our hoteliers willing to adjust to start their service or dinner buffets earlier? Some hotels might consider offering Chinese breakfast, on-site translation services, slippers, translated menus, mandarin shampoo labels in the bathroom or having a Chinese concierge just like many hotels worldwide. The Marriott Marquis in New York City has even replaced room numbers on the 44th floor with names – number four is considered bad luck in many Asian cultures.
n Chinese shopping habits : Chinese tourists spent a record-breaking $102 billion last year ,surpassing Americans and Germans in terms of expenditures. According to the World Luxury Association, 75 percent of Chinese tourists purchase more than three luxury items when travelling abroad, including jewelry, watches and other fashion items such as leather goods. As per China Daily, Chinese travellers accounted for 62 percent of all luxury goods purchased in Europe in 2011 with most purchased brands being Chanel, Dior, Gucci and Louis Vuitton. Unless we improve our overall shopping value proposition, to enhance our guests' shopping experience and provide the variety, quality of shops and high value products, our overall tourism product proposition will be incomplete compared to other destinations.
n China-targeted marketing:  Many countries are hoping to cash in on the emergence of Chinese tourists, and a tailored approach is desirable. This will inevitably require Mauritius to open tourism promotion offices in at least Beijing and Shanghai. The use of social media through China's very own version of Twitter, called Weibo – the nation's most popular platform – would help as a promotion strategy. Appointing a famous Chinese Brand Ambassador for Mauritius in China to promote our destination and then engaging him/ her and garnering the latter's fan following through Weibo could be a catalyst for us. Developing an interactive exclusively  Mandarin website to promote Mauritius as well as hosting Chinese journalists through guided group tours and enhancing our presence and visibility in tourism fairs and expos in China are but a few ways to promote destination Mauritius, besides traditional advertising which may be costly and not sustainable.
The case of California which sponsors the "China Ready" program – an educational initiative, through panels and discussion forums, to help the state's hotels, industry partners and local attractions properly accommodate the needs of Chinese tourists and better understand their visitors – is an interesting case for Mauritius to emulate.
 Change in mindset and predisposition : In the process it is inevitable that we move away from our old stereotypes about the Chinese. We have in general been described and branded as a welcoming and warm nation, with legendary hospitality – we absolutely need to extend that to our inbound Chinese tourists, be it through mandarin speaking crew onboard Air Mauritius, passport immigration officers at the airport, our personnel in shops, hotels and restaurants.
Overcoming the language barrier : Language will inevitably be the main hurdle for Chinese tourists visiting Mauritius, and a number of steps to address that can provide us with a competitive advantage: Mandarin as an option in our educational institutions, vocational institutions/hotels, mandatory for tour operators/ hotels to have amongst their employee rank Mandarin speaking staff and provision of Chinese-translated materials are but a few.
Streamlining the process : Recent research shows that 66% of Chinese tourists made their reservations by themselves with the Internet as their preferred means of booking, followed by traditional travel agencies and local friends and that business class was the first choice for outbound travel. The booking process must therefore leverage on technology to make it as simple and convenient possible for Chinese tourists to book their tickets online. Alternatively having the right incentives to motivate Chinese travel agents to work in our favour remains a must.
If we believe the 1 million Chinese tourist mark can be achieved by the end of 2015, it is imperative that we bring together, through a concerted well defined public private effort, all the ingredients to create an indelible customer experience for our Chinese guests in Mauritius. We can then only pray that upon their return to China, they become our word-of-mouth brand ambassadors by relating to their family, friends and colleagues the memorable and lifetime experience they had in Mauritius, and encourage the latter to try Mauritius as their next holiday destination.