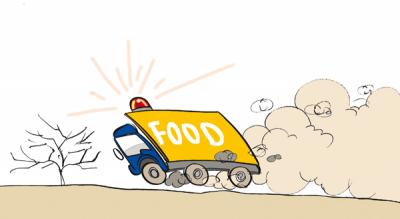 The Government is organising a teledon at the Municipality of Port Louis in favour of Somalian victims ; the Ministers' Council has recently approved a 5 million-rupee contribution too.  As it has been in the past, some Rs 10 million will be collected and transferred to an account which is controlled by the President.  In fact, the 12 million hungry and dying Somalians need food, water, medicine and clothes – not money.
In practice, after having collected our national contribution we can buy several 40 ft containers of "ready to eat and drink items" like fruit jams, mixed vegetable achards, biscuits, noodles, water, sardines, butter, cheese, dried fruits & canned vegetables".  We have to limit ourselves let's say to some 10 items but every item must be of export grade and palletised just like exporting to any country.  One must understand that every item has an HS Code and while export documents are being processed at Customs in Mauritius and when being cleared in Somalia, it is really complicated if the number of items are too many in the same container, exact quantity of each item is not known and possibly certain items do not meet certain regulations.
The Pakistan example
After the disastrous floodings in Pakistan last year, where many were left without their homes or food, we went to meet the High Commissioner of Pakistan to propose our aid to the people of Pakistan. With the help and contributions of a few friends, we offered to load a 20ft container comprising of pickles, jams, noodles, biscuits, dried fruits, water and tea sponsored by Conserverie Sarjua Intl Ltee, T&T International Foods Ltd, B.M.Soobratty & Son, United Bus Services Ltd, Les Vergers de Labourdonnais, Innodis, and Corson for CIF value of Rs 850,000.
The loading ceremony took place in October 2010 in the presence of the then Minister of Industry and Commerce, Hon Showkutally Soodhun and the High Commissioner of Pakistan, General Muhammed Siddique and many eminent personalities.  The contribution of the 60 employees of Conserverie Sarjua was to work for free for one day for the packing of the 4 pallets of pickles and jams.  
Being in the food industry, we already have the facilities to coordinate with local food factories for supply, freight companies for loading facilities and export documents and so on.  We would therefore be willing to extend our help in the concretization of the aid to Somalia project.  Clearly, if we load let's say 10 x 40ft of food, water and basic medication, this will reach the hungry and dying people and this is what they need – not money. 
We invite Hon. Dr Arvin Boolell to chair a meeting which will enable the coordination of supply from various local food manufacturing companies.