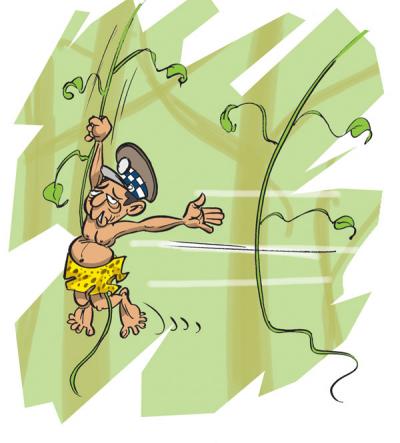 A country can never be at peace with itself if its Police Force or Service (call it by whatever name) is riddled with frustrations.  Since the early 1990s I have been in close contact with Police officers but I have never seen so much aggravation or ill-feelings and the reasons behind this are not difficult to guess.
POLICE SHIRT
1.    Mr The Commissioner, are you aware that there is no Police shirt available at the store of the Police Force/Service?
2.    Are you aware that any request for a Police shirt can't be entertained before September 2012?
3.    Are you aware that members of the Police Force/Service are condemned to wear the sole shirt which they have been awarded everyday?
4.    Mr The Commissioner, are you trying to prove that your members are so efficient that they can, through perspiration and sweat, change the colour of a blue shirt to one of white?
POLICE SHOES
1.    Gone are the days when the shoes of the Police officers were shining.  Today we see shoes that look like those of bygones centuries.
2.    Mr The Commissioner, are you trying to revamp the job of cobblers as at the time of Julius Caesar?
3.    Are you aware that Police officers have no other alternative than to mend their shoes or buy their own?
4.    How long will you continue to act as a passive onlooker?
5.    When will the shoes be available? Next year? Or is it because one believes in the Maya calendar, that the end of the world is so near that there is no need to buy shoes for ones officers?
6.    I wonder whether you realize that Police officers have to wear shoes for nearly 14 hours non stop per day!!!!!
Please do the needful….
POLICE BELTS
Sir, have you stopped for one second and stooped to see the Police belt?  The Plastic covering the belt is peeling away, thus giving an impression of substandard Police force.  Or Sir, are you trying to contribute to Ile Maurice Durable by getting away effortlessly the plastic covering the belt?
Former Commissioner of Police Mr Juggarnath must be raving with rage wherever he is.
Please Sir, bell the belt!!!!!
POLICE CAP
Are you trying to incrementally introduce within the Mauritian Police service the Gandhi Cap and that's why no effort is made to give a proper cap to your Police officers?
How can one miss a Police cap?  That's the reason Sir that now the majority of the Police officers are very shy to salute, because by saluting they will draw the attention of the public to the state of their caps.
NOTE BOOKS, PAPER, PENCILS
Sir, you must really believe that every piece of paper is an "treecide" that is unlawful killing of the tree.  If there is no paper how can one record, take note, unless you want the Police to become a paperless service but as there is still a long way for your force to become fully computerized, paperless means toothless for many of us.
Not even pencils for your police officers.
Are you aware that no Police Note Book is available?  Am I wrong in saying that every Police officer must be equipped with a police note book?
FAX MACHINES
Your fax machine is either switched on phone module or can't receive any fax because they don't have any paper. Do you know that a simple test will show to you that 75% of your fax machine is not in order?  Sir when did you last visit a Police Station?
SMS AND EMAIL
Let me remind you Sir that we are in 2012 and none of your Police station is equipped with an email system nor an SMS system which would have cost not more than Rs. 200,000 for the whole Island.
SOAPS, DETERGENTS AND TOWELS
I am forced to admit that you are really a very bright person because it appears that you don't want Police officers whose morale is really sinking to have recourse to detergents… Or is it that if toilets are stinking, it will be very difficult to sleep during night shift. Is it cleanliness?
STATE OF THE MAURITIAN FLAG AND MAURITIAN POLICE FORCE FLAG
In many respected countries, the sanctity of the flag is very important.  Shame on us when we look at our flags in front of your stations.  Our flags are as if we have been in stonked recently by unnatural forces.
YARDS OF THE POLICE STATIONS
Mr The Commissioner of Police Sir, must the yard be in such a filthy state so as to discourage people to come to Police station…?
OUTSIDE LINE BARRACKS
Whether we appreciate former Commissioner of Police Dayal or not, we must give him credit that during his time of tenure, the strips of land surrounding the Line Barracks were well looked after.
Please emulate your predecessors.
INSIDE LINE BARRACKS
Please try with your officers to have a walk within the Line Barracks… Take your time!!!!  And I am sure you will know what to do.  Any suggestion on my part will be an insult to your intelligence.
PROMOTION
The last promotion exercise was very economical … It appears that you give an impression that the Police is not an equal opportunity institution…Promotion exercise must be done fairly, openly and on a timely basis, failing which the twin demons of demoralization and demotivation will thrive.  Long term service Police Medals to police officers however meritorious they are, will never compensate for loss of promotion or for delayed promotion.
POLICE VEHICLES
When will you carry a proper audit of Police vehicles?  The majority are not road worthy!!  Soon, I understand that we are getting vehicles from China.  But where are the spare parts Sir???, or if ever there are any break down will it take the time of Marco Polo to repair those vehicles?
Even the Police motorcycles are facing a lot of difficulty.
Are you aware Sir that many bikes which have been bought are out of use?
SSU
Sir when will you use the SSU officers to patrol the major bus terminals during peak hours or do you prefer to barrack them?
TRADE UNION
Rights of Police officers to have their own Trade Union is imperative but that is for the Prime Minister to decide. I'm sorry Sir, when I look at the Police force, I cannot afford not to be a kibitzer but I must confess that you are a very lucky man.
Please buy a loto ticket.
Yours in peace.