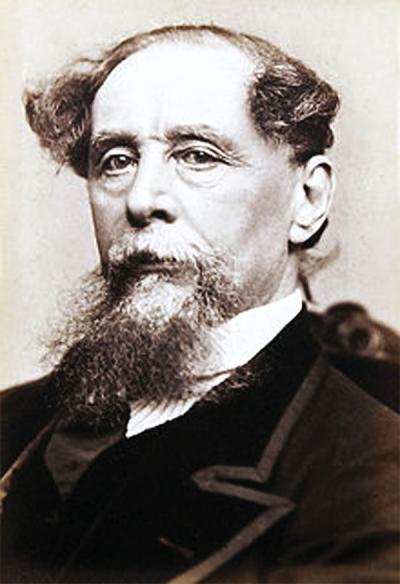 On February 7, 2012, the literary world celebrates the Bicentenary of Dickens's Birth. "The planned programme of events is huge", writes Dinah Birch in the issue of "The Times Literary Supplement" dated November, 18 2011. The activities encompass exhibitions, debates, documentaries, public readings, television and radio programmes. Films will include a major new "Great Expectations".
The range of activities reflects the different aspects of Dickens's life. He enjoyed great popularity throughout his life. His creative genius was appreciated not by a select readership by a mass audience.
A Child is born
The baby who was at 13 Mile End terrace, Landport, Portsmouth into a young, cheerful and improvident household was the second child and eldest son of John Dickens, a clerk in the Navy Pay Office, and his wife , Elizabeth.
When Charles was five, the family moved to Chatham, Kent. To the north were the misty Kent marches with the prison hulks moored, offshore, the setting for Pip's terrifying meeting with the convict Magwitch in the opening chapter of Great Expectations
These were the most settled years of his childhood and they lived in his memory as a golden age. This brief period also enabled him to be educated privately at William Giles's School. It ended abruptly when the Dickens family had to move to Camden Town in 1822 because of financial difficulties. John Dickens continually lived beyond his means and was eventually imprisoned I the Marshalsea debtor's prison in Southwark in  1824. Soon afterwards the whole family joined him except the twelve year old Charles who was boarded with a family friend  ,Elizabeth Rowlance. Later, Dickens was to immortalize her "with a few alterations and embellishments" as "Mrs Pipchin" in Dombey and Son.
The Blacking Factory Episode
To help his family Dickens was compelled to work as a boy-assistant in a blacking Factory. He was set to work in a dirty, rat-ridden warehouse, covering and labeling pots of blacking. Two other boys, one of who was named Bob Fagin did the same work. In Later years Dickens was bitterly ashamed of this episode in his life and never confessed it to anyone in his family but his wife. He decided to make use of his sad experience in some of the earlier chapters of David Copperfield, in which he described how David was employed by a wine-merchant. This story of David's childhood in London is a genuine account of what Dickens himself went through.
These miserable months spent in Warren's Blacking Warehouse gave rise to a fanatical determination to succeed in him. The work conditions made a deep impression on Dickens, and later influenced his fiction and essays, forming the foundation of his interest in the reform of socio-economic an labour conditions , the rigours of which he felt were unfairly borne by the poor. Before he turned to fiction, Dickens was a solicitor's clerk, a shorthand parliamentary reporter and journalist. He was a keen amateur entertainer with a particular aptitude for comic songs. As a young man he thought seriously of becoming a professional actor. Throughout the years of his extraordinary fame as a novelist, he was also running Journal (Household Words, and then All The Year Round) travelling , producing amateur theatricals, writing letters and organizing and supporting campaigns for social reform.
Representative of His Age
Dickens's professional writing career began shortly before his twenty-second birthday, when a comic fictional sketch was accepted by the Monthly Magazine. Six more sketches followed. When, in August 1834, he moved to his job on the Morning Chronicle, the editor encouraged him to write further "street sketches' In addition to his poetical and news reporting . For these Dickens started to use the  pseudonym "Boz". Sketches by Boz was published the day after his twenty-fourth birthday. The book was an immediate success. It was followed by the Pickwick Papers, the book which made his name. T then followed( Oliver Twist 1837-1839), Nicolas Nickelby (1838-1839), The Old curiosity shop(1840-1841),BarnabyRudge (1841),Martin Chuzzlewit (1843-44), Dombey and Son (1846-48),David Copperfield(1849-50),Bleak House(1852-53) Hard Times (1854),Little Dorrit (1855-57),A Tale of Two Cities(1859), Great Expectations(1860-61), Our Mutual friends(1864-65),and The  Unfinished Mystery of Edwin Drood. Among his Yuletide tales, A Christmas Carol (1843) which was followed by The Chimes (1844) and The Cricket on the Hearth(1845), was the most popular.
His vigour , mental and physical, was remarkable and it has made him an enduring cultural icon. Dickens is one of the few authors alongside Chaucer, Shakespeare and perhaps Samuel Johnson who has come to represent his age. His restless energy gave his writings its everlasting power.
He breathed his last on June 9, 1870 and was laid to rest in the Poet's Corner of Westminster Abbey. His death was felt as a national calamity. He is the writer who led his readers to sympathize with the good ,true, sincere , honest English characters of ordinary life and to laugh at the egotism, hypocrisy and false respectability of religious professors and others.