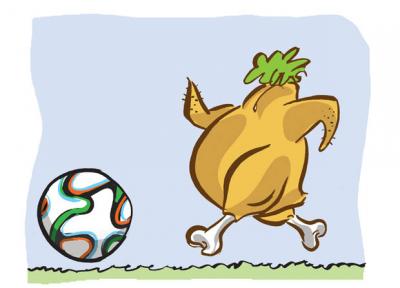 The smell of muscular male bodies dripping with sweat must have been too hard to resist.  After all, football is a game where lots of calories are burnt on the pitch and a grumbling stomach simply cannot be deterred.  So, who can blame Suarez when, under the scorching Brazilian sun, hallucinations have taken over and he finds his rivals transformed into jumping barbecued sausages, drizzled with a generous serving of hot perspiration sauce?
Shame on me if you fool me once, shame on you if you fool me twice but in the name of the Holy Ball, this cannibalistic episode has now reached a perfect trinity of epic proportions.  This is the third time that Suarez has been unable to stop himself from sinking his fangs into a fellow professional footballer's flushed body.  In 2010, at Ajax, he made a yummy snack out of PSV Eindhoven's Bakkal.   In April last year, he feasted on Chelsea's Ivanovic's arm.  And apparently, he had Italian in mind for quite a while now ever since he had set his sights on Cheillini during the Uruguay v/s Italy clash at the Confederations Cup 2013.  Italian cuisine is such a gourmet experience that Suarez patiently deferred his appetite till the FIFA World Cup 2014 to sharpen his fangs.  Then, instinct took over as he sampled Cheillini's roasted shoulder with gusto.
Suffice to say that Suarez loves European cuisine: Dutch, Serbian and now Italian.  So, what next? Well, following his 4-month all football and 9 FIFA international matches ban (which many find wholly inadequate), the aspiring cannibal, confined to the doghouse, might be mulling over the fact that he has bitten off more than he can chew.  Literally.  The carnivorous Italian meal has been the last straw from which he could suck out some 'bloodshake' too.  Hopefully, as he listens to 'Who let the dogs out?' during his cannibal rehab spell, he might one day understand the true meaning of sportsmanship.  
On a more optimistic note, thank goodness Suarez does not have any ball craving…yet!  Otherwise, in the name of the Holy Ball, I cannot even begin to imagine the carnage on the pitch!