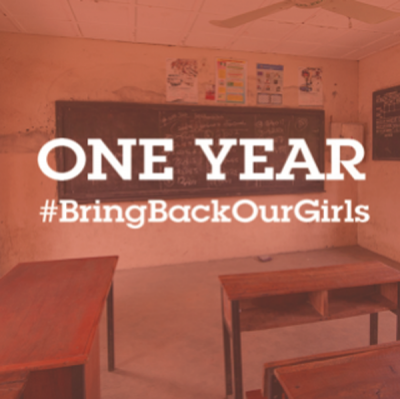 April 14 marks the one-year anniversary of the horrific abduction of 219 girls in Chibok, Nigeria by Boko Haram. On this day I stand in solidarity with these girls and their families and my fellow A World at School Global Youth Ambassadors and thousands of young advocates for education around the world to demand the right to education and safe schools for all.
No child should have to risk being attacked or abducted for going to school, yet around the world attacks on students, teachers and schools are on the rise and 28 million children are out of school due to conflict and emergencies.
United Nations Special Envoy for Global Education, Gordon Brown has echoed the responsibility we have to ensure children are in a safe environment, "It is our moral duty to make sure that every single child in the world can enjoy the basic right to education – free of terror, free of fear, and with the support of the international community."
The kidnapping of the Chibok girls shocked and outraged the international community. But this is not just about Chibok. While children risk violence to get a seat in a classroom, donor aid to education is in steady decline, many countries do not have plans to reach the most marginalized children, and the 2015 target for getting all children in school and learning is being pushed back to 2030. This is unacceptable.
Inclusive Education for children with disabilities remains a challenge in Mauritius. Being a signatory of the UN Convention on the Rights of Persons with Disabilities (UNCRPD), the Government of Mauritius has a legal duty to remove reservation on Article 24.2(b) which says "Persons with disabilities can access an inclusive, quality and free primary education and secondary education on an equal basis with others in the communities in which they live;". Education is a fundamental right for every single human being. No one should be denied to receive education with or without disability. It is an insult towards this Human Right!
As an ambassador on education, I make an appeal to the government to remove the reservation on education and make sure every single teacher is trained how to communicate using sign language, braille and deal with students with disabilities for the welfare of all persons with disabilities.