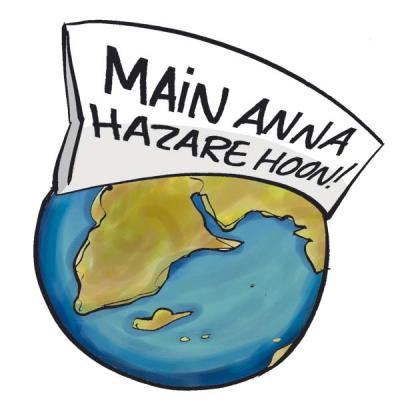 On its 64th anniversary of Independence, India, contrary to 1947, has a tryst with Kisan Baburao Hazare, alias Anna [brother] Hazare, molded in the Gandhian tradition of Satyagraha, recipient of the Padma Bhushan Award, who is questioning the benefit that Azadi has brought to the 800m poor and whether in fact the dream of Nehru has not turned into a nightmare.
The first Indian Prime Minister's ambition was to put an end to poverty, ignorance, disease, inequality of opportunity and to wipe every tear from every eye. His mission should serve as a road map for the world also. In today's India, the contrary is a glaring reality as the Brown Sahibs are lining their overseas bank accounts, farmers, unable to pay their debts, commit suicide in thousands and India, this year ranks 87th on the international corruption list, from 72nd in 2009.
The Government clumsily imprisoned the 74 year old man on fast for not respecting the Indian public gathering act and this action boomeranged in its face. Millions have been galvanized into a grassroots movement against the refusal of the Government to appoint an Ombudsman against corruption under whose ambit would fall the Prime Minister, Sitting Members of the Lokh Sabha, the Judiciary and the Bureaucracy. Another point of discord is the kind of punishment to be given to those found guilty of corruption.
The Indians, wearing the "I am Anna Hazare" stickers have turned him into a National hero and a modern Gandhi. The Indian Diaspora has joined in the fray by blogging in support of the Icon of hope. Will "Mera Bharat Mahan" be revived? Let us hope so. Gandhi who has influenced Martin Luther King and Nelson Mandela must not fail in his own country.
If we go by the list of the fashionable accusations hurled by the honest Mauritian politicians on each other, our country is a gold standard of corruption. What is the hope for Mauritius to get rid of the mounting scourge that is impoverishing the population? Next time, when the Indo-Mauritian bilateral talk is taking place, the Mauritian side should request as a priority in its request for help, the contribution of Anna Hazare to cleanse our rots.
The billion-rupee question is: if all the parties, who accuse their opponents of illegal practices and who have been in power at one time or the other, have never taken a single serious step against misdoing, will they dare invite Anna Hazare? And our nationals, the docile "victims": have they saved an iota of ghairat [self-respect] so as to be roused by the appeal of this prophet of purity?