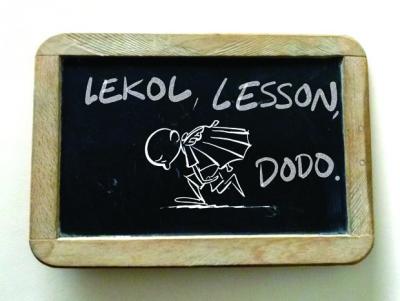 What if you had the knowledge of a way for children and young people to:
     Improve their academic results
     Improve their communication and reading comprehension
     Improve their self-esteem and mental well-being
     Improve their physical and mental presence
    Improve their interpersonal, intercultural, social and civic competence
     Stimulate to "learning to learn" and to entrepreneurship
     Overlap the knowledge gaps based on socio-economical reasons
If you knew; are you not obliged to tell everybody about it and to do all that it takes, in practice, to turn this knowledge into reality?
The fact is: I have that insight and the name of the knowledge is creativity and theatre. Therefore I am happy to present my new report to the minister of education – Mrs Leela Devi Dookun-Luchoomun.
The seven examples of improvements are achieved when children and young people are involved in drama and theatre activities. They are based on my experience and, fortunately, they have the full support of scientific research from all continents.
During 30 years, I have been working, professionally, with the performing arts as a development factor and using the method on structural, group and individual level.
In 2010 I settled in Mauritius with the will and conviction to be able to contribute to an improvement in the field of Culture and Education.
In five Mauritian years I have studied the country's theatre, culture and education. I have offered my knowledge and services to the Republic's institutions: a few seem to see that change is necessary and how easy it could be implemented. My contribution is turned down. As that, single, knowledgeable person, I survive – almost. What is worse is that others do not: I see violence, bullying, disrespect, death, fear, crime against law, ethics and morality. The creativity that could be the nation's proud asset is easily counted on my right hands fingers. Why is it not a part of the educational system?
The year 2005 a survey was conducted in the US showing that art in education has a tremendous public support. 93% of Americans consider the arts to be vital to provide a well-rounded education for children and a critical link to learning and success.
In Mauritius, many experts I talk to say that art and especially the performing art is not a part of the Mauritian culture. If their assumption is right: in contrast to e.g. USA, Mauritius must have a weak public support to arts and drama in education; what is the simple explanation?
Instead of, year after year, continue to conclude and cement that art is not a part of the Mauritian culture; it is about time to change that. We need to make art, creativity and theatre a part of the Mauritian culture and society as a whole. And we need to act now!
A large and interesting study by Anne Bamford UNESCO 2006), The Wow Factor « shows that even if 92.7% of school curriculum in the world says that creativity is important, there is a gap to the practice and in ¼ of the cases the education was so bad that it was actually « killing off the creativity ». So if we act now – we also need to act with quality.
I believe that the concepts of Drama and Theatre must find its correct definition in Mauritius. I shall give two examples of « killing off the Creativity »:
Drama in education is not to read and study the plays of Shakespeare and Theatre is not a competition.
Drama and Theatre is something completely different. Drama is a way to develop as a creative person through practical exercises in group. Theatre is a way to communicate visually with an audience, using all the senses. Theatre and drama investigates and finds solutions to conflicts. In 1994, UNESCO gave interactive theatre an official acknowledgment as « A Tool for Social Change ». And all around the world we can see projects preventing bullying, domestic violence, HIV / AIDS, teenage pregnancy, discrimination, abuse of alcohol and drugs, sexual abuse, injustice and we also find thousands of projects encouraging civic braveness, understanding complex structures and mental health.
Sometimes I feel like an anomaly in the predominant Mauritian paradigm or system of thoughts. I believe in sharing knowledge and thoughts in collaboration with others! I represent or defend no self- or special interest that will give me a huge profit!
I defend and share a practical art form that demonstrably creates stronger and more active people and there's no one losing in this. But every day passing without a fundamental transformation of education with integrated drama and theatre in school, is a lost day of possible creativity and a lost day for the minds of our future adults.
 Today I finalised the report "Theatre and drama in Mauritian education – THE WAY OF THE FUTURE"  and now I hope for an appointment with the Ministry to discuss the road plan of creativity for the future.