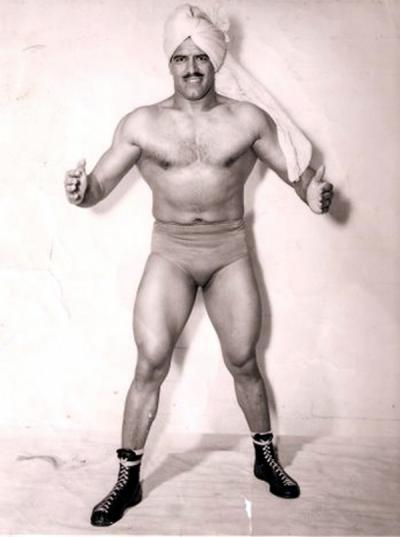 At a time when glamorous stars of Indian Cinema like Raj Kapoor, Dilip Kumar and Dev Anand formed the " Big Three"  along with upcoming stars like Dharmendra, Rajendra Kumar and Shammi Kapoor, it was common to rate other movies for the masses as " Série B"  owing to their comparatively low-budget and particularly scenarios that were more focused on fantasy and action.  It was rare to see action from established actors since their success depended a lot on romantic roles.
 In the 1960s, when Hollywood invaded the silver screens with fantasy movies, Bollywood could not resist such temptation.  The inspiration was so great that there was a lot of creativity in the so-called "B-Series" cinema.  It was a spirit of creating diversity in an industry which had raised hopes for only clean and lavish productions.  In parallel to classy romantic and family dramas, fantasy movies also struck the screens.
Enter Dara Singh
Dara Singh, India's most adulated wrestler, was an ideal choice for action-packed thrillers.  With a corpulent body and chocolate-tablet abdomen, a stern look very similar to comics' heroes with a dire ability to perform stunts, Dara Singh turned out as the hero of the common cinemagoer.  In Mauritius, fantasy movies like "Hawa Mahal" (The Castle in Heaven), Mr X (The Invisible man), Wild Cat, etc were low-budgeted movies that drove local audiences crazy. It was the intrusion and acceptance of science-fiction coupled with action and thrills that mainstream actors would broadly avoid doing.  Such a prospect developed an unusual niche market for other actors who were less endowed with attire and dramatic competence to the chocolate stars.
En "maillot de bain"
 Dara Singh mostly appeared on screen without formal shirting.  He was accepted as a hero wearing either boxer shorts or a colourful undergarment known to viewers as "maillot".  He looked stunning because his well-exercised physique like "Mr Universe" gave him a seductive look rather than a vulgar one.  Even Dara Singh's heroines liked him namely his favourite partner Nishi and another daring actress Kum Kum.
Such a wonderful action hero could unfortunately not sing in his movies because his physical appearance did not allow him to portray emotion correctly.  Most of the time, Dara Singh disguised himself as a lady to utter a song or simply, his well-known side kicks namely comedians Bhagwan and Johnny Walker sang the songs which usually allowed Mauritian viewers to leave the dark theatre, either for quick snacks or toilet.
 "Dishum Dishum"
 Violence was subject to censorship in the 1950s and even "Sangam" (1964) had a single violent scene which Rajendra Kumar dramatised with a gun shot.  Comparatively, Dara Singh, Jairaj, Ranjan and Sheik Mukhtar were action heroes who never feared giving blows to the characters known as villains.  In "Lootera", "Hercules" or "Boxer", Dara Singh dubbed the action scenes with the famous "Dishum Dishum", a sound that all young Mauritian and Indian viewers would like.  To add fun to the action, sometimes viewers could burst into laughter with "Tikum Tikum", a sound that was used to initiate action.  Unfortunate villains in such movies were Kamal Kapoor, Jeevan, Ansari and some other unknown but deserving artists.
Dara Singh in Mauritius in 1972
 The Dara Singh extravaganza in Mauritius in 1972 was a spectacular event duly covered by MBC Tv.  Dara Singh came to our country with a wonderful group of wrestlers including his brother Randhawa who could be compared to Robin, the alter-ego of Batman.  Other fighters included "Mighty Mongol", "Mad Monk" and "Sony Alexander", all these being nicknames.
 Dara Singh gave interviews on television prior to his wrestling matches while insisting that those "make believe" duels were real confrontations.  On a Saturday evening, we (the author and family) patiently waited for the end of the news bulletin to hear that Dara Singh had won by thrashing "Mighty Mongol" through an Indian deadlock.
The Indian deadlock
 Dara Singh had a style of his own.  In the closing stages of the games, he usually lifted up the 120-kilo or so opponent with his strong fists, turned him around to neutralise his senses and threw him back on the arena.  Then, Dara Singh would jump over him by bending his knees and completely trap the opponent's body and legs to disallow him to move.  Ultimately, with a blow-call hit "Dishum Dishum" – the opponent was knocked out.
 As the games pursued, Dara Singh won over Mad Monk and Sony Alexander.  Randhawa, the younger brother, did also very well.  What surprised the audience was that Mongol, with a blood-splashed forehead or Mad Monk with a broken leg, as certified by the ring referee, came back to fight with Randhawa some days later.
Both brothers never fought together as Dara Singh clearly voiced out that this was never in his mind.
 A long time after Dara Singh and company left Mauritius, fans could locate Hotel Ambassador and fondly memorise those wonderful moments that their actor and wrestler offered them in their country.
"Lalkar" and "Rustom"
  Although Dara Singh proved to be very popular among children and common cinegoers, there were some significant roles that he played on the big screen.  In "Lalkar" (1971), he immensely appealed to his fans by killing a python in water where as a soldier, he immobilised the snake while his colleagues moved through an ambush.  In 1982, Dara Singh offered a more decent and humane performance in his home-made film "Rustom" which portrayed the rise and decline of a wrestling idol fraught with sentimental problems.  Although "Rustom" flopped on not being a conventional Dara Singh film, it gave a better outlook of a wrestler's life.
 Dara Singh later shifted to television and got more significant roles which televiewers greatly appreciated.
A legendary group of stuntmen
 Dara Singh teaming with Jairaj and Sheikh Mukhtar formed a trio of legendary stuntmen.  Along with them, cinema developed awesome creativity.  Titles like "Tarzan comes to Delhi", "Bombay Racecourse", "Tower House", etc, gave viewers a chance to see the other side of cinema with drama, titillating suspense and thrills.  In certain films, the Boss (main villain character) tended to be behind the screen from start to the end usually with a pipe at hand.
Dara Singh and his colleagues never dared entering dangerous caves, pulling airplanes and ships, and eventually, getting the boss out of his hideout.  They even tore the muzzle of alligators or crocodiles to the great pleasure of their fans.
Theatres burst into roars with wooden seats flying here and there.  Some Dara Singh movies only accommodated "Premiere"and "parterre" (in front of the screen) seats, balcony seats being reserved for family dramas.  
 Beware, a huge man in a colourful swimsuit and boots enters the scene.  There will be action or simply "ène bon coup batté" with mature viewers lighting cheap and polluting cigarettes and children screaming and widely enjoying every frame.  It's Dara Singh, and who else!