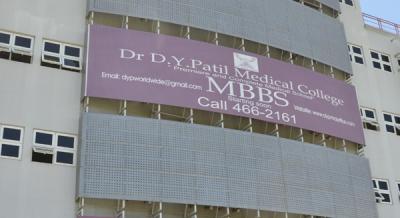 La direction de DYP Worldwide Ltd, représentée par Raj Bappoo et gérant le DY Patil Medical College, tente de rétablir les faits par le truchement d'un contre-affidavit avec des réclamations de Rs 50 millions aux deux étudiants indiens dénonciateurs. Dans ce document rédigé par les soins de l'avoué Me Rama avec pour avocats Mes Yousuf Mohamed, Senior Counsel, et Me Ali Hajee Abdoula, les accusations accablantes portées contre le niveau des cours en Post Graduate Medicine sont récusées tout en soulignant que « the image and reputation of DY Patil Medical College has been tarnished in the public opinion as a result of such media reporting ». Mention est également faite de deux Memoranda of Understanding avec, d'une part l'University of Technology Mauritius et d'autre part, avec le ministère de la Santé, pour la gestion de cette faculté médicale à Maurice.
« There are no illegal things happening at DY Patil Medical College, as alleged or otherwise. The quality of education provided by the Medical College is of the required standard », soutient la direction, qui vient d'essuyer un revers aux mains du Medical Council, recommandant l'annulation des cours menant au Post Graduate Ophtalmology faute de personnel académique approprié. « Some students wanted to leave the course of their own volition and for reasons better known to them and no alleged illegality or alleged poor quality of education has ever been invoked », soutient le DY Patil Medical College.
Dressant la chronologie de cette faculté de médecine, qui a démarré ses opérations en août 2010, le DY Patil Medical College met en avant le fait que « so as to be able to provide medical courses and proceed with ontake of medical students, the DYP Medical College required affiliation with a university in Mauritius and an awarding body ». Ce qui fut rendu possible par le biais du MOU avec l'University of Technology Mauritius alors que les facilités à l'hôpital Jawaharlal Nehru et d'autres hôpitaux spécialisés furent mises à la disposition de cette faculté pour les besoins des cours menant aux diplômes en médecine que ce soit au niveau Under Graduate ou Post Graduate.
Le document légal ajoute que le DY Patil Medical College est enregistré officiellement auprès de la Tertiary Education Commission et que les autorisations formelles ont été obtenues pour des cours de spécialisation en médecine. « Any post graduate student requires registration with the Medical Council of Mauritius to take part in clinical training. For foreign students a temporary registration is required irrespective of the fact that they are already registered with the respective medical councils in their countries of origin », ajoute cette faculté médicale au centre d'une controverse depuis le début de février dernier.
Un autre volet du contre-affidavit est consacré au personnel académique du DY Patil Medical College, notamment que « all faculty members are fully qualified, experienced and efficient, both in their practice and in teaching ». La direction rejette catégoriquement les allegations de « fraudulent record keeping without any hint of an evidential foundation ».
En ce qui concerne l'embauche des professionnels mauriciens en tant que chargés de cours, le DY Patil Medical College affirme que « this appointment is in accordance with the guidelines of the Memorandum of Understanding which specifies that lecturers must be local doctors employed with the ministry of Health ». A ce jour, aucun médecin mauricien n'a été recruté en tant que Professor ou Associate Professor de cette faculté médicale. « Several Mauritian doctors are appointed as lecturers and one Mauritian doctor appointed as Associate Professor across the various departments », reconnaît le DY Patil Medical College, qui ajoute que « the Mauritian doctors are a vital and integral part of the teaching faculty and participate in all training and assessment activities as needed. Their fondness for teaching and popularity amongst the students is exemplary ».
Par ailleurs, le contre-affidavit de DY Patil Medical College définit le rôle crucial de l'University of Technology Mauritius dans son fonctionnement. « The UTM is the awarding body for all medical courses delivered by DY Patil Medical College. The UTM holds the exams, undertakes the quality assurance and control and awards the degree to the students of DY Patil Medical College. It is therefore the UTM that needs to be enlisted with the Medical Council of Mauritius as an awarding body for medical degrees », confirme la direction.
Le DY Patil Medical College fait également état de discussions avec le ministère de la Santé et le Medical Council à l'effet que « its non-citizen Post Graduate students who apply for temporary registration as a general practitioner in Mauritius be exempted for having to undertake these exams » sous certaines conditions. Aucune decision n'a été prise à ce sujet jusqu'ici.
A ce même chapitre, la direction de la faculté s'appesantit sur le fait que « no non-registered student of DY Patil Medical College is engaged in doing any clinical work whatsoever such as, inter alia, treating patients, prescribing medication and conducting surgery… There Post Graduate students are only permitted to be present during the clinical rounds, OPDs and in operation theatre to learn from observation, discussion and demonstration only ».