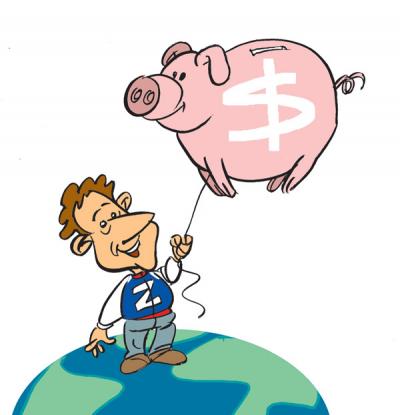 Facebook might reach its one-billionth user by August according to predictions. Momentous? You got that right, momentous it is indeed. But before August, London 2012 plans to dazzle us with an array of performers and of course athletes, whose preparation can be seen through photos on its Facebook page. Finally, a little of the unusual as reported by the Facebook page of Le Monde.
What's cooler than a million?
"What's cooler than a million dollars? A billion dollars!" That was one of the most memorable movie lines in 2010 from The Social Network, and fittingly so. Mark Zuckerberg might say a similar thing in August. It is estimated that by then, Facebook would have reached it one-billionth user. By the end of last year, the social networking site boasted 845 million active users. According to figures revealed today, Facebook users have now reached 901 million. It's not far off from the billionth mark. What does that mean?
It means that out of an estimated 7 billion people that populate the world, almost 1 billion are connected to the Internet, in some way or the other. Almost 1 billion people are connected to each other in some way or the other via Facebook, just by virtue of being a Facebooker. Anyone still having doubts about the world being a 'global village'?
It also means that Facebook jargon is now incorporated in everyday talk. It has become so popular that the term 'unfriend' has been added to the Oxford English Dictionary in 2009. That was 3 years ago. Today, terms like 'add friend', 'friend request', 'timeline', 'Facebook share', 'like' have taken a new meaning apart from the literal, especially for regular Facebookers. It is now well known that Facebook's tentacles have reached almost every aspect of life: it has gone beyond mere socialising. It has now become to medium par excellence for any kind of event, rally, meeting, discussions, fighting for causes, among so many others. It also means that with more and more people socialising virtually, there are bound to be side effects.
How further will Facebook change our lives? Coming years will tell as it does not show any signs of slowing down.
On your marks, get set…
The whistle will signal 'go' only on the 25th July with women's football but the official opening ceremony of the 2012 Summer Olympic Games or London 2012 as it is commonly known, will be on the 27th of July. Preparations are reaching final stages as the organisers put finishing touches to the infrastructure and participants refine their skills.
The Facebook page of London 2012 is full of news of performers for the ceremony like Rihanna, Cate Blanchett among an array of other stars. There are also aerial shots of the Olympic Park as well as an inside sneak peek in the Athletes' Village. The Facebook page also allows people to see the athletes in qualification events, such as synchronised swimming.
In the spirit of the Olympic Games, the London 2012 Festival has been organised. Running from the 21st of June till the 9th of September, it has planned a lot of activities so that culture becomes an integral part of London hosting the Olympic games. The activities range from theatre, to comedy, movies, art exhibitions to name but a few. With performers like Stephen Fry and Julie Walters, the festival sounds promising. Talents from the world over have also been invited to participate in the Festival making it a true cultural parallel to the Games, as it used to be in Ancient Greece.
A Not so Happy Birthday
In the Facebook era, organising a party should be easier. No phone calls or endless lists to make sure everyone's invited. Just create an event and add the people you want to invite: simple, easy. However, that would not be the response of a 14-year old French boy, as reported on the Facebook page of Le Monde. While he wanted to invite only 29 friends to his party, some of his friends created an event about it and it ended up with 48 000 people 'attending'. When his father got to know about it, the party was cancelled.
Whether 48 000 people would have come is highly unlikely but it just shows a flip side to the practicality offered by the social networking site.
Billion users or not, Facebook remains a big part of many people's lives. By bringing events closer to home and by sometimes creating unwarranted inconveniences, it remains an exciting and unprecedented platform.