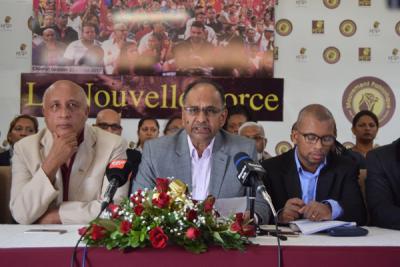 The whole world, including Mauritius, celebrates International Peace Day on 21st of September of every year. We could not celebrate! Not because we have been hit by some natural calamity or we have an open armed conflict but because of two men (one calling himself a human rights lawyer and the other believing that he is some sort of a monarch – perhaps of prehistoric time) who are supposed to represent the citizens of Mauritius in parliament have been so very violent towards the nation.
Mauritius Society Renewal's main objective is to push for ethical governance and sustainable development and peace. It is our duty and collective responsibility to show the nation that we are capable of a better, more inclusive, peaceful and respectful Mauritius. But with such Members of Parliament there is little possibility, if at all, of renewal. This brings us to wonder if we are really in 21st century Mauritius? As we brace ourselves as a nation to celebrate 50 years of independence, what does it tell us about our emancipation as citizens? Those who 'ad nauseam' tell us that we are the 'number one' democracy that should be emulated by others should perhaps 'get zot figir dan miroir' as recommended by 'Honourable Rutnah.'
Violence and patriarchy are intermeshed and continue to run deep in Mauritius. It is this very kind of violence which impacts on the psyche of a number of citizens pushing them to treat other human beings as objects and often hitting them to death. It is no surprise that the number of reported and unreported violence in different spheres of Mauritian society is on the rise.
In context of the Research Week, the Faculty of Social Sciences and Humanities of the University of Mauritius has this year retained the theme: 'Human Values, Rights and Justice: Rethinking the Fundamentals'. Not later than on Tuesday the 19th September, the Dean of Faculty, Professor Arnaud Carpooran and the guest speaker, Lindsey Collen, pointed to the need for the Mauritian intelligentsia to break the silence and to speak out on all forms of injustice. Here we were telling the young people the importance of being non-violent, to respect the other and the critical role that the Humanities and Social Sciences can have in the shaping of a more just society, where people are treated as equals and with respect. Meanwhile, fellow Mauritians woke up to the outrageous and demeaning comments of Ravi Rutnah – an elected member of Parliament. This came just a few days after the collective shock arising out of the way the Vice Prime Minister treated a woman who dared call him to order for being off the subject during a meeting.
Soodhun and Rutnah were elected to 'represent' the nation in our parliament. Rutnah argues that the use of the Creole language would encourage parliamentarians to be abusive and derogatory towards each other. From his statement to a private radio, it does seem that he has a sense of heightened status when he said he should be respected because he is an elected official. No doubt anyone who listened to his comments were flabbergasted by the virulence of the language, particularly because it came from an 'elected official'.
Rutnah and Soodhun who are paid through the public coffers are a total embarrassment – we are horrified and we believe that they should step down. Many of the colleagues of Mauritius Society Renewal are of the opinion that it will be very difficult to renew Mauritian society with the likes of Soodhun and Rutnah around. Rutnah said that he was withdrawing his words – this this is NOT AN APOLOGY. It is certainly not enough for Ivan Collendavelloo to present an apology on Rutnah's behalf.
 The Minister of Gender Equality's DELAYED response, saying that Rutnah's words are unacceptable and that Rutnah 'est assez grand pour savoir ce qu'il faut faire' is rather unpalatable by most progressive thinkers. Mauritius Society Renewal and all the women and men helping this think tank for a truly modern and renewed society are in fact of the opinion that the likes of Rutnah simply 'ne savent pas ce qu'il faut faire'. The national think tank Mauritius Society Renewal therefore invites you, the public, the Minister of Gender Equality, the President of the Republic and the Speaker of the Assembly, (the driver behind the Parliamentary Gender Caucus) powerful women who often argue to be firm believers in the dignity and empowerment of women, who also participate in women's rights celebrations, to live up to the expectations of a 'modern' society, by officially and strongly condemning the comments of Rutnah and Soodhun and to ask for their revocation. Modern and a truly JUST Mauritius does not have room for such characters! You now know 'ce qu'il faut faire'.