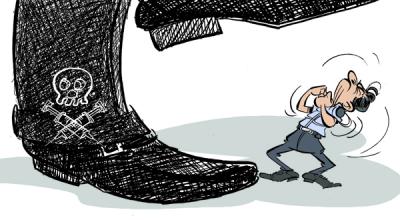 It is very anxious to note that the ADSU units in the country are being depleted day by day.  The new scourge facing our republic is synthetic drugs and it is making serious inroads in all spheres of life.
We are hearing everyday that in our quest to fight the synthetics no stone will be left unturned but is it so in real life?
No…No…No…
The ADSU consists generally of very dedicated police officers who dice with their lives on a 24 by 7 service.  But is the ADSU properly supported? NO.
Let's take the example of ADSU of the Northern Division to support the reasons of my anxiety.
The ADSU team of the North is located at Grand-Baie in a small office which is the joke of any person having had the misfortune of paying a visit to the team for one reason or another.
I understand that the dedicated team recently painted its own « office » at its own costs.
What is the jurisdiction of the ADSU Northern Team?
They have the responsibility to cover the two districts of Rivière du Rempart and Pamplemousses.
Size of the population: Not less than 200,000 people excluding tourists and Mauritians working or visiting the two districts.
A couple of years ago, the ADSU team comprised some 40 officers.  Today, only 20 officers are posted at the ADSU.  A team which has been halved and yet it is still performing well.
But unless the authorities labour under the illusion that the ADSU are supermen/superwomen who need no rest, something must be done.
Cynics will say, however, that by so doing some people may have become despite themselves objective allies of drug traffickers.
ADSU have to:
?Give a 24-hour service;
?Patrol two districts;
?Attend court cases;
?Attend complaints of the public;
?Give a helping hand to other divisions in case of special raids;
?Take statements…
The ADSU office of the Northern Division is situated opposite Grand-Baie Beach. Imagine working long hours in a small office without any air-conditioning.  And yet I repeat they perform very well.