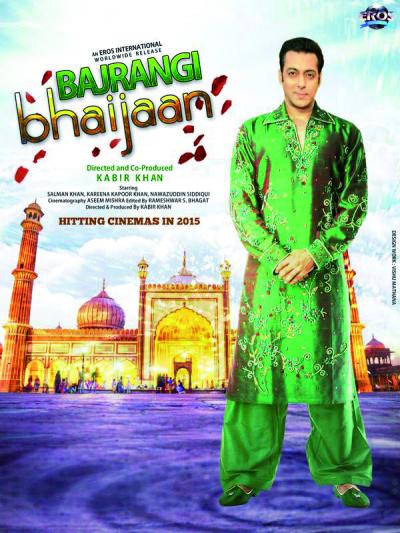 The India-Pakistan dynamic, which is traditionally driven by ups-and-downs, has witnessed open hostility at its worst, yet incredible civility and courteousness at its best.  While high politics are involved in protracted dialogue to drive a process of sustainable and long-term peace, there are several initiatives at people-to-people level working to unite the hearts beyond the borders.  The Bollywood's recent record-breaking blockbuster, Bajrangi Bhaijaan, has not only captivated the attention, imagination and emotions of 1.2 billion Indians and 190 million Pakistanis, but has helped them realize to what extent they are connected by the thread of humanity.
The film seems to be similar to a real-life story of an eight-year-old Indian girl, Geeta alias Guddi, who was found lonely and helpless in Lahore near the Pakistan-Indian border in 2007 and was rescued by the Pakistani rangers.  She might have reached Lahore in Samjhauta Express.  Although no travel documents were found with her, she was found crying near the Samjhauta Express train.  Mute and deaf, Guddi could not give clear indication about her parents and background, apart from scribbling few Hindi words.  The insufficient details furnished by Guddi failed to form a proper picture of who she was, what happened to her and how she would return home. The Pakistani authorities handed over Guddi to the care of Pakistan's most respected philanthropist, Abdus Sattar Edhi who runs a shelter home in Karachi, where she is treated like a family member.  Her name "Geeta" was given to her by Mrs Bilquis Edhi who made a special provision for Guddi's own mandir at Edhi Foundation shelter.  She is served with vegetarian meals and she also fasts during Ramadan.
Pakistan's former expert advisor to the United Nations on Human Rights and former Federal Minister, Ansar Burney, has been making relentless efforts since 2012 to locate the parents of Guddi in India.  He has been persistently bringing the case of this missing Indian girl to the social media.  The stark reality is that such heart-breaking story gets lost in an environment of political prejudices and neighbor rivalry, complicated by a cumbersome and indifferent bureaucracy.  But now, after the monumental success of Bajrangi Bhaijaan, the untold story of Guddi has made an echo in Delhi.  Guddi, now 23 years old, is being helped by the Indian Ministry of Foreign Affairs upon clear instructions from the Minister of External Affairs, Mrs Sushma Swaraj.  Guddi has recently been visited by the Indian High Commissioner in Pakistan and her story has been highlighted in considerable details by the leading media-persons in India.
The film "Bajrangi Bhaijaan" is a story of an Indian Hindu Bajrangi who comes to the rescue of a six-year old mute Pakistani girl, Shahida, separated from her mother after their visit to the mausoleum of Hazrat Nizamuddin in Delhi.  The purpose of their trip to Delhi was to offer a mannat (prayer) for the regaining of Shahida's speech ability.  Salman Khan (Bajrangi Bhaijaan) plays the role of a Samaritan who sets himself on a mission to unite the Pakistani Shahida, alias Munni, with her parents.  Bajrangi is a Hindi word referring to strongly-built person (but also as associated with Hindu God Hanuman) and Bhaijaan is how a brother is called in Urdu with respect.  Wherever Indians and Pakistanis have watched the film, they have surely appreciated the sentiment of how the thread of humanity connects people in the invisible yet solid ties.
The incredible story of Guddi has now emerged into limelight thanks to the real-life Samaritans like, Abdul Sattar Edhi who gave her a home in Karachi, and Ansar Burney who is determined to re-unite a "lost-in-Pakistan" mute and deaf Indian girl to her home in India.  This real heart-warming story is indeed an expression of values to which a real-life Bajrangi or al-Mohsin (Philanthropist) lives by.  When people of magnanimous spirit exist on both sides of the border, there is hope that the ardour of the hawks will be dampen and that there is a chance for the peace initiative to succeed.