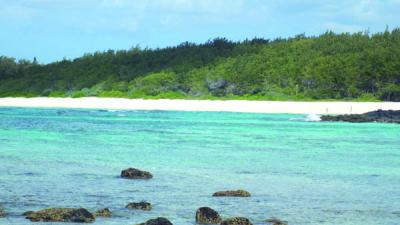 These past several years, Land Developers have been grabbing the last untouched beaches of the island of Mauritius to build tourist hotels, and this, with the blessings of the various political parties in power at the time. However, the natural flora and fauna of the island's shoreline and lagoons are being very adversely affected. But some people just don't care!
The latest in line is La Cambuse Beach, a pristine unspoiled spot beside Blue Bay Marine Park, in the south-east of the island, where a mega-tourism project is getting all the green lights to go ahead! Should this "development" materialize, it will be an immense ecological loss for future generations, and in the long run, it will be a question of a short term gain for a long term pain! All too often, in every such case, the decision makers say that this is important for job creation. We maintain that there are numerous other ways, which are ecologically-friendly, to create jobs!
The Blue Bay Marine Park, renowned for its remarkable coral garden, was the first of its kind to be officially set up in Mauritius.  In 2008 the Marine Park, with its surrounding area, was even designated as a wetland site under the Ramsar Convention on Wetlands of International Importance. Still the land developers do not care, and they want to go ahead with their project!
Since there are already enough hotels and villas in this area, it will be a real disaster if yet another hotel complex is built in the last stretch of greenery that still remains at La Cambuse. The white sandy beaches, clear waters of the lagoons, coral reefs and fishes in the Marine Park and other wildlife will be devastated. The vegetation and sand dunes where sea turtles come to lay their eggs will suffer immensely.
We should all be aware that it is becoming increasingly rare to find such an unspoiled location – anywhere in the World. As ecologically-conscious islanders, we have a responsibility to be proactive in the protection of our last untouched, unspoiled beaches. We owe this to our children and grand children, as well as to all future generations world-wide.
A couple of weeks ago, some of us went on a boat trip in the lagoon at Blue Bay. The picture (courtesy Petiot Nahaboo) that we have chosen from the whole lot shows the natural beauty of the immaculate sandy beach at La Cambuse. It will really be a pity to build a hotel complex there, it will be "un attentat à la pudeur de cet endroit".  
Help us at RAFAL to save La Cambuse Beach and the Blue Bay Marine Park!