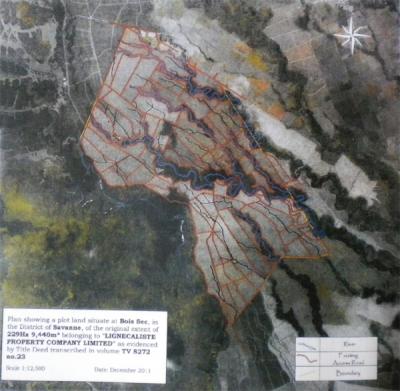 Prime Minister Dr Navinchandra Ramgoolam, Sir,
In view of your championing of the Vallée Ferney Reserve success story, and the subsequent popular enjoyment of this site of exceptional natural beauty within your Vision of Maurice Ile Durable – MID Concept of Sustainable Development-, we submit for your considered appraisal, the following evidence and facts pertaining to a proposed Residential Development of 356A83P [356 Acres] [Promoter Arthur & Morgane Ltd, formerly Lignecaliste Property Company Ltd] on a site of exceptional natural beauty, natural water resources security,  and environmental significance located at BOIS SEC, in the Savanne District, 1km from Bois Cheri and 3.7 kms from Grand Bassin on the Central Plateau.
Major issues require your urgent consideration with respect to [1] National Security relating to Hydrological Characteristics, [2] Water Rights,  [3] Water Security for the Southern District of Savanne, [4] Fauna and Flora endemic features, [5] Aquifers [6] Settlement outside Savanne Outline Planning Scheme [7] Alternate use for the proposed site next to Black River Gorges National Park [8] Over 70% of the proposed site for RES, IRS, Golf Course Complex lies WITHIN the future Rivière des Anguilles Dam Catchment Zone and is located [illogically] UPSTREAM of the proposed Dam.
The significant physical characteristics of the BOIS SEC Residential Development site is the significant number of RIVERS, RIVULETS, FEEDERS , and NATURAL DRAINS that cross the site,  or flow all alongside the site, namely: Riviere Gros Ruisseau, Riviere Ruisseau Marron, Rivière des Chevrettes, Riviere Savanne, Feeder Cresson, Feeder Beau Bois, Feeder Edmond, Feeder Enterrement;
Crucially, 70% of the site is DESIGNATED CATCHMENT AREAS of Riviere des Anguilles Dam due to numerous Feeders flowing into Rivière des Anguilles. A Canal known as COMBO CANAL crosses the proposed Site and caries water from Rivière Chevrettes to Feeder Cresson and is of exceptional water purity for human consumption. There are plans for the realignment of natural drains within the site area, and for securing water rights on its hydrological features.
The national security considerations of Mauritius Natural and Water Resources with intent to secure a transfer of Water Rights to private interests in a zone depicted as a superhumid, mesothermal micro-climate, is most vital. As Minister for Internal Security, it is your duty, Prime Minister, Sir, to secure all Water Rights that are vital upstream of a proposed Dam for the WHOLE District of Savanne.
BOIS SEC Fauna and Flaura is characteristic of Mauritius Plant Diversity Value and comprises of:
·       not less than 40 Introduced Flowering Plant Species, [30 species present in Feeder Cresson alone, and  26 species in Ruisseau Marron and 26 species in Feeder Edmond].
·       47 Native Flowering Plants Species are present in 6 Feeders/Rivers, with 32 species in Ruisseau Marron, 25 species in Feeder Cresson, and 25 species in Riviere Gros Ruisseau, Feeder Augustin with 14 species, Feeder Enterrement with 10 species and Feeder Edmond with 9 species. Isolated native trees thrive amongst the dense exotic vegetation with their high canopy.
·       15 native Species of Pteridophytes [Ferns] and 3 introduced species are present in 11 water courses. Three of the Five Tree Ferns are endemic to Mauritius.
The endemic plants are hugely significant in 'endemism and plant diversity' value.
Underground aquifers that act as our natural reserves of water resources are of huge significance in terms of our hydrological mapping implications and water security strategies under conditions of a Global Climatic Change Crisis with unquantifiable future impact on our water capacity and supply ratios for our future needs.
With erratic rainfall patterns and prolonged phases of droughts and long cycles of non-cyclonic periods, our Government has a duty [1] to secure our Underground Aquifers, [2] to refrain from granting a freehold licence for privatization of the hydrological aquifer sites, [3] to withdraw support to a concept of an international standard Golf Course in the midst of this security zone for our Dams and Underground Water Resources in a superhumid mesothermal climatic zone of our Central Plateau. Short term windfall gains & bonanza profits cannot be a favoured priority over our long term water and energy security of the Sustainable Development Strategy.
 We already experienced a severe water security problem with reference to Mare Aux Vacoas Catchment Area and the impact on the Reservoir Retention Capacity due to dried feeders and streams, and we cannot be irresponsible enough to position an international golf course with an IRS Scheme between Mare aux Vacoas, Black River Gorge National Park and feeders to Rivière des Anguilles proposed Dam that will guarantee Water Security of Supply to an ENTIRE District of Savanne.
It amounts to highjacking the water security of the entire Southern geographical zone of our Country and its socio-economic ramifications in the long term. Already coal waste is being buried on unmarked unofficial sites in the IPP zones. Has an  EIA has ever been submitted on Coal Waste residues' disposal, and its health and safety implications and its incidence on our Aquafers and Rivers? Has SECTION 59 & SECTION 60 of LOCAL GOVERNMENT ACT been complied with before the creation of landfills for the burial of Coal Residues and Wastes?
Furthermore, the proposed site is OUTSIDE the settlement limits as per the Grand Port/Savanne OUTLINE PLANNING SCHEME 2006, and large portions fall within the National Park and Conservation Services ''designated areas'' for FAUNA and FLORA HABITAT, notwithstanding the 70% of the Riviere des Anguilles proposed Dam Catchment Area that is situated on the proposed Residential Development Site, with implications for water quality variations of the impounded water on the proposed development site.
It is assumed that the property development site is categorized as Agricultural land and therefore requires Land Conversion Certificate. The Prime Minister is solicited to defer this application decision until and unless alternative uses for the site is ascertained, namely in view of the lack of NATURE RESERVES in the Central Plateau and the Niche of Eco-Tourism promoted by the PMO'S MID Strategic Mapping for sustainable development in line with our commitment for a clean water, air, energy mix for our MID Economy of the future.
Savanne District Council Technical Team have, in a negative Report, expressed serious reservations about the risks for the Proposed Riviere des Anguilles Catchment Area [70% of the proposed Site lies in this catchment area].
Your relevant Cabinet Ministers [ Land, Environment, Water, Public Infrastructure, Agro-Industry and MID] need to ensure transparency, zero bias, and clear policy directives on this crucial project appraisal that requires approval by Savanne District Council.
The MID Eco-Tourism and Conservation Zones Preservation Policy of our endemic landscape demands a strict ban on subtle creeping deforestation and tampering with our strategic Aquafers and Rivelets/Feeders/Canals into key Rivers, where future Dams will ensure water security for the majority of our population in the next decades. The profit appetite of the few may not be allowed to prime over the strategic needs of the majority of our population in an era of much needed democratization of our economy and curbing monopolies.
We trust, Prime Minister, Sir, that you will never allow our natural resource security be compromised to favour short term gain for the few, at the detriment of the majority of our citizens. The integrity of your full Cabinet is essential to ensure that no bias prevails to lobby for this type of Development Projects in all sensitive areas of significant natural resource security for our Country.