 Dr PASCAL NADAL
(Former staff of the
University of Seychelles)
As the first international – which he wanted regional – visit of newly elected Seychelles President, Wavel Ramkalawan, draws to an end, it is to be hoped that the items on agenda would have been covered to the satisfaction of all parties involved.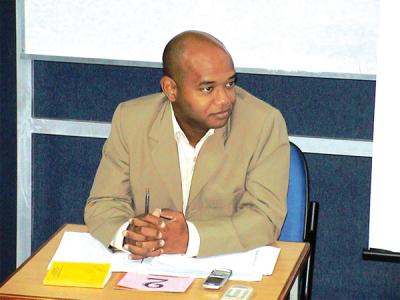 More fundamentally, though, it might be a good thing if political leaders from our country, whatever faction they belong to, could seize this opportunity to learn from events that recently happened in the archipelagic brother islands. Actually, the events themselves warrant a relative importance for people outside Seychelles and who may not be au fait with elements of the country's history. True enough, elections happen everyday and everywhere around the world, and political changeovers at the helm of states are no new phenomenon. But it is mostly the way in which these events happened in Seychelles that has a lot to teach to a country like ours.
As I watched media reports of President Ramkalawan being sworn into office, I couldn't help thinking of how – in contrast – political mindsets are still despairingly petty at times in Mauritius. One case in point: We all recall a former Mauritian President of the Republic being 'compelled' to administer an oath-taking ceremony for newly appointed ministers in public in front of the national assembly and thereby being exposed to the jeering of the masses who reminded him that before being their president, he was also – and mainly – their political foe… On 26 October last in Victoria, however, the outgoing president, Danny Faure, was paid all the tributes and homages that he could possibly deserve on the part of the incumbent, so much so that one might have mistaken the event for a departing function! The shining red (the colour of Faure's 'United Seychelles' party) velvet of VVIP chairs did not seem to matter to Ramkalawan. There were more pressing businesses at stake. Let that sink in, Mauritian ministers, you who sometimes refuse to inaugurate buildings if the walls, curtains and even burglar bars are not of the 'appropriate' colour.
As for Danny Faure, he sat there, in the first row, presumably mulling over his defeat and that of his party after 43 years of unshared political power and that had stood the test of multiparty elections since 1993, but he remained dignified and composed all along.
Through his very presence at the ceremony, he gave a lesson of valour at a time when, in the very country that daily sloganeers about democracy to the rest of the world, the likelihood of Trump's presence at Biden's forthcoming presidential inauguration is still being hypothesized… And when Faure later addressed the nation, wishing well to the victors of the day and promising to continue to help the country, he received a flurry of commendations even from supporters of the erstwhile opposition party.
In any case, had the outcome of the last elections been different, Faure would still have been remembered as the president who had dared to set up during his mandate a 'Truth, Reconciliation and National Unity Commission' to investigate alleged cases of human rights violation perpetrated during the 1977 coup d'état and in its aftermath of 16 years of single-party system (a background from which he himself emerged as a politician). Act of bravery or a shot at his own foot, the matter remains open to interpretations, but it did earn the outgoing president some of respect.
It is here worth stressing that the newly elected president had set the right example for this, by calling for unity in trying times and for the need to move beyond past bitterness. Quite incredibly for Mauritian eardrums, he said he had a mission for his past political opponent and that he would sometimes call upon him to travel on his behalf to represent the Seychelles abroad, as he need not do all the travelling himself all the times… He believed former President Faure had the required experience and charisma to be a good ambassador for the country: "Sesel i pli gran ki nou tou!" Can anyone from Mauritius think through this? We are such a far cry from the usual "Asterla zot pou kone ki mwa…"; or "Mo pa Gandhi mwa…"; or even "Mo pou fer ferm zot kan mo pran pouvwar…"
Could it boil down to a sheer matter of size after all? Not quite. Remember what happened in Rodrigues after the 2017 Regional Assembly polls? As one of the defeated contenders for the post of island Chief Commissioner announced his retirement from politics to pursue further studies abroad, the response from the winners' side could be more or less paraphrased as follows: "Good riddance! Leave and don't ever come back again!" Alternatively, it could have been "No hard feelings buddy! It's not about us. It's about Rodrigues, and Rodrigues is larger than us… Good luck with your studies and when you're done, come back to help our island", an island where – by the way – you should consider yourself blessed if water runs in your taps once a week.
Even more mystifying in the case of president Ramkalawan is the fact that we're here talking of someone who has been relentlessly battling the regime in place for the past 40 years or so, without EVER entering into any alliance with his opponents, contrary to our folks here, who swallow back their acrimonious invectives every five or ten years, when the time comes to place political survival before moral decency. Moreover, the image of the former opposition leader being stretchered to hospital in his blood-smeared shirt following an assault by the police after a march in 2006 contesting the legislation denying opposition parties the right to set up a private radio renders even more unfathomable the present expression of magnanimity.
To further legitimise triumph after five unsuccessful previous electoral attempts, many a one in Ramkalawan's place might have capitalised on the psychology of emotions, drawing out situations that he personally endured and emphasizing other and more destructive ones, like that of Davidson Chang-Him – the vocal Democratic Party supporter and brother of the former Seychellois Anglican Bishop and much-liked public figure, French Chang-Him – shot in the back during the coup surreptitiously orchestrated by the then Prime Minister, France-Albert René, and ors. Admittedly, reference was made by Ramkalawan to the killing – still in still unclarified circumstances to date – of exiled opposition leader in England, Gérard Hoarau, in 1985, but the point was to expound the need for reconciliation instead of retaliation.
This piece was started with the formulation of a wish that local politicians might follow the example recently set by their Seychellois counterparts insofar as political transition is concerned. There is nothing belittling about this. For years, people in Seychelles have admired the regular alternation of political power at the head of our country and other aspects of our democracy. They probably still do. Nonetheless, it seems doubtful that any such thing will happen concerning our leaders. Why should they learn from folks who do not come from the northern hemisphere in the first place? And to cap it all, learn from people who speak Creole in parliament? Oh, come on… A recent communique by a local Asian language teachers' union about the perils of using Kreol in the Mauritian parliament (of course for purposes other than swearing, as it is already the case right now) has unequivocally expressed the utterly disparaging and haughty attitude that – so the union says – a section of the population apparently harbours towards Kreol language… The 'arguments' put forward in the communique deserve no further consideration beyond maybe a mere reminder that more than 85% of the population have identified this "unstructured" "bastard" "dialect" (my translation of the signatory unionist's very own words) as their home language for the last national census exercise. They will appreciate.
Far from being but an inconsequential digression, this aside speaks volumes about what and who we value in life, and also where we turn to for influential inspiration. Politics for one seems to be an area where we may not always have to look further than our immediate regional shores.
…
« It is here worth stressing that the newly elected president had set the right example for this, by calling for unity in trying times and for the need to move beyond past bitterness. Quite incredibly for Mauritian eardrums, he said he had a mission for his past political opponent and that he would sometimes call upon him to travel on his behalf to represent the Seychelles abroad, as he need not do all the travelling himself all the times… »
…
« Even more mystifying in the case of president Ramkalawan is the fact that we're here talking of someone who has been relentlessly battling the regime in place for the past 40 years or so, without EVER entering into any alliance with his opponents, contrary to our folks here, who swallow back their acrimonious invectives every five or ten years, when the time comes to place political survival before moral decency. »