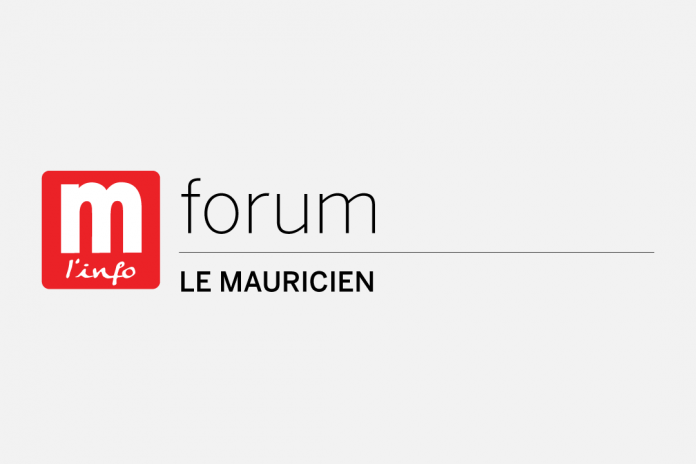 Dr. Ibrahim Alladin
This year marks the 50th anniversary of the independence of Mauritius. Many people have been associated with independence and nation-building. They have made significant contribution in the development of the country and the society. Some are known for their deeds, while others are unsung herœs. A nation is built by its people. Its culture is determined by ideas, thoughts, local folklore, arts, music and literature. To mark this event, I have compiled a list of Mauritians of influence since 1968. Some were born before independence and have left their mark on the country; others are still engaged. My list is a cross-section of individuals, whom I believe are nation-builders and role models. Those who are no longer around are historical legends. I have had the opportunity to meet some of these legends and I treasure their thoughts and commitment. In some ways, I am paying a tribute to our nation-builders. My intention is not to exclude anyone, but to chronicle the few whose actions have led the country where it is today. In the next few days, these local folks will be introduced and remembered. A variety of sources were consulted to put together the summaries that follow below.
Sir Jean Etienne Moi Lin Ah-Chuen
Sir Jean Etienne Moi Lin Ah-Chuen picture figures prominently on the twenty-five rupees bank note. The son of a shop-keeper, he turned out to be one of the most successful entrepreneurs in Mauritius. Jean learned how to manage the family's shop from his father. In 1931, at the age of twenty, Jean set up his own shop in Port-Louis and the ABC store was born at 18 Queen Street, opposite the market. Jean was an active person, he gave his time to the community and worked with several associations. At the age of 31, he became the youngest president of the Chinese Chamber of Commerce. He was the co-founder of the Chinese Daily News. In 1948, he was asked by the British Colonial Government to sit as a member of the Legislative Assembly as a representative of the Chinese community. He eventually turned politician and served as the Minister of Local Government when Seewoosagur Ramgoolam was the Prime Minister. Jean Ah-Chuen played a key role in the industrialisation of the country after independence. He was instrumental in establishing the Mauritius Export Processing Zone. Through his connections the first investors from Taiwan and Hong Kong came to Mauritius to set up textiles operations which helped to reduce unemployment in the country. He passed away in October 1991, and left a legacy. The ABC Group is one of the most vibrant corporations in Mauritius and Mine Apollo introduced by ABC Foods is a household name.
Philip Ah-Chuen
Entrepreneur, Philanthropist, Educator. This is the title of Philip Ah-Chuen's biography. He was born on 19 December 1949 in Port-Louis, the son of a shop-keeper. He went to the Royal College of Port-Louis, then to Brunel University and Aston University where he did his master's degree in Industrial Administration. His uncle, Jean Ah-Chuen a successful businessman and politician was Philip's mentor. He worked in his family's shop and developed the basic business skills. Philip knew he wanted to be an entrepreneur, although he started his career in teaching at the University of Mauritius. His days with the ABC Group were critical. He had a flair for business. He was instrumental in getting the Nissan dealership for ABC. He eventually set up his own business and now manages Allied Motors and the Audi dealership. Philip is not only a businessman, he is a man with a "big heart". As a committed Rotarian, for him it is service to others. Due to his efforts, the Maisons Familiales Rurales (MFR) were introduced in Mauritius. MFR runs several schools for the deprived and underprivileged. Philip essentially gives youngsters and the drop-outs a second chance to become responsible citizens earning a living.
Paul Raymond Bérenger
Paul Raymond Bérenger, born on 26 March 1945, is one of the longest serving politicians in Mauritius. He was Prime Minister from 2003 to 2005, and has been the Leader of the Opposition on several occasions. He has also served as the Deputy Prime Minister on two occasions. A journalist by training, he returned to Mauritius in the late 1960s, and became a key figure within the Mouvement Militant Mauricien, a party he still leads today. Bérenger is a seasoned politician and strategist, and has defended the rights of workers. He was instrumental to organise the trade union movement and a pivotal figure who negotiated pay disputes and settlement for workers. He came on the political scene bringing a new vision for change and unity. He has made immense contribution in the political development of Mauritius. Paul Bérenger, the "guardian of democracy" remains an active voice today. He has championed the cause for a more egalitarian society.
Sookdeo Bissoondoyal
Born in December 1908 in the village of Tyack, Sookdeo Bissoondoyal started his career as a primary school teacher. In 1946, he became actively involved in politics and was elected to the Legislative Council in 1948. In 1958, he formed his own political party, the Independent Forward Bloc (IFB). He was re-elected in 1958, with the IFB winning six seats. In 1965, he attended the conference on independence in London. He joined the Independence Party and won his seat in 1967 and became a minister. But in 1969 he resigned following a disagreement with Seewoosagur Ramgoolam who was the Prime Minister. He stood for elections in 1976, but lost. Sookdeo Bissoondoyal was one of the leading figures in the independence movement. A philosopher and a scholar, he died in 1977.
Dr Satish Boolell
Satish Boolell is well-known in the medical and political circle. He studied medicine in the United Kingdom. He graduated from Dublin and did his post graduate in Forensic Medicine at the University of Sheffield. He was an elected member of the MMM in the 2010 elections. He started his career as a doctor and eventually became the "forensic expert", who performed about 25,000 autopsies over a thirty year period. This "médecin légiste" was born in Plaine Verte. He is a former President of the Mauritius Council of Social Service (MACOSS). Satish Boolell launched his book Forensics in Paradise. A Mauritian Odyssey in 2017. In this book he tells his story about his experiences as a "forensic doctor." This book is a recommended reading.
Stephan Buckland
Stephan Buckland is a well-known athlete who has presented Mauritius at major international events including the Olympics in 2004. He was born in 12 January 1977 in Floreal. His running career began in 1992 and joined in 1999 the IAAF High Performance Training Centre in Dakar, Senegal. In 2000, Buckland broke his 100m record three times, running 10.16 at the Meeting Internacional Atletismo Funchal in Funchal, Portugal. In Funchal, Buckland also ran a national record of 20.31 smashing the former Mauritian record of 20.72 held by Eric Milazar. His major breakthrough was his amazing performance at the Sydney Olympic Games in Australia in 2000. He reached the quarterfinals of the 100 metres by winning his heat in 10.35. In 2001, Buckland became the first Mauritian athlete in history to win the 100 metres, 200 metres and the 4 × 100 metres relay at the Francophone Games in Ottawa, Canada. In the 100 metres, he beat Canadian Bruny Surin, one of the fastest men on Earth, in a time of 10.13, setting a new national record. Buckland is one of the few athletes who have reached the IAAF World Championships in Athletics 200 metres final three times consecutively. He did so in 2001, 2003, and 2005. He has won many awards and is probably the most prolific Mauritian athlete.
Abdool Raouf Bundhun
Abdool Raouf Bundhun was born in 1937 in the village of Amaury in Rivière du Rempart. He received his education in Paris, London and Mauritius, and he was a civil servant before joining politics. He came from a humble family, whose ancestors came from India, but he rose to become the Vice-President of the Republic from 2002 to 2007. Raouf Bundhun had been a municipal councillor and mayor of Quatres Bornes. For two terms he was a member of the National Assembly and from 1969 to 1975, he was the Minister of Youth and Sports. A former ambassador to France, Raouf Bundhun, was an active member of the alliance that fought for independence. He was a candidate of the Independence Party which won the elections in 1967. He is a man with strong principles, highly respected for his ideals, he chose a career in politics because he wanted to serve his country and its people. He is still active, talking to the younger generation about values and commitment. He believes the country has a bright future but everyone must work together to build a strong united Mauritius.
Serge Constantin
Serge Constantin, the artist is a national treasure. Marie Gustave Serge Constantin was born on 18 May 1917, in Port-Louis. His father worked at the local bakery and his mother was a housekeeper. When his parents passed away, Serge, his brother and sister moved in with foster parents. He had a difficult upbringing. He developed a taste for painting while he was at college. Gabriel Gillet, his art teacher, became his mentor. The young Serge worked as a clerk in a notary office and Hervé Masson introduced him to Malcolm de Chazal, Marcel Cabon, René Noyau, Madeleine Mamet, and others. His first art exhibition was in 1947, held in Curepipe, the art capital of Mauritius in those days. Serge Constantin interacted with some of the main artists and through them he got involved with the Theatre of Plaza. He received a scholarship from the British Council and attended the Central School of Arts and Crafts in London in 1951. He spent time in France, Italy and Germany. Serge became the "décorateur du Plaza". He was not only a talented painter and artist, but also gave his artistic impressions to plays mounted at the Plaza. His unique style stood out. On 15 October 1998, he died at his home in Belle-Etoile. He was a man of distinction and a cultural icon.
… to be continued …