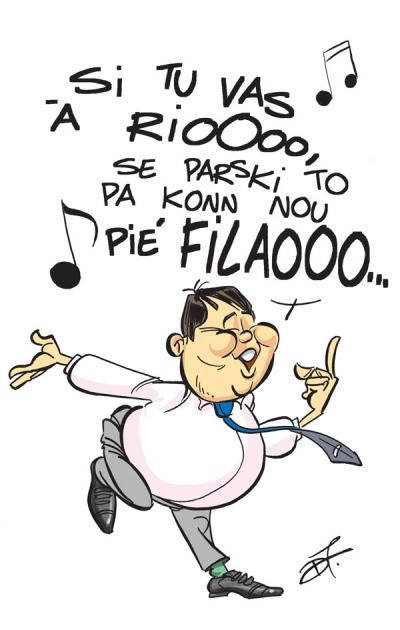 Is Mauritius responding to the cutthroat global competition in the tourism industry with the smartest mindset ? Even if we would like to believe so, the patchwork of muddled thinking, half-baked policies and grotesque events suggest otherwise.
Mauritius has been surfing on its exclusive image for decades. Surely, that could not have been self-generated. Our beaches may not be as pristine as Maldives' ; they have constantly been shrinking under the rapacity of eyesore developers ; yet, somehow, they have preserved their appeal, as far as the European is concerned. We can also still boast of a pleasant, albeit far from unspoilt, inland landscape. But our most valuable and complementary asset is a unique blend of cultural pluralism, that deserves UNESCO's world heritage status, with a (waning) sense of hospitality.
The cosmopolitanism that seems to be imprinted into our DNA comes with many benefits. In marketing terms, it is a boon. Authentic Mauritianness has the potential to unleash the desired creative energy to cope with a world where « product » differentiation has never been so pivotal. No matter the skeptics, there is such thing as a Mauritian identity, whose complex and evolving characteristics cannot be precisely defined. In its purest manifestation, it is a melting pot of multiple identities with a mojo that must be shared, cared for and flaunted. Instead of risking assimilation into a hegemonic lifestyle, through contamination by alien (« modern ») narratives, namely, that would supremely conceal serene exoticism and exude cultural schizophrenia.
What is depressing is that, lately, national ethos have turned so much out of character. Trusting Mauritians to stay cool in the face of permanent institutionalised contempt, political clientelism and ethno-religious instrumentalisation is absurd. With a reward system in tatters, only a handful of insiders identify with the Mauritian Project. For starters, we badly need to emancipate ourselves from the paradigm of servitude that self-seeking « elites » have been busy perpetuating in the post-colonial era. In fact, Mauritius as a brand requires no tagline. The very mention of Mauritius is often enough to thrill. The challenge is to reverse the actual experience that does not tend to live up to expectations.
Just like Mauritianness, Mauritius-building, or Mauritianism, is a never-ending process. When do we know Mauritius is on the verge of self-determination ? Probably when ; intuitively, we feel concerned about the image of Mauritius through our own eyes. Rather than those of visitors, who incidentally are bound to bear the brunt of our moods ; we grow wary of a model where clusters of excellence are creating a disproportionately reasonable level of innovation, while the mass of the country still has a lot of underdeveloped potential ; we are reliably secure to welcome Parliamentary debates in our local lingua franca ; we celebrate our coveted heritage and multiculturalise common names (e. g Port Louis, MBC, Khan) rather than twisting their spelling (Port Lwiss, Emm Bay Say, Quand) ; billboard faces represent our true colours.
Missing opportunities
We cannot afford missing opportunities to add value to the destination. Eating out arguably counts among the features that capture most the charm of a country. We could harness Shelina Permalloo's celebrity status, as a champion of BBC's amateur cooking competition Masterchef, to showcase the distinct Mauritian flavours of a revamped, healthy and hygienic street food scene. Prepared with a maximum of pesticide-free local produce of course. We could equally merge our top ranking in the Air Quality Index, as measured by the World Health Organisation, with the Maurice Ile Durable (a misnomer for Sustainable Mauritius Archipelago) aspirations. As long as we make up our minds about whether it is not a select club for the world's worst tourists (according to worldwide hoteliers polled by travel site Expedia), a city-state of bling or a Macau-style casino dome, we secretly fancy.
Before carving niches in the maze, a dose of realism must be instilled. We cannot possibly match New York's urban vibrancy, Dubai's retail therapy, Seychelles' sun tanning promise, Costa Rica's lush green splash, Italy's effortless sense of style, Ibiza's bastion of hedonism or Rio's raunchy carnival for that matter. Can we ? What must sink in is that the world has dramatically changed. The market has never been more segmented. Currently, spending patterns in the West are strikingly different from emerging economies. Barring struggling countries, demand for bespoke « products » is nonetheless a marking trend. What is on offer ought to be constantly researched and updated.
We would be shrewder mulling how to make Mauritius friendly to such sanguine travelers counting among others the cultural, ethical, family, frugal, gay, luxury, medical, Muslim (Thailand and Australia's Gold Coast are all geared up), senior, single, wellness. Whereas luring Bollywood-crazy Indian diaspora should grow defiant with Mauritian spots almost fading out of song-and-dance scenes. Rubbing shoulders with the humble Japanese, the suave Persian and the civically active Scandinavian can help turning things around too.
Self-indulgent roadshows
While we may draw inspiration from the festival of sacred music in Fez, the ethical fashion show in Berlin and Saatchi's gallery in London to stage budding and seasoned artists from around the world anually, we may also supplement with, say, major events included in the professional golf and kite surf tours. Visibility cannot be pursued for visibility's sake. Exposure must be target-specific. The post-« miracle » blues have gone miserably out of tune. So have the self-indulgent roadshows. The conjuncture is begging for a metamorphosis. What about freezing all beachfront ventures for good and incentivising boutique hotels ?
The elusive link is a leadership with strategic planning that synergises all stakeholders. We have no alternative than to transform the hotel industry into a full-fledged hospitality industry. It is indeed ironic to openly wish for a premium clientele while welcoming guests on all-inclusive packages through the backdoor. Something we cannot legislate against, but that can be nudged out of the market through reinvigorated airline competition and connectivity with new award-winning players such as Qatar Airways and AirAsia. The indiscriminate bashing of backpackers is also telling about the propensity to corner the market.
A premium destination is not restricted to the well-heeled. It is achieved when a visitor is delighted with the delivery of the « product » she has deliberately chosen to buy at a higher price. No doubt the physical aspect of the « product » matters but how it is delivered is as critical. For instance, an affordable and intelligently-networked Swiss-like public transport with a railway system supported by comfortable buses and reliable taxis contributes to an enjoyable stay. Haggling can add to the joys of holidays, but we must ensure that nobody is ripped off because the government is unable to make taximeters compulsory. Anyway, review boards such as tripadvisor make or break images.
Striving to offer value for money is a time-tested winning formula. It involves an obsession with providing citizens and tourists alike an environment to chill out safely while being offered goods and services produced most ecologically and cost-effectively. Ultimately, the content Mauritian yields the best advertisement. To maximise our soft skills, it is extremely doubtful whether imposing a pay cut through rupee depreciation will do the trick.