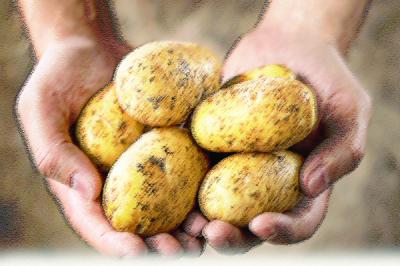 The idea to create a new wholesale market is an old story of more than 5 years.  Auctioneers, vegetables and fruits planters and retailers are surprised to note that the government intends to close the auction markets of Vacoas, Flacq and Port Louis and centralise all sales at Belle Rive.
Historically, SSR created several village markets at Calebasses, Poudre D'Or Hamlet and so on but all of them failed miserably.  Again, the AMB launched a parallel new wholesale market some 7 years ago at Wooton but once more there was no business for even 1 day. Mr Satish Dayal agreed to charge a special rate of only 3% concerning the sales of vegetables at Vacoas but obviously it was operating below break-even and had to be stopped.
We would like to put on record that the creation of the Flacq wholesale market was initiated by myself, late Ramdewar and my colleague Soogrim.  At that time we were working as lorry drivers collecting vegetables from the villages of Cottage, Goodlands and Petit Raffray.  All these vegetables were carried to the Vacoas Wholesale Market.  Many growers complained that their harvest of bitter gourd, green beans and tomatoes would be wasted as harvest was not being completed until Fridays. So, we encouraged them to harvest on Saturdays, which we could market on Sundays at Flacq.
On the buying side, vegetable retailers of Rose-Hill and particularly Mahebourg complained that they had no stocks to sell on Sundays and Mondays on their stalls.  So we realised that the chance to create a wholesale market was quite possible at Flacq.
The first consignment of tomatoes and other vegetables was sold under the veranda of Flacq district court at 4 a.m on a Sunday morning.  Planters were happy with price level.  Since, then, regularity of the holding was even extended to Wednesdays.  This helped the sale of perishables in the area of Flacq. We would like to point out that we are not against the project of modernisation.
Simply we are proposing to:
Forget the idea of Wooton
Maintain Vacoas wholesale market and create office facilities
Provide Flacq with a shed with lighting
Transfer the Port Louis wholesale market just outside Port Louis around Jin Fei.
In fact, this is the site that we had proposed to French consultants.  But the joke is they have photocopied the different buildings of Rungis wholesale market of France.  In this particular place, flowers, fish, vegetables and fruits are sold in separate buildings.  Many tons of highly perishables arrive from all parts of the world and many pallets are re-shipped by lorry to countries like Holland, Belgium, Germany and so on.  But this cannot be imposed on Mauritius, as our realities are completely different as our market is too small.  In our case the building must be like Vacoas but with a loading bay to facilitate loading and unloading using forklifts and trans pallets.  It is clear that the first consultancy fees have been wasted already, as a new plan must be carried which meets our purpose.
Unnecessary Transport Cost
It is not wise to bring bags of Belle Mare Aubergine to Belle Rive and again back to Flacq retail market.  On a yearly basis we are talking of 110,000 tons and several million rupees of transport.  Customers at the end will have to pay more expensive prices.
During the working session at Reduit on 3rd September 2015 we had asked the Minister not to go ahead with the project and arrange a meeting for detailed discussions.  Our 50 years of experience can only help this government to modernise in the right direction.
Some of our previous proposals to SAJ and Navin Ramgoolam for this sector are the following:
The Freight Rebate Scheme (FRS), which was initiated in 1994 by SAJ.  We were exporting 200 tons and today all exporters together are loading by air more than 2000 tons
Planter's card: Planters are proud of their planter's card as this gave them an official status
Duty free 4×4: Planters enjoy duty free 4×4.  The first duty free van was approved by Minister Dulloo
Navin Ramgoolam approved the Anti Bird Net Project that helps to avoid wastage of 300 tons of litchis following our article on Le Mauricien regarding bats.  The price of a roll of 100 meters is available at only Rs 3,500 instead of Rs 14,000.
Other points to note are the following:
Approximately 200 porters will be jobless.
Many small farmers will not be able to bring for instance 10 kg of small chillies or 20 kg of lady's fingers from Grand Gaube to Wooton.
We already have another operating auction sale at Goodlands which has not been taken on board.
Agro Industry Ministers like Pravind Jugnauth, Nando Bodha and Satish Faugoo have visited Port-Louis auction sale and everyone is conscious of the difficult environment in which we operate.
We have more than 30 stalls unoccupied at Vacoas retail market.  Those vegetable growers who are not happy with the service of auctioneers can only make more money and sell directly to customers.  It is not wise to criticise our service but still the same farmers keep on supplying us.
Even today many tons of litchis, potatoes, onions, pineapples, among others, are sold in the field directly to retailers.
Planters look for our service only when they are having difficulties to sell surplus production
Auction sale is a normal process worldwide and it is not advisable for this government to make any move to kill auctioneers.
Regarding traceability, grading and the problem of bruising we would suggest the government to subsidise the purchase of plastic crates just like the Anti Bird Net Project.  This can only help to check the maximum residue level (MRL) as there will be reference of the farmers' code on every crate. 
Navin Ramgoolam's government has not gone ahead with this project, as we had convinced it in a letter dated 15th July 2010.  In case a few farmers still insist, we would ask you to organise a referendum and the verdict of the majority will be respected.  In the meantime keep the project on hold for more discussion with all stakeholders.