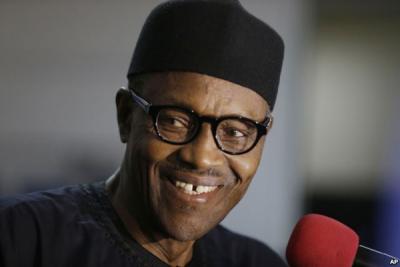 After four attempts at the presidency and a military coup in 1983, Muhammadu Buhari, leader of the All Progressive Congress (APC), has been officially elected President of the Republic of Nigeria on Tuesday the 31st of March 2015, by a margin of more than 2 million votes from his opponent and former President Goodluck Jonathan of the People's Democratic Party. (PDP)
The election has been dominated by the drastic loss of popularity of Jonathan's People Democratic Party due to a string of corruption scandals for the past years and especially the agenda of insecurity with the rise of Boko Haram's Islamist insurgency.
But what is even more incredible and staggering is the fact that Buhari, the 72 year old retired general, who «kicked out an elected government in 1983 (…) ushered in an era of military dictatorship for 18 months where he imprisoned journalists and opposition activists without trial, executed drug traffickers by firing squads and ordered soldiers to thrash those who failed to queue in an orderly fashion at bus stops…» [Reuters- April 2015] has been forgiven by the millions of people who believed in his message of change with a high expectation for a better and stable country.
With the rapid growth and strength of Boko Haram – the Islamic terrorist group who has killed more than 13,000 Nigerians and displaced more that 1.5 million people – during the past five years under the ruling of Goodluck Jonathan and the bugbear of corruption, there has been a change in the psyche of the Nigerian Citizen as it was a case of either «Jonathan has to go OR we will vote for anything else» [Jeune Afrique- April 2015] which meant that they were prepared to overlook Buhari's past and its cobwebs of military austerity and authority.
Yet, Buhari's record as Nigeria's hard headed military ruler has definitely lent credence to his promises to crush the Boko Haram insurgency, to deal with the fallout in the global oil prices in the last eight months – which has hammered the economy and devaluated the Naira (Nigerian Currency) – and to build bridges in a country of 170 million people split along ethnic, religious and regional lines. Now everything rests in the good hands of this «modest and incorruptible politician» [The Guardian – March 2015] who declared himself a convert to democracy after being ousted by another general in 1985 and who has been running and losing several elections with only a ticket in hand: that is to clean up Nigeria's dirty politics.
One thing is for sure as well. The masses have now realised the tremendous power and change that they can wield when they act collectively. And the era when Nigeria's rulers took the people for granted is no more.