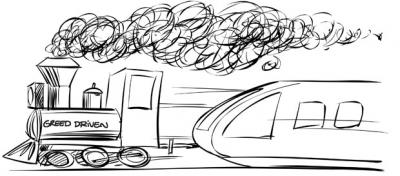 So, it's finally on; December 17 next will be the target date for yet another masquerade characteristic of our politicians. So far, we have several known candidates to contest the single vacant seat caused by the resignation of Mr. Reformer, himself one of the contenders, yet another of those clowneries our parliamentary system and related legislation allow.
An array of pretenders, among whom dinosaurs, a new self-appointed messiah to reform the unreformable, neophytes to dance to the tune of their leaders and some with revamped slogans to attract attention of the like of 'pour donner un nouveau souffle' to local politics, 'un nouveau départ', yet going straight to 'labatwar'*, the reigning champions will most likely elude. 'Nouveau départ', 'Nouveau souffle'. Foutaises!
In March next, we will be celebrating the 50th Anniversary of Independence. During that half of a century, in spite of lofty promises, we have relentlessly and unfailingly descended deeper into confusion – an euphemism not to call it by its real name inasmuch as on a number of occasions we dangerously neared the brink of a banana republic, but fortunately saved in the nick of time when 'lepep admirab' reacted. True it is, during that period of time we have known some positive changes. Yet, ask those old enough to remember whether today they feel happier, more secure, more optimistic as regard the future than some years back. Save for a handful, fortunate to be more equal, the answer is evident.
St-Jean Road
This preview may tend to suggest it is an invitation to electors of Constituency No. 18 to go along the dominant tendency, to 'boude cette partielle qui ne changera pas grand-chose'. Prevailing circumstances dictate this to be given second thought. Honestly, I would have been on the same wavelength had it not been for one key issue: the 'Metro Express'. Not to jump on the bandwagon alongside those cohorts claiming it will be a major financial catastrophe, worse than the stupidities in relation to 'Betamax' and 'BAI'. They may be right, but that is not the point at issue for residents of Belle-Rose/Quatre Bornes. But its 'tracé' along St-Jean Road. The project is already on and we agree 'travay la bizin fer'. But not at any price, and certainly not at the whim and fancy of a 'usurper'.
To run 'the thing' along St-Jean Road, from St-Jean roundabout to Place Jules Koenig cannot make sense since it will 'disfigure' significantly, appearance- and practical-wise that main passageway through the town centre, one of the few, if any other, four-lane main road running through the centre of any of our towns. (Here we may recall Bhagwan's reaction when houses of some of his constituents were being pulled down: 'Eski Pravind Jugnauth ti pou aksepte fer sa dan nimero 8?'). Indeed a stupidity the full consequences of which have not been fully examined – as many other aspects of the entire project – in terms of inconveniences and disturbances this will cause to residents (not only those residing along the said road or its immediate vicinity), traders, pedestrians, commuters, bus travellers, and what have we. If the project proceeds as 'now' planned, St-Jean Road will inevitably have to be converted into a one-way access along that segment under consideration because of existing infrastructure that may not be displaced – sewerage, cables. And what when these will require major repairs or upgrading? Residents of Quatre-Bornes – and others who daily use the passageway for that matter – can easily imagine the impact on daily living with traffic deviations, elimination of existing bus stops etc. Can a downgrading of the quality of life be synonymous of progress?
This said, electors of Belle-Rose/Quatre-Bornes can appreciate this by-election, albeit it does not have 'sa raison d'être' and to cost some Rs.15 million, is nevertheless a blessing in disguise for them to start undertaking something positive to save their town centre from disfiguration by getting those at the helm, more precisely the 'twain', to reconsider the 'tracé' through Quatre-Bornes, the more so there are persistent rumours the initial one has been altered between Phoenix and Quatre-Bornes. (Remember how the new market fair was constructed in top gear and inaugurated with some pomp before full completion).
Porte-à-porte'
During the campaigning period, there will be 'réunions privées, nocturnes, porte-à-porte' and other forms of interfacing. Electors must use each of such occasions to pressure candidates to do whatever they can, especially leaders of parties represented in the National Assembly and aligning a candidate to extract from them the undertaking to drive Government to the wall as much as possible to get them to reconsider the 'tracé' through the town centre, indeed to backpedal. In this respect, Ramgoolam must surely be of significant help, he the champion of backpedalling and the first one who matter to publicly declare the initial 'tracé' has been altered. Also to get Duval, in his capacities of Party Leader, Leader of the Opposition and Representative of the constituency – the latter status rendering him more indebted than others – to abandon his rhetoric of 'Pourquoi cet empressement' and reveal 'le fond de sa pensée' in clear and simple terms.  Furthermore to exact from those who can to undertake whatever Court actions may be possible to buttress any moves in the National Assembly and reminding that the latter will be back in business well before election date. Newcomers in politics are increasingly talking of the 'nouvelle façon de faire de la politique'. Why can't electors of Quatre-Bornes inaugurate a 'nouvelle condition' to grant a vote, excluding any form of extorsion or blackmail, which must be left to the 'roder bout' and other sycophants?
It would be a major mistake to believe massive abstention would be the manner to demonstrate the disgust that pervades the whole country and the rejection of the manner things are now being handled at the top, particularly since the handing-over earlier this year. Massive abstention will only play in favour of those against whom the wrath is directed and who must be thinking 'zot finn kas enn gran pake' by fixing an election date one week ahead of Christmas. By a massive vote – whatever its result -, even at the price of some sacrifices, electors of Belle-Rose/Quatre-Bornes will turn the tables on them, and show the way for the 'grand nettoyage' inevitably to come. It is my fervent wish, shared by many others I am sure, electors heed the appeal for a massive turnout.
Electors of Belle-Rose/Quatre-Bornes, get set. You have the privilege to send the first warning shots, not to those who are doomed and who will continue to run into the wall. But to those who pose as the alternative. The day of reckoning is fast approaching, most likely earlier than scheduled. Your vote, albeit for a single seat, will be an indication of the configuration of the next National Assembly. Let it be massive!
To conclude, I have taken the liberty to borrow a few words from Macron's speech before the UN General Assembly and adapting it to the local context: 'Ne pas dénoncer le tracé contemplé sur la Route St-Jean serait irresponsable, ne pas le reconsidérer serait une lourde erreur'.
(*Not a sarcasm. Rather too early for any Macron-type feat inasmuch as some dinosaurs still wield a certain amount of undeserved influence).
                                                                                                                                    
P.S: Though this must be evident, yet to dispel any possible doubts, nothing in the above must be interpreted as for or against any candidate or the party they represent.