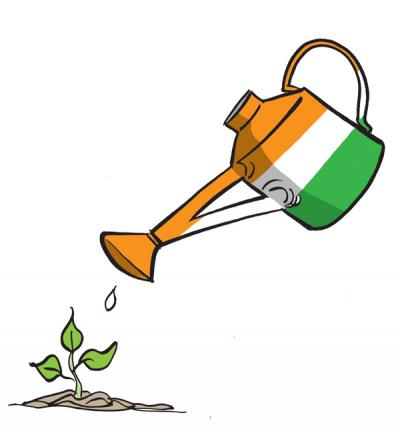 Prime Minister Narendra Modi wants India's ambitions to stand up to its size – a billion people generating US$2 trillion of economic output – third largest in the world.  Yet, those large sized figures dwarf in comparison to China – it's next door neighbour with a GDP that is six times (touching US$12 trillion) with just over 20% more people. A sense of universal prosperity for India can come only with a GDP per capita in the vicinity of US$10,000 (presently US$1200). Clearly there is a lot of catching-up to do. India needs to grow at over thrice its current rate – consistently – each year of the next ten years to match up with China.
Mr Modi does not hide his love for business and its professed power to deliver material prosperity for the common man. His speeches including the one that he handed over on the Independence Day clearly and openly allude to those beliefs and aspirations and forcefully hark back to India's rich and glorious past and its imminent role as the world's political and economic power.
Along those lines, he has made several successful appeals to both overseas and domestic investors to 'Make in India' since assuming office and now wants to promote 'StartUps' in every corner of the country. 'StartUp India' is his message for his country and its people as it enters its sixty ninth year of independence.
Yet, Mr Modi would do himself some good to remember that the road to hell is often paved with good intentions.
Take the World Bank Ease of Doing Business for instance, where India ranked abysmally low at 140 out of 189 countries in 2014, a notch even lower than Bangladesh and Pakistan. One year under his own business friendly leadership the country's ranking has actually fallen by 2 points to 142. If India could attract investors with such challenging climate – floodgates could open should it simply make 'doing business' easier. Mr Modi knows this. For some strange reason, his government has failed to do so!
In June, earlier this year – on a roadshow in the Silicon Valley – India's Finance Minister was openly told by a senior executive at FaceBook that his US$22B acquisition of WhatsApp in the US was far more simpler than the company's acquisition of US$10m Little Eye Labs. An embarrassed Mr Jaitley could only murmur that his government was 'looking into making such transactions simpler'. It does not help his claim given Mr Jaitley was a Law Minister in the 'India Shining' BJP government that fell to corrupt Congress simply because it turned out to be equally corrupt and inefficient. Ten years of previous BJP rule did not improve India's ' Doing Business Index' either.
Sixty-eight years have passed. Yet, the overwhelming impression, that governments, including the existing one, deliberately keep doing business in India 'difficult' remains unchanged. Uncertain policies and difficult business circumstances facilitate corruption from which all politicians are believed to benefit. Additionally they keep foreigners out, so that India's large inefficient and corrupt businessmen could prosper without external competition.
One consequence of complicated laws and corruption is that 'Indian tech start-ups are busy shifting their headquarters to the United States and Singapore, as it is lot easier for start-ups to do business there. It takes just $800 (Rs. 50,000) to incorporate as a U.S. company online within an hour. One major issue Indian entrepreneurs in Silicon Valley discussed with Mr. Jaitley was the bureaucratic hurdle for early stage investors in India. "Why is investing in India so difficult and treated with disdain? asked Mr. Kanwal Rekhi, one of India's most senior venture capitalists at the meeting, reported the Business Standard.
At the very moment Mr Modi peddles 'StartUp India'  as the mantra for future entrepreneurial successes and promises government support, ISpirit, a software product industry think tank is actually hinting at an exodus of tech start-ups from India. As many as 75 per cent of India's new tech start-ups (ranging from cloud, data analytics, security to mobility) that intend to raise seed or venture capital will be domiciled outside of the country. Nine of the top 30 business-to-business software product companies by market capitalization have already relocated to the U.S., Singapore and the U.K reported iSpirit.
While being hopeful it is hard not to be skeptical.
Sixty-eight years is a moment in the life of a nation but it is the only length of time in the life of a human being. What India needs are efforts towards dedicated and effective execution – delivery – visible progress and until such time, perhaps, some relief from fancy words.