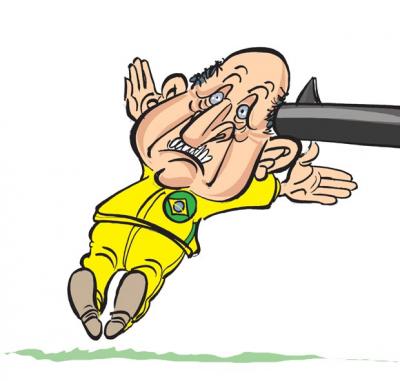 Luis Felipe Scolari (Big Phil for the endless stream of admirers) peered anxiously from the back seat of his dark tinted bulled proof limousine. The number plate was a recent legacy from Brazilian security which in the wake of the World Cup had been honed by the C.I.A. (to the extent that Brazilians allow themselves to be honed).
The Brazil –Mexico match had just ended and police informants at the heart of the death squadron from the favelas has indicated that the more extreme fringes had taken a terrible oath to "do the traitors" as they termed it. Big Phil`s destination was secret and unknown. It was best to keep things that way.
Fred was withdrawn early from the game to be replaced by Jo for his own security. He was whisked away by special security police who are paid a heavy premium for hazardous duty. The premium until recently was indexed to that paid to Mexican security police for protecting high risk individuals against the drug cartel. But midway through the Brazil-Mexico match, they made it known that they would refuse to provide further security to Fred unless there was a substantial hike in premiums. It required the express assent from the office of the president herself to settle matters.
It can now be admitted that Hulk was not injured during training, but that repeated death threats from different quarters after his lacklustre match against Croatia, including one from a respectable ranch owner from Northern Brazil, persuaded Luis Felipe to rest him as he was unwilling to have blood on his hands. In an ancillary move Brazilian TV announced that it would no longer show the series with the same name as it was "unsuitable viewing for children".
Further South in Argentina a group known appropriately as "the group of death" is reported to have clandestinely crossed the border west of Iguazu falls to watch closely over their team and "do what is needed". These last words are from their leader and the Argentine team`s most fervent aficionado hailing from the Pampas where he plies his trade as gaucho when he is out of prison. He and other fellow gauchos who are able to lasso a short tempered bull to turn it helpless, have ominously carried with them ample ropes and cordage, should it be required.
Not all outcomes appear threatening. Some have been resolved satisfactorily. Dani Alves is seeing an eminent counselor to remove his fixation to consider himself a forward. His reluctance to rush back allowed Croatia to cross with the disaster that followed early in this match. Ramires is following courses in re-education on the Copacabana beach, watching toddlers tackle their opponents with the grace that should accompany Brazilian players. His two lusty British tackles against Mexican opponents brought not only a yellow card, but a suspended sentence at this special centre opened thanks to Chinese Aid.
In fairness to South America, Columbia and Chile have not so far witnessed such extreme reactions from their football fans but there is a looming threat from the banned movement "Luminous Path" that has shifted its interest to football for ideological reasons.
British fans in contrast appear cowed and subdued thanks to the unrelenting efforts of the F.A.Roy Hodgson not only refused to resign but has seen his contract extended until 2016. There are lobbies at work to have him knighted. From Penzance to John O Groats`s, not a whimper has so far been recorded by fans. Del Bosque, the Spanish coach his said that he would do what is appropriate for his team. In football speak, this is an understatement for not resigning.
However the real conflict rages at the very head of FIFA. As Sepp Blatter makes a bid to be re-elected yet again, there are unconfirmed reports of flush funds Of Middle Eastern origin finding their way into the top management of teams present. Mr Platini who remained an unruffled midfielder earlier in his career, now loses his shirt very quickly (which is a bookable offence). Still Brazil offers a fabulous welcome to visitors. Referees who are not involved with South American teams are able to walk unmolested at night. Fans of eliminated teams are offered free beers at some bars generously funded by locals.
But there remains an undercurrent of anxiety. Fans in Brazil and around the world watch the chequered progress of their team with increasing apprehension. Some like me have decided to watch this unfolding drama from closer quarters. I am being joined in this endeavour by my dutiful eldest son. In the unlikely event of this piece being read by my two other children let me say in full vindication, that all my children are dutiful, but only he can claim to be the eldest. Watch for this space.